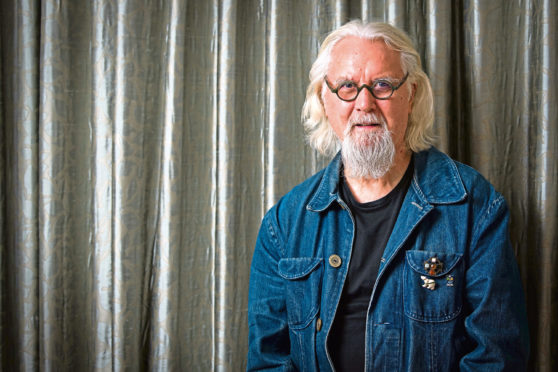 He is probably one of the people most of us would like to have at our fantasy dinner party.
Now Sir Billy Connolly has revealed his perfect guest list of colourful characters both alive and dead. They are artists John Byrne and David Hockney, authors Charles Dickens and Iris Murdoch, and musicians Bob Dylan and Dolly Parton.
Of the country singer, Sir Billy said: "I had a brilliant experience seeing Dolly in Glasgow, being swept along with thousands in the crowd and no one recognised me.
"No one could see me until a little girl shouted: "Look! Its Billy Connolly! She came and gave me a big cuddle. She was wonderful. I met her again in a shop and she did the same thing."
In the same interview, the comedian, who has Parkinson's disease, also revealed his favourite poem was To A Louse, by Robert Burns. He said: "He wrote it after seeing one on a woman's head in church. What's not to love? It was also the first time I realised the true difference between a child's and an adult's humour."
Billy said his favourite album was Dylan's Blonde On Blonde, while his guiltiest pleasure was opera, adding: "I'm sure that a lot of people would not expect me to keep company with people like that."