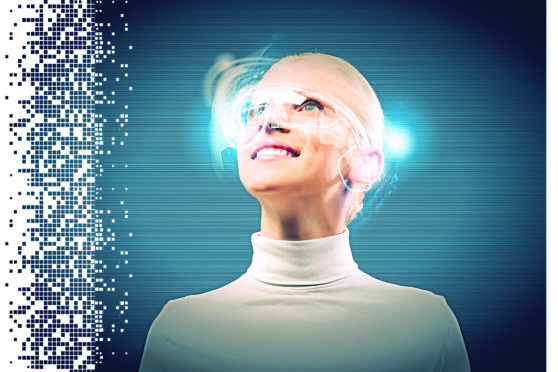 "Our dead are never dead to us, until we have forgotten them." When George Eliot wrote about loss and grief, she could never have imagined that, just a few hundred years later, the ways in which we remember our lost loved ones would involve everything from resurrected holograms and lifelike avatars to moving photographs and interactive simulations that look, sound and even move like the dead.
In recent years, technological advances have meant an increasing number of people are choosing to create digital ghosts, using memories, social media data and artificial intelligence to, essentially, bring the dead back to life online.
It may sound like the plot of a sci-fi blockbuster or an episode of Charlie Brooker's acclaimed anthology series, Black Mirror, but the so-called digital afterlife industry is booming, with companies around the world offering a new, more modern way for people to preserve memories and, ultimately, grieve.
Website Afternote, for example, allows users to digitally store their life story and leave posthumous messages for loved ones while genealogy company MyHeritage offers a "Deep Nostalgia" feature that turns photographs into short videos showing the subject smiling, winking and nodding.
Author and psychologist Elaine Kasket, who has written extensively about how the digital age is affecting how we live and die, says such services have been created to help users deal with a loss of control.
"The idea of keeping people around or reviving them using digital remains is kind of the ultimate extension of the utopian idea that technology can ultimately smooth out all the rough parts of our experience," she explained. "Essentially, we'll never be uncomfortable in any way because technology is going to solve all that for us.
"Grief and the loss of people that we love is one of the scariest and most difficult things that a lot of us have to confront so, of course, when the technology becomes available, we think, 'Oh, wow, this is the cavalry that's come to take away this ultimate discomfort'.
"But if we take away that experience of grief, what does that do to our experience and value of life itself?"
Novelist Sophie Cameron poses a similar question in her latest Young Adult book, Our Sister, Again, published next week.
Set on a small island in the Hebrides, the plot follows Isla who is grieving the loss of her older sister, Flora, when her family are offered the chance to be part of a top-secret trial, which revives loved ones as fully lifelike AI robots.
Although she was intrigued to delve further into the subject after watching TV shows like Humans, and 2001 blockbluster film AI Artificial Intelligence, Cameron admits she was always less interested in the technology aspect and more the natural human reaction to loss.
"I wanted to write a story where I could focus on how AI would impact a family, how they would react to having someone 'return'," said the writer, who is from the Highlands and now lives in Spain with her family.
"In the book, the characters' grief is so strong because they loved their sister and daughter so much – but would you react to people and life in the same way if you knew that it was going to go on forever? How do we progress as people if our lifespan is infinite? The whole point of life is that it is fleeting, that's what makes it precious. It would be different if you could potentially go on and on."
In the book, Flora's robotic replica is made through a combination of interviews with living relatives and friends, and videos posted to social media. The idea of using our digital data to bring people back to life, Cameron says, touches on the age-old question of what really makes us real.
"A lot of us leave massive online footprints, but we're not entirely ourselves online in the same way we are in person," she said. "If you were to create someone based on their TikToks or YouTube videos, for example, that wouldn't be exactly the same as the person who interacted with their friends or family."
While technology may not be so advanced that we can create living, not quite breathing, robotic avatars – the kind of machine sentience required is decades, if not generations, away from being realised – hologram and projection science has been successful in creating lifelike versions of dead celebrities for use in concerts and live events.
Buddy Holly, Whitney Houston and Roy Orbison are just a few of the gone but not forgotten performers who have been resurrected – a trend that Kasket says raises the burgeoning ethical issues surrounding the data of the dead, which is sitting in memoriam on the world's servers.
The author, who recently published All The Ghosts In The Machine: The Digital Afterlife of Your Personal Data, said: "It begs the question, who has the right to speak for the dead? Who has the right to make decisions about the use of the deceased person's image? In the Anthony Bourdain documentary Roadrunner, for example, several sentences were constructed from Anthony's voice that he never spoke when he was alive.
"They were created with AI for the purposes of the film, and there was an outcry. It doesn't feel OK to me, to have somebody die, and to then have their personality, their personhood, their words, their images, cannibalised and deployed for different purposes.
"With data of the dead, you're getting into the same kind of territory, in a way, as debates around rights for artificial intelligence."
The data we leave behind raises not just ethical and moral questions about its use but environmental concerns, too. It has been estimated that Facebook could have as many as 4.9 billion deceased members by 2100.
In 2019, for example, Twitter announced it would delete accounts that had been inactive for six months, including those of deceased users but faced such a furious backlash that the plans had to be scrapped.
Kasket explained: "Facebook and Twitter profiles being memorialised by default has fed this notion that eliminating the person's social media profile is kind of like eliminating the person themselves, like it's the last vestige of the really real person."
This need for immortality through data, she says, has far-reaching consequences: "The data of the deceased is mounting up massively on the world servers, which of course have to be cooled down. I have just a fundamental, environmental and ecological issue with that, especially when it's directed in service of solving a problem that isn't a problem – grief."
Comfort Shields, a Doctify-reviewed chartered psychologist, added: "In these very early days of grief-related AI, potentially damaging psychological as well as ethical implications are already arising.
"While the positive benefits of AI for the grieving include feeling comforted by an easily accessible loved one's avatar, and being left with a gift of a loved one's stories, for those more vulnerable to negative patterns of complex bereavement, AI can make it more difficult to accept death and to recover from loss.
"Additionally, it is unknown to what extent AI may be able to use and alter deceased people's voices and images against their wishes and those of their loved ones. Lingering images, voices, and avatars of the deceased circulating online and potentially under-regulated may bring additional pain to the bereft."
Consultant Psychologist and founder of Spiral Psychology, Dr Venetia Leonidaki added: "People suffering with prolonged grief may end up feeling more stuck in their grief via the use of this new technology. They may treat conversational videos with the deceased as a replacement of their loved one and try to deny the permanency of the loss. This does not mean that these new services will be the cause of prolonged grief, however, they run the risk of contributing to it."
Maggi Savin-Baden, a professor at the University of Worcester, who has given written evidence to the House of Lords Select Committee on Artificial Intelligence, said: "Generally, people are not good at making wills, but they're even worse at creating any kind of digital will.You're supposed to leave a person to deal with your digital legacy and not a lot of people do that.
"There are so many stories about what happens to people's digital artefacts, whether it's the music they've bought or digital pictures, which they can't then pass on to their family. It's a real mess and it's just not legislated for either. We think we can control our data, but actually, we can't."
So, in a future world where our data could bring us back, would you want to live forever as a hologram, avatar or chatbot?
Cameron said: "Would I want to be brought back? I don't think so. I just can't see how a digital version of me would be…me."
Holograms get physical as Scots create a touch of the future
Hyper-realistic robots and avatars may still only be the stuff of science fiction TV series and blockbusters but scientists at Glasgow University have brought futuristic technology one step closer to reality by creating holograms that users can physically touch and feel.
The university's Bendable Electronics and Sensing Technologies (BEST) research group has developed a system of holograms of people using a technique called "aerohaptics", which uses jets of air to deliver the sensation of touch on people's fingers, hands and wrists.
Professor Ravinder Dahiya, who leads BEST, says the technology could eventually allow doctors to remotely assess patients, or remove the need for the dissection of animals in labs. There are also implications for the entertainment industry as, rather than sitting on one side of a 2D screen, movie audiences would be able to see, feel and touch images.
Dahiya said: "In 3D, you can display virtual replicas of real objects, but the missing component is that you cannot actually feel them.
"You can see the objects, but you can't have the touch-based feedback like you would with real objects. We have introduced that through aerohaptics technology.
"We are already looking into adding additional functionality to the system, such as adding temperature control to their airflow to deepen the sensation of interacting with hot or cool objects.
"It seems very sci-fi but the way technology is emerging, you don't feel like it's difficult to achieve. We used to see robots in movies and think, 'Oh that will never happen', but we have robots with us now, and they are part of our lives in different shapes.
"There are already some videos that show people controlling robotic limbs using their brain via a skull cap. That has not been used on virtual objects – holograms are a separate study – but it is just a question of bringing them together.
"I would say, five to 10 years down the line, we should be seeing these things coming to life."
Although the technology and related research, published at the end of last year, is still only at the academic stage, Dahiya admits using such interactive displays could work well with current digital afterlife technology.
He said: "Staying at the edge of the technology is always exciting. I hadn't thought about using volumetric display holograms for the digital afterlife, but it's a very attractive proposition."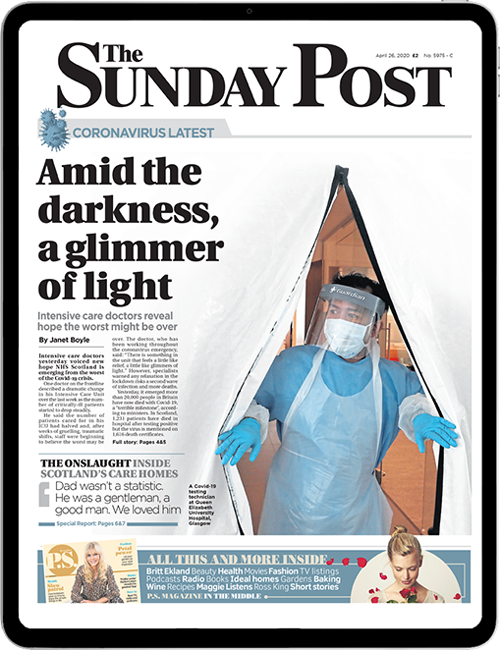 Enjoy the convenience of having The Sunday Post delivered as a digital ePaper straight to your smartphone, tablet or computer.
Subscribe for only £5.49 a month and enjoy all the benefits of the printed paper as a digital replica.
Subscribe