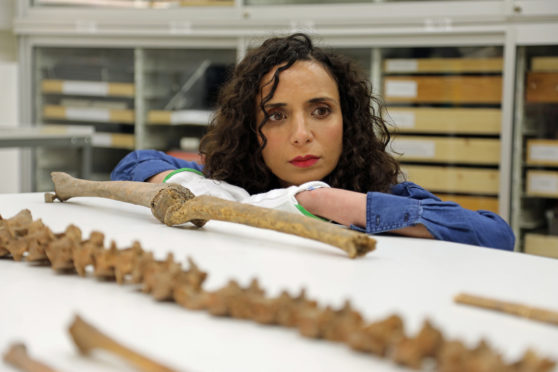 Think of fearsome Viking warriors and the image of ferocious, bearded men comes to mind.
But, according to Ella Al-Shamahi, women were not only part of the great Vikings hordes, they may even have led them.
The broadcaster says the graves of elite female warriors have often been historically misidentified as men. And some of these fearsome female fighters could be buried across Scotland.
In her documentary, Viking Warrior Women, she comes face-to-face with a 1,000-year-old female Viking whose face has been reconstructed by Scots scientists from a skull found in Norway.
The skeleton was buried in a prominent Viking burial site in Solør in the east of the country, surrounded by a huge cache of weapons. Yet archaeologists had refused to believe she was a warrior because of her gender.
But after spotting a dent in the skull consistent with the blow of a heavy blade, Ella has found what she believes is the first evidence of a Viking woman with a battle injury.
"This is a skull that chief archaeologists have examined and has been on display in Oslo City Museum but nobody noticed it had a massive injury on its forehead," said Ella.
"Our forensic archaeologist confirmed it's an injury.
"If a male skeleton had been found with those kinds of weapons, with that injury, buried on a prominent position in the landscape, the first hypotheses would be that it was a battle injury.
"I've no doubt she was an elite female Viking warrior," she added.
---
How the Viking woman's face was recreated from the skull – and her obvious battle scar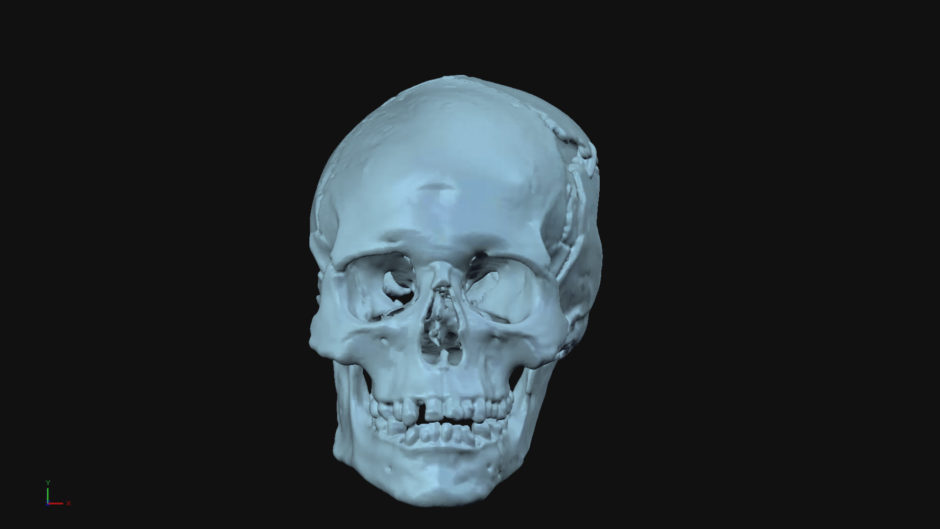 ---
Dr Chris Rynn of the Centre for Anatomy and Human Identification at the University of Dundee used cutting-edge facial recognition technology to recreate the battle-hardened face of a female warrior.
A forensic archaeologist also discovered signs of healing on the skull.
"The blow to the forehead is a devastating injury but signs of healing on the bone suggest it's actually one that she survived. She was a tough broad," said Ella.
"She was well under 30 when she died. To be so battle-hardened and be given an important burial, at that age and as a woman, she must have been important.
"Giving her a face makes it harder to dismiss her, but some archaeologists still argue she wasn't a warrior.
"They say it was a male grave and the male skeleton just disappeared. They dismiss her as a slave girl. It's so frustrating."
Ella has encountered sexism around her own career choice, and it's spurred her to uncover the buried stories of these formidable female Vikings in a documentary to be screened on National Geographic on December 3.
She said: "I'm a National Geographic Explorer. There's an assumption that women aren't really in this field and then I get people surprised or questioning my capabilities. It's a recurring theme."
Ella was inspired by a game-changing revelation two years ago about the Birka warrior, found in one of the world's most iconic Viking burial sites in Sweden.
DNA analysis revealed this military commander was actually a woman – turning the world of Viking archaeology on its head.
"Birka is the ultimate example of a Viking warrior burial, so you couldn't have made it up that she was female.
"There's something quite joyful about that. It's revolutionary.
"People assumed that because of the massive cache of weapons she was buried with, she was male.
"It's good science to be less biased."
The question now is how many more female warriors' remains have been wrongly assumed to be men?
Ella believes many female Viking warriors could be hidden across Scotland as it was a popular target for Viking raids.
"You can't look at Vikings in the UK without looking at Scotland, it's so significant," she said.
"We need to go back and re-analyse these skeletons.
"I think some really interesting discoveries could be made in Scotland and that, in the next few years, people will be re-analysing many Scottish sites.
"Scotland was the first point of contact for many Vikings, so it's interesting to think about what we might be missing."
---
Armed and mounted, women on the battlefield
Female Viking warriors are familiar figures in popular culture, from depictions of Valkyries from Norse mythology to warrior queen Lagertha in the History Channel's hit series, Vikings.
Historically, however, there has been little evidence of real-life women warriors.
Now, a further examination of the Birka skeleton by Ella and her team suggests how female Vikings could have held their own on the battlefield. "Our forensic archaeologist noticed wear and tear on the spine was very consistent with an archer," said Ella.
"Given she was buried with a stash of arrows and two horses, the obvious suggestion is that she was a mounted archer.
"In that case, it wouldn't matter if she was petite."
Ella's team also reconstructed the arrows found in the Birka grave and had them tested by a champion female archer.
"They easily broke through the chainmail so we think women could definitely have been on the battlefield and done some serious damage.
"These women were formidable badasses. I certainly wouldn't want to meet any of them.
"Vikings were a murderous lot. We're saying that women could be fearsome murderers, too."
---
Viking Warrior Women airs 8pm 3rd December on National Geographic.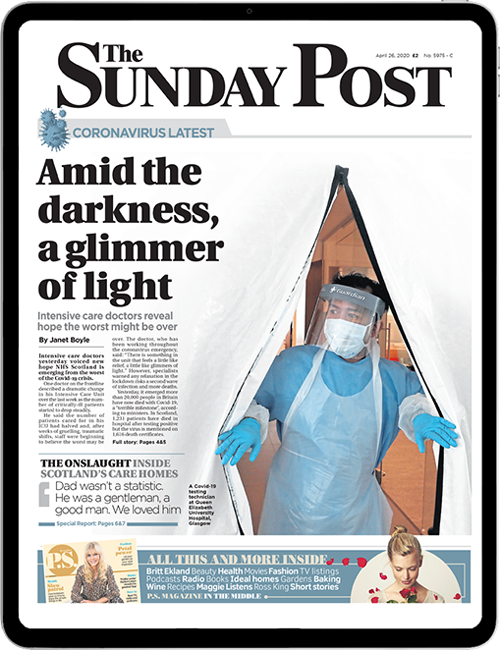 Enjoy the convenience of having The Sunday Post delivered as a digital ePaper straight to your smartphone, tablet or computer.
Subscribe for only £5.49 a month and enjoy all the benefits of the printed paper as a digital replica.
Subscribe