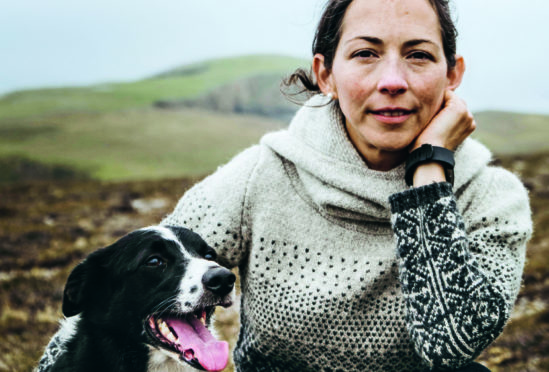 Anyone with an interest in knitting, or indeed fashion, will be familiar with Fair Isle.
Whether found cascading from home knitters' needles or gracing haute couture catwalks, the iconic and intricate pattern of repeating motifs and multiple colours has become popular worldwide.
Yet its origins lie on the tiny, remote island of the same name located in the North Sea between Shetland and Orkney.
Those who have attempted the knitting technique, passed down through generations of Fair Isle knitters, will also know that there are thousands of instructional books on the subject.
However, knitwear designer Mati Ventrillon, who has lived on Fair Isle for 13 years, believes she may be the first resident knitter to release a book about the celebrated pattern, first spun centuries ago.
"I'm not 100% sure but I think that, even though there are so many books about Fair Isle knitting, this is the first pattern book by someone who actually lives here," said Mati, 47, of Knitting From Fair Isle, released last week. "I've been trying to find out if anyone from the island before me has written a book of Fair Isle patterns and I can't find any.
"Many knitters come here for a few weeks then go home and write a brilliant book on the subject. But for me, it's important that I live and run my business on Fair Isle to preserve that permanent connection with the island."
Mati, originally from Caracas in Venezuela, boldly left her architecture job in London to move with her then-partner and two-year-old son to Fair Isle in 2007, after she fell in love with the tranquil stillness of the UK's most remote island.
After learning to knit on Fair Isle, she is now one of three local custodians of the pattern.
"There was not much I could do back then and knitting was probably the only creative enterprise here. Women from a local knitting cooperative taught me to knit Fair Isle and I loved it," said Mati.
"It took four years to become a confident knitter and then a few more to develop my style. Although this is a tradition that has been handed down, every knitter will put their personality into their Fair Isle knitting.
"One knitter on Shetland will recognise another knitter's garments by the pattern alone. Each of the three knitters on the Fair Isle have put our own stamp on it."
Mati's ultimate test came in 2013 at the Shetland Christmas Fair when she unveiled her work to her toughest critics –women who had been knitting across the Shetland Isles for decades.
"Who knows what they first thought of a foreigner, living on Fair Isle, setting up a Fair Isle knitting stall. I had every single knitter in the isles inspect my work.
"It was intense but they finally said, 'Fair Isle is lucky to have you.' I nearly cried, I was so happy."
Since then, Mati has grown her knitwear business into three successful strands. This includes a bespoke service, for which she uses a knitting machine in her island workshop to create unique garments, which can each take up to 20 hours to create and cost around £400.
She also runs an artisan ready-to-wear project, which offered internships to aspiring young knitters before the pandemic, and her MV industrial collection, manufactured off-island.
"The core idea behind my business was to bring Fair Isle to everyone," said Mati. "I love bespoke commissions but it is a long and expensive process so I wanted a line that was beautiful but more accessible."
Mati's stunning Fair Isle designs received global attention five years ago for an unusual reason. In December 2015, Mati found herself at the centre of a media storm, after she pulled up French fashion powerhouse, Chanel, for plagiarising her work. The label's catwalk show included knitwear designs uncannily similar to Mati's work, after Chanel staff had previously visited Mati's island studio and purchased several of her garments for research.
"It was both shocking and flattering at the same time. It was disappointing they didn't credit me but they apologised publicly, which was nice," recalled Mati.
"It was that real 15 minutes of fame. So many journalists were calling me, even on Christmas Eve. The sad thing was that no one was interested in Fair Isle, or my work to preserve it, which was terrible."
Mati hopes her new – and first – book, which includes 15 contemporary Fair Isle designs inspired by tradition that even beginners can master, will remind the public of the pattern's true origins. "I think people have forgotten that the knitting originated here on Fair Isle," she said. "When I started going to the mainland for Shetland Wool Week, I discovered that many visitors didn't know Fair Isle was an actual place.
"They thought it was just a style of knitting from Shetland. I realised that people should be coming here to see where this knitting comes from so I started doing Fair Isle tours during the event."
This year's Shetland Wool Week, which was due to take place this week, has been postponed for the first time in a decade due to the pandemic, although a number of virtual events have been scheduled.
"The event attracts so many people from all over the world to the Shetland Isles. Even though there will be online events, it is a big disappointment for everyone," said Mati.
"I've always run my business online because we are so remote and can't always rely on the cruise ships coming here in bad weather. This hasn't affected me much but it will have a big impact on many knitters who display and sell their garments during the Shetland Wool Week."
With a small community of around 65 people, Fair Isle may seem the ideal place to ride out the coronavirus pandemic. While there have been no Covid-19 cases, the close-knit island community still felt the effects, especially while isolating during the initial lockdown.
"Life hasn't changed much. We are very lucky to live in a small community and to be geographically isolated, that brings extra safety," said Mati. "Obviously, we had to follow social-distancing guidance. Not being able to see friends or older relatives was difficult but we are lucky to have all this open space."
Mati lives on a croft with her children Sebastian, 15, and Saskia, 12, who are currently boarding at high school on mainland Shetland. "When they're little, it's a paradise but life on a tiny island is not a place for teenagers," added Mati, who still has her sheepdog, 13 sheep and her friendly neighbours for company.
She is determined to continue passing the technique on to other young knitters and hopes to restart her internship program, where young knitters will live and work with Mati for three months to develop commercial Fair Isle garments.
"Since I came here the population has decreased. We are desperate for more young people," Mati added. "It's so important to pass this tradition on. I just hope we can get young people back here soon. My two staff left last year, so I was managing the bespoke business on my own over Christmas, and working on the book. Then the pandemic happened. I thought about giving up at one point but I love it too much, so I'm determined to find a way forward and have ideas for Fair Isle knitting kits that I hope to develop."
Her love of Fair Isle, both the place and the knitting tradition that infuse her life keep Mati going. "If I ever have one doubt about why I'm here I just look out the window. The beauty of this island fills me with such a sense of safety, belonging and peace. I'm very lucky to call this home."
---
Why more of us are getting the needle in lockdown
Knitting has surged in popularity during lockdown.
In March, social distancing measures fuelled a growing interest in crafts, including knitting, as a distraction from lockdown boredom and anxiety over the ongoing global health crisis.
John Lewis reported a huge rise in demand for craft kits, wool and sewing machines in the six weeks following lockdown, while online craft classes run by Hobbycraft reached 15 million people.
And with a rise in online knitting groups, YouTube tutorials and Instagram accounts dedicated to knitting, sewing and crochet, these traditional crafts are enjoying a chic revival among a younger generation.
Mati herself witnessed a huge increase in demand for her knitting kits during lockdown. "I started a small run of knitting kits, mainly the hats that I designed. They quickly sold out and I had so many queries about when I will restock them or do new ones.
"The interest has been quite incredible. I guess one of the few good things about the pandemic is that it has given people more time and helped them re-evaluate what's important."
The knitwear designer has no doubts that, as a creative outlet with therapeutic benefits, hand knitting has helped many people relax. "With knitting, you are making something practical that will last for a long time but it's also a creative process," she said.
"I think it keeps both your hands and mind occupied and it allows you to have moments of tranquillity because you need that concentration and focus, especially as a beginner.
"Knitting creates peaceful moments. I do love to hand-knit because it's different from what I do for work. I will sit and knit when I have a little free time in the evenings. You can see your mood within your knitting.
"If you're stressed then you see the change of tension as you knit and relax.
"It is a very practical and mindful thing to do and it's great that more people, especially young people, are discovering that."
---
Knitting From Fair Isle by Mati Ventrillon, photography by Dylan Thomas, Kyle Books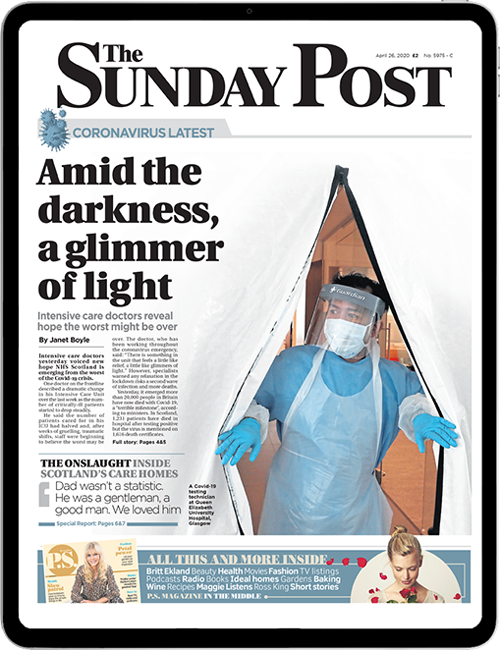 Enjoy the convenience of having The Sunday Post delivered as a digital ePaper straight to your smartphone, tablet or computer.
Subscribe for only £5.49 a month and enjoy all the benefits of the printed paper as a digital replica.
Subscribe