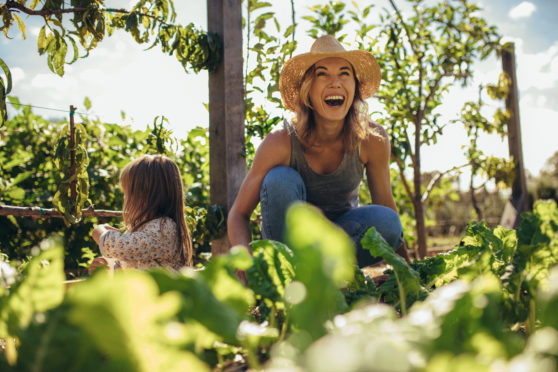 Waiting lists for allotments in Scotland have soared since lockdown as people look to grow their own fruit and vegetables.
The popularity of growing your own has never been greater and more people are putting their names down for plots.
Aberdeen has seen demand go up since lockdown started in March and currently has its highest-ever waiting list, with 425 people eager to get one of the city's council-run plots.
Councils in Glasgow, Fife and Edinburgh have also seen an increase in interest, as have the many privately-run allotments across Scotland.
Bill McMurray, vice-chairman of the Tillicoultry Allotment Association in Clackmannanshire, believes the demand for plots since March is down to a combination of people looking for outdoor space, fresh air and a desire to become more self-sufficient.
The site has 43 plots, including raised beds and starter plots, and prospective growers may have to wait years to reach the top of the waiting list.
Mr McMurray said: "We have had more interest since the shutdown started.
"We've got about 25 people on the waiting list just now, and we have got a very low turnover of plots. Since March there have been quite a few inquiries but we haven't got any plots available. I think it's a combination of things. It's fresh air. It's sociable but you can keep your distance. It's a welcome break."
The Hawthorn Allotments in Inverness now have a waiting list of around 80 people for its 60 plots, with an average of only two or three becoming available each year. Committee secretary Richard Crawford said: "We have had a few extra people interested, but our waiting list is huge anyway. We've got 80 people on it so you're looking at years. I think people want to do it for a combination of reasons.
"There were also a few scare stories going round at one point about a shortage of pickers for vegetables. Plus when you're at the allotment, it's good for your mental health, it's good for your physical health."
An Aberdeen City Council spokesman said: "In Aberdeen, the demand for allotments continues to increase and the current waiting list stands at 425. The demand for plots had been growing significantly prior to lockdown and there has certainly been further interest since lockdown. We advise people that they may have to wait two to three years or more before being offered a plot."
But many would-be gardeners looking to devote time to becoming more self-sufficient during the pandemic may face disappointment.
As well as waiting times often running into years, many allotment associations have decided not to allocate new plots while lockdown restrictions are in place.
Some allotment sites in popular areas such as the west and south of Glasgow already have incredibly long waiting lists, with some taking up to seven years.
Edinburgh has 30 sites containing a total of more than 1,560 plots, and Glasgow has 32 allotments, with around half of them run by the city council.
Edinburgh City Council has received 717 applications for its 1,488 plots since March 26 – around triple the usual amount. All its sites are currently fully occupied.
Glasgow has seen interest increase by 700% between March and June, as there were 163 applications.
Glasgow City Council said: "Allotments have been a haven for plot holders and there has been a further growth in interest as people look for good reasons to be outdoors."