Long before Nigella Lawson, Gordon Ramsay and Jamie Oliver, Delia Smith was the go-to TV cook and parents are still giving her cookbooks to their youngsters as they leave home to forge new futures.
Now 80, with a cornucopia of experience and understanding, it's clear that Smith's greatest recipe yet is her recipe for life. And now she is ready to share that, too. Delia, the darling of the kitchen with a passion for spirituality, is cooking up a plan that could help pave the way to a more peaceful world.
She tells The Sunday Post: "I still have a great zest for life. If you keep yourself occupied it's much better for you than thinking, 'I'm going to put my feet up and watch the six o'clock news every day'."
Her new book You Matter: The Human Solution was a five-year labour of love. But despite selling more than 21 million cookbooks, she was turned down by six publishers before she finally clinched a publishing deal.
She says: "It's a lifetime of thought, and being fascinated by the subject of spirituality." Lockdown was the catalyst to its completion. She adds: "The Covid-19 pandemic became very relevant to it."
At its heart, the book aims to unite people around the world, encouraging all to take care of their spiritual selves. It examines consciousness, reflection and building a worldwide community. It's a timely message.
She says: "People say to me, 'You can't get the world together because you'd never get Russia, you'd never get China or North Korea'. I'm saying if the world did get together and we had effective world politics and world leadership, they wouldn't be able to refuse.
"I'm an 80-year-old lady and I can't do it, but I hope some of the seeds I'm sowing here will get to younger people because the younger generations can do something about it and they already are. If you look in Myanmar, Belarus, Hong Kong, there have been tremendous outpourings of young people saying, 'We don't want to live like this, we don't want dictators'."
She notes the need for quiet time, the peaceful silence essential to calm fears and provide reassurance. She gets up early to have an hour of quiet time every day.
"It's quite banal in a way because that's all it takes for human beings to get in touch with the deeper part of themselves, by having stillness and silence in their lives," she says. "It's not meditation because you are not going to ever empty your mind. It's just giving yourself time to think. We have to come away from the noise."
She also explores the importance of not wasting time, of reconnecting with a disconnected world and of finding hope in humanity to help secure our destiny.
And she still makes time for the other love in her life, her local football club, Norwich City of which she is joint majority shareholder with her husband, Michael Wynn-Jones. She never misses a match. "If I go to an away match, a couple of young guys will come up to me and say, 'My mum loves you'. But I'm very grateful that I don't have to get up in the morning and do a half-hour TV show. It was hard work." Smith's thoughts these days are focused on spirituality. She remains optimistic that humanity will get it right in the end, despite war and climate change – a deliciously wholesome thought!
Delia Smith You Matter: The Human Solution, Mensch Publishing, £25.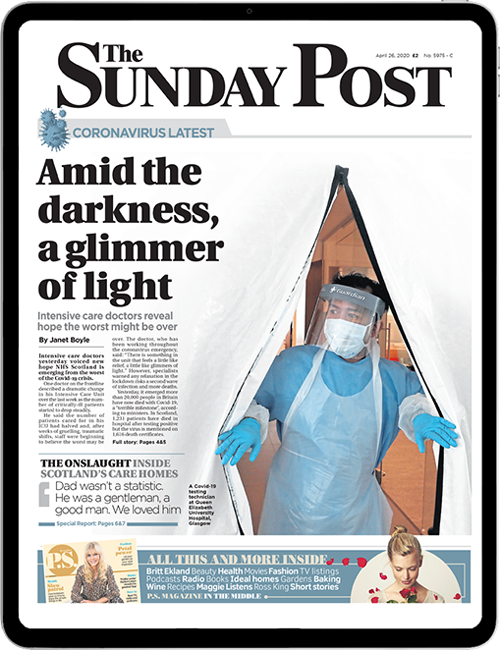 Enjoy the convenience of having The Sunday Post delivered as a digital ePaper straight to your smartphone, tablet or computer.
Subscribe for only £5.49 a month and enjoy all the benefits of the printed paper as a digital replica.
Subscribe