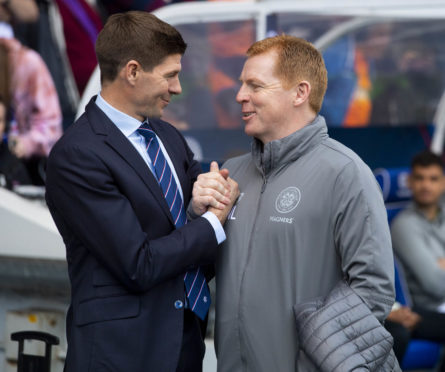 The first Old Firm game of the season is next weekend, and I don't think either manager will be overly happy about going into it off the back of midweek European fixtures.
I know Iain Blair at the SPFL has a near-impossible job, trying to work out the domestic calendar.
There are so many things outwith his control that his organisation must take into consideration.
Even so, I just wish this game was being played on a more suitable date.
I find it all a wee bit strange and don't think it's too helpful.
It was the same last season when Rangers came back from their Europa League clash in Russia against FC Ufa, straight into a derby at Celtic Park.
They lost 1-0. Brendan Rodgers and his players deserved to win, for sure, but the Light Blues would have felt they were at a disadvantage even before a ball had been kicked.
This week, Neil Lennon will take his squad to Stockholm, which is a comparatively straightforward trip.
They also have a two-goal lead, so are in a comfortable position to progress to the Europa League group stages.
Rangers had an excellent 0-0 draw away to Legia Warsaw, but they still have a real tough job on their hands to get past the Polish side.
While I make Rangers favourites, that tie is far from over.
What will give Steven Gerrard confidence is that his players have been right on it in the early stages of the season, and there is healthy competition for places.
Nobody at Ibrox can take a place in the starting line-up for granted.
That is especially true for the striker role.
Right now, you could toss a coin between Alfredo Morelos and Jermain Defoe as they are both in really good form.
At this stage, I don't think Steven will have chosen which of them will start against Celtic.
It is very much up for grabs and their next two games – away to St Mirren today and at home Legia on Thursday – will decide.
If one of them really shines in the next five days, they will secure a slot from the first whistle next Sunday.
Jermain is highly experienced and, as well as being a fabulous finisher, he holds the ball up well. He is comfortable on either foot, and brings his team-mates into play.
Alfredo is not quite as polished in terms of link-up play outside the box.
But the Colombian is first-class in front of goal, and uses his physicality well against opposition defenders.
His disciplinary record has been good this season after his five red cards in the previous campaign.
But one swallow doesn't make a summer, and question marks remain.
There is no doubt Celtic players will try to wind him up, and get a wee nibble at him here and there.
That's a part of the game.
It's up to Alfredo not to rise to the bait. It is solely his responsibility to behave.
But I'm sure every other team in the past few weeks have tried to niggle him and get him to retaliate in certain situations, and he hasn't risen to it.
That's a sign of him maturing and learning his lesson. But the game against Celtic will be the toughest test of all for him.
So who to play up top against Celtic is the toughest decision of the lot for Steven. He knows that.
Big calls are usually the difference between winning or not. Make no mistake, this particular call is massive.
In contrast, Neil won't need to go over and over in his head who will lead the line for his team.
It's Odsonne Edouard – all day long.
The young Frenchman cost the club the best part of £9 million from PSG just over a year ago, and he looks every inch the part.
His free-kick goal the other night against AIK was sensational.
He has scored against Rangers at Ibrox before, and he will fancy his chances again.
He is powerful and has a quiet confidence about him. I like him.
Leigh Griffiths will have to settle for a place on the bench, but what a great back-up to have.
It could be that if Celtic need to chase a goal, Neil could have the two of them on at the same time.
All in all, I'm anticipating a closely-fought contest and a ferocious pace over the 90 minutes.
I also hope that both sets of players – and technical areas – play hard but fair, and make life as comfortable as possible for the match officials.
They don't need to be adding fuel to any potential fires.
We all know that this derby match has the potential to be explosive in a negative sense, and a lid must be kept on it by all.
Without knowing the outcome of the two games Celtic and Rangers must play before Sunday, I would say the Ibrox club start as very slight favourites.
They won both league fixtures at Ibrox last season and home advantage can be crucial.
But Celtic are not the champions for nothing. When they need to step up a gear, they are rarely found wanting.
They will go into the game, knowing they only have 800 fans there, while there will be 48,000 Rangers supporters.
But the visiting players must not see that as any form of get-out for them if it doesn't go to plan.
I honestly think it will end a score draw, possibly 2-2.
But whatever the outcome, the Premiership will not be decided on Sunday after just four league games.
There is still a long, long way to go, but a victory for either side would certainly give manager, players and supporters a real belief that they can win the title.