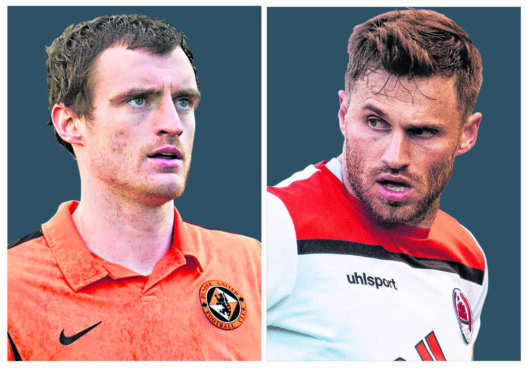 The contentious decision to drop the rape case against David Goodwillie provoked "great unease" in the Crown Office, we can reveal.
Prosecutors closed the file after the footballer was accused of attacking a woman so drunk or drugged that she was incapable of giving consent.
His victim Denise Clair would later launch and win a landmark civil action when a judge ruled Goodwillie and former teammate David Robertson had raped her.
The decision to drop the case in 2011 was taken by then Lord Advocate Frank Mulholland on the recommendation of Derek Ogg QC, who was then leading the National Sex Crimes Unit, a recently formed team of leading lawyers recruited specifically to improve Scotland's conviction rate for rape and other crimes of sexual violence.
A senior official familiar with the specialist unit's work and personnel has now revealed the decision to drop the Goodwillie case left a "nasty smell."
They said: "Some really good people had been handpicked to join this new unit and the Goodwillie case seemed the perfect opportunity to live up to all the promises about what it would do. The case seemed tailor-made for it so when it was suddenly dropped there was confusion, consternation and great unease."
Compelling evidence suggests Goodwillie rape victim was incapable of consent so why did a jury never hear it?
The high-level source said the friendship of Ogg and Paul McBride QC, who was representing Goodwillie at the time, was discussed by colleagues after the prosecution was shelved.
Within days of the decision, Scotland manager Craig Levein said Goodwillie would again be considered for selection and a £2.8m transfer to Blackburn Rovers was announced. Goodwillie is said to have made £400,000 from the deal.
The source said: "I do know there was disquiet from colleagues over the seeming ease with which Paul McBride had access to people and how the decision not to proceed with the case against Goodwillie was apparently suddenly taken in the middle of a transfer deal. There were certainly comments over who would benefit from that. A number of colleagues, particularly senior women, were extremely unhappy over the decisions made in this case.
"For many reasons, it still leaves a nasty smell."
Ogg, who died in 2020, was close to McBride, who had died suddenly eight years earlier but, after Ms Clair had been repeatedly told the evidence was strong and the case would go to court, he told her in July 2011 the prosecution was an "airplane with no fuel".
She says neither the decision to drop the case, nor why the opinion of the evidence collected after she was raped in January 2011 changed so dramatically and suddenly, has ever been properly explained to her.
Responding to the claims of consternation in the Crown Office at the decision, she said: "There are still many unanswered questions and concerns. The failure to prosecute my case and all the issues that led from that decision meant I struggled to put it behind me.
"It was not the Crown Office who raped me but the decisions taken there certainly added greatly to my pain and distress. That would have happened even if I had not been told the case was strong and would deliver justice but that certainly made the final decision even more painful.
"Over these last 11 years I have come to understand what happens to me, one way or another, is happening to many other women trying to get justice and for the same sorts of reasons. This isn't about me and how let down I was. It is about what needs to be done to make sure our police and prosecutors deliver justice for every women expecting the men who attacked them to be held to account."
David Goodwillie in line for £150,000 pay-off but has never paid his victim a penny
In 2018, then-Lord Advocate James Wolffe said an independent review of the evidence backed the decision to drop the criminal case. The Crown Office said contact between Ogg and McBride before the case was dropped would not have been unusual and said the decision taken to drop the case was correct. It said: "It is common practice for counsel-to-counsel discussions to take place from an early stage in serious criminal cases.
"This case was carefully considered and a decision was taken not to prosecute due to insufficient evidence. Following the civil case a full independent review determined that the decision not to prosecute was correct in criminal law."
Ms Clair says that position appals her and confirms why rape convictions in Scotland remain shamefully low. She said: "I now understand what it feels like when other victims talk about how they felt raped again by the system. It pains me beyond belief that the Crown Office continues to insist they made the right decision when it so clearly was not."
The current Lord Advocate, Dorothy Bain, was Principal Advocate Depute in the Crown Office at the time the case was dropped and had been a driving force in setting up the National Sex Crimes Unit two years earlier. She had no involvement in the Goodwillie prosecution, however, although she did represent him at the civil hearing in 2017 when Lord Armstrong found he and Robertson had raped Ms Clair.
Today, The Sunday Post details key police statements and reports considered by Derek Ogg before the case was shelved and Goodwillie, unusually, was told he would not be prosecuted. Many of the witnesses would give evidence at Ms Clair's civil action in 2017 but leading QCs today say the evidence collected by the National Sex Crimes Unit could and should have been taken to a jury six years before.
Baroness Helena Kennedy QC, a leading human rights lawyer and prominent campaigner against male violence against women, said: "We must always remember that for a woman to have been raped and abused the way Denise Clair has been, the trauma she faces is lifelong.
"That is why we really need far more senior women within the criminal justice system, so there is a greater understanding of the lasting effect on the lives of victims when decisions, such as the case involving Goodwillie, are taken.
"I can say that since this case, there has been a real quantum leap in how prosecutions are dealt with and I would like to think that those same decisions would not be taken today. When judgments are being made over cases like this, it should never be left to only men because it just does not work. It is important that women are involved. There must be diversity in decision making."
Goodwillie, who like Robertson has never shown remorse or regret for his actions, was selected for his club Clyde four days after his appeal against the civil ruling was rejected and has continued to play senior football ever since. However, his transfer to Raith Rovers sparked outrage after being condemned by crime novelist Val McDermid, a club sponsor.
She said the decision to sign him disgraced the Kirkcaldy side and withdrew her financial support, while the women's team severed its links with the club. Nicola Sturgeon echoed concern and the transfer was scrapped within days as the player negotiates a pay-off of up to £150,000. Neither he nor Robertson paid Ms Clair a penny of the £100,000 compensation ordered by the civil court after declaring themselves bankrupt.
Kennedy said: "I'm not at all surprised senior women had concerns about this case, and I'm not at all surprised there has been an outcry over a football club signing such a player. Clubs must understand that they have responsibility to the families which come along and support them, and to the children who look up to these players as heroes."
The Goodwillie case raises a number of concerns, according to Thomas Ross QC, a former president of the Scottish Criminal Bar Association, particularly the decision to give the footballer a "letter of comfort" saying he would not face prosecution.
He said: "This came right in the middle of the £2.8m transfer deal with Blackburn Rovers. Quite frankly, I wouldn't have cared if Goodwillie had been Maradona, he should not have been given such a letter. There was simply no benefit to the Crown, and it could have affected them pursuing any further case if another woman came forward with allegations similar to Denise Clair's.
"The Crown Office had absolutely no need to give him a letter like that although I'm quite sure Blackburn Rovers would have wanted that assurance before buying a player facing years in jail for rape. I've never wavered in my opinion that there was a sufficiency of evidence to proceed against Goodwillie. This case continues to raise suspicions surrounding the decisions that were taken."
Another QC, Simon Di Rollo, who represented Denise in her civil case, said: "I continue to believe there was sufficient evidence in law to convict Goodwillie of rape in a criminal court. There was incontrovertible corroborated evidence that sexual intercourse had taken place because his DNA was found on a vaginal swab.
"There was ample corroborated evidence that Denise was incapable of giving consent and that anyone coming into contact with her would have known that to be the case.
"This was established from the toxicology as to the level of alcohol in her system and the effect that would have on her ability to consent, from the clear witness evidence as to her demeanour and from the CCTV footage to the same effect.
"This evidence was available at the time the decision was taken not to prosecute. If the Crown's explanation for not prosecuting the case is that there was insufficient evidence then that is quite simply wrong. I do not know why the Crown did not prosecute him. "
Advocate and part-time sheriff John Halley, who has prosecuted numerous rape cases, said Lord Armstrong's judgment in the civil case was "very clear and reasoned".
He said the decision not to proceed against Goodwillie was "an odd decision", adding: "The Crown Office has never had to give any detailed analysis of its reasoning. The reasons for the decision not to proceed do not appear to stand up to scrutiny, based on the evidence available at the time. There was technically sufficient, corroborative evidence on all three crucial factual issues."
The advocate added it was "plainly wrong to specify that there was insufficient evidence".
Scottish Conservative Shadow Community Safety Minister Russell Findlay has now written to the lord advocate asking for more information about the handling of the case and why it was dropped.
The MSP has raised a number of concerns about the decision to shelve the prosecution adding: "Denise Clair remains firmly of the view that there was a sufficiency of evidence to prosecute both men in this case and that the decision to drop the case has never been fully or adequately explained to her. She is again seeking a full and frank explanation."
Ms Clair's former MSP Neil Findlay said: "Last week we heard the first minister and her colleagues rightly commenting on the lack of action by the SFA against Goodwillie and Robertson, particularly compared to the swift retribution taken over an English player kicking his cat.
"But these politicians should also be reflecting upon their own lack of action when the charges were dropped against Goodwillie in 2011 and nothing was said by any of them.
"If they had any decency they would call for a full independent inquiry into what went wrong in the National Sex Crimes Unit and their failure to prosecute this landmark case. It is not too late, even now."
---
SFA took no action and denied game had been brought into disrepute
The Scottish Football Association decided David Robertson and David Goodwillie had not brought the game into disrepute after being ruled rapists by a judge. Officials took no action against the players after being asked to consider whether the pair's behaviour demanded disciplinary action.
In a 2018 letter to victim Denise Clair's lawyers, the SFA's company secretary Heather Barton said it had considered the issue, and decided against taking action against either player.
In the letter sent 12 months after the civil ruling, she wrote: "I am advised that they were considered in terms of the prospect of raising a Notice of Complaint relative to a charge of bringing the game into disrepute.
"I can confirm that having considered the matter in detail, the Compliance Officer decided that he will not raise a Notice of Complaint against either of these players."
Yesterday, Ms Clair said: "This letter is as disappointing now as it was then and shows the attitudes in the sport that allowed David Goodwillie to continue his career with barely a murmur from clubs, players or fans.
"It should be beyond belief that footballers being ruled rapists in court does not apparently bring the game into disrepute but, given the silence that surrounded Goodwillie continuing to play senior football for the last four years, it is actually quite easy to believe. That is what is so disgraceful.
"If raping someone doesn't bring the game into disrepute, what does? It is nice to think the response might be different today but there is absolutely nothing to suggest it would be."
The response of the SFA in 2018 – and the fact Goodwillie was selected for Clyde days after three judges rejected his appeal against the civil ruling that he raped Ms Clair – is in contrast to the reaction when Manchester United player Mason Greenwood was accused of rape two weeks ago.
United immediately suspended Greenwood, 20. His teammates have unfollowed him on social media and he has been dropped by best-selling video game Fifa 22, while his sponsors Nike have frozen their support until the legal process is over.
Best-selling crime writer Val McDermid, who spoke out to condemn Goodwillie's transfer to Raith Rovers two weeks ago, has called for those responsible for signing him to leave the club and for an independent regulator to vet footballers being signed by professional teams.
Last week, Nicola Sturgeon supported the author's call, saying the idea "merits further consideration."
The SFA declined to comment.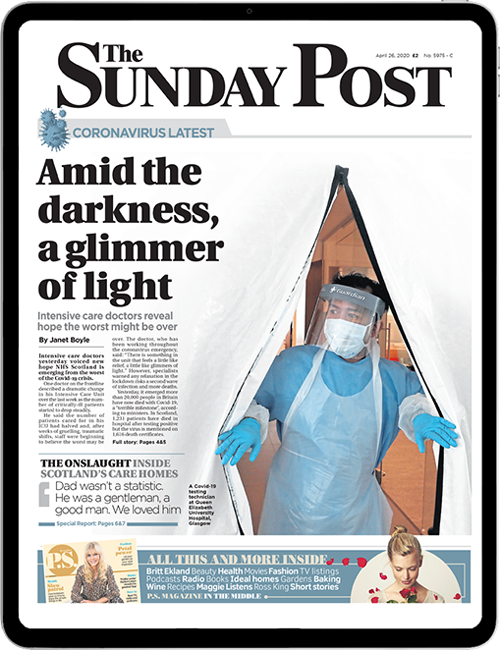 Enjoy the convenience of having The Sunday Post delivered as a digital ePaper straight to your smartphone, tablet or computer.
Subscribe for only £5.49 a month and enjoy all the benefits of the printed paper as a digital replica.
Subscribe