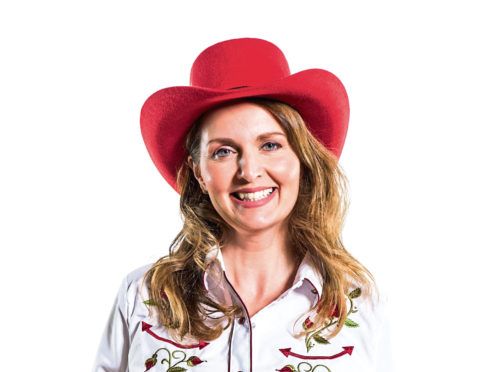 With a career that spans Bad Girls, Coronation Street and lots more, Debra Stephenson knows a good show when she sees one.
So when you hear how enthusiastic she is about new theatre show Midlife Cowboy, written by comedian and author Tony Hawks, you know it must be good.
Debra, who was Shell Dockley in Bad Girls, Frankie Baldwin in Corrie and is one of the best impressionists in the country, says of Midlife Cowboy: "It's got everything in it, really, and it has its sad moments.
"It's quite a poignant story, in a way, about a couple who have slightly lost the focus in their relationship.
"They're older now, they're not having the same fun they had when they first met. They tried for a family and that didn't happen.
"They had given up the country and western band that they'd had when they were younger, and now they are just floundering a bit, not sure what their focus is.
"The only thing they still have going for them, that is fun to do together, is a country and western club.
"With his dissatisfaction with his day job, Stuart also has a wee problem which means, let's put it this way, that he can't show his wife any real affection unless he is dressed up like a cowboy. I think you get the gist!"
It began life a while back, as a much shorter version in the Edinburgh Festival of the 1990s, and Tony has built on it, even writing all the songs for it.
"It's emotional but it's a comedy at the heart of it, and it's a very colourful musical, all set in this country and western club," continues Debra. "They really need to win a gala, so they can feel they've achieved something.
"Tony is so clever, and he has written all the songs and plays lots of instruments, as do the rest of the cast."
Debra herself, a woman of many other talents, admits she struggles with instruments.
"I play a few chords," she reveals, "and when I was 10 I used to go round old people's homes and entertain with a friend.
"Georgie [Field], who plays Penny in the show, makes me feel inadequate, because she plays saxophone, ukulele, clarinet, keyboards, drums and sings and is very funny!
"So I have been trying to learn the guitar so that I can do something, but it is hard for me. I keep feeling I need to compensate by bursting into Shirley Bassey or Kate Bush."
She was still just a kid when she did indeed do impressions of that pair and others, some musical, some not.
"I was six years old and the first impression I did was Margaret Thatcher," Debra explains.
"My dad did impressions and he used to teach me to do funny voices and impressions.
"I listened to all my grandmother's gramophone collection, too, and to Shirley Bassey, Barbra Streisand, Doris Day and Judy Garland.
"But I really wanted to be an actress, so I had a lot of drama lessons, did drama festivals and competitions.
"Now I wasn't just mimicking the voices, I felt like I became these characters.
"When I was young I did singing, drama, dance and impressions, and I still like to do all those things. It annoys me that I didn't really learn musical instruments.
"I'm not the best dancer in the world! I wish I'd continued my training for longer but I manage well enough. I did Let's Dance and a Strictly Christmas Special one year. I really, really love it.
"I would like to do the whole Strictly thing, because that would definitely help me improve my dancing."
Clearly something of a perfectionist who doesn't need anyone else to motivate her, she knows all about pressure.
Having, for instance, sung in front of vast audiences and small theatres, she almost always knows what to expect.
"I've only sung in a stadium once, and that was with a choir who were all singing, at Wembley. That was for a charity, Missing People, and it was fantastic.
"And I've sung at the Albert Hall and done impressions there. I think it is more about the atmosphere. You're always going to be nervous, because you don't want to mess it up in front of anyone.
"I knew press night for Midlife Cowboy was going to be a bit scary because Tony knows a lot of celebrities. If you're doing what you do in front of your contemporaries, people who are very good and very successful, you feel like you need to really up your game.
"I don't think there's anyone who doesn't get nervous. Getting a bit jittery is partly why you do it, because you get a buzz with the adrenaline."
Having been all over the news with Coronation Street along with appearances in Casualty, Holby City, Waterloo Road and many more, you might expect most people in the street would remember Debra as Frankie Baldwin, wife of Danny, played by Bradley Walsh.
Instead, it's more likely to be Shell, a scary lady handy with a knife, good at smuggling drugs into prison and with a decidedly mean streak.
"I think now people have forgotten about me in Coronation Street," she says modestly, "because it is such an ongoing thing, the life of Coronation Street.
"A little time goes by, and people forget, because you have other characters that come in. And then you have other characters who have been in it for many more years than I was. They are the people that everyone remembers.
"Weirdly, the thing that people seem to remember with me is Bad Girls. That was before I did Coronation Street, but that is the one!
"It seems to have lasted. Of course, you never really get repeats of Coronation Street.
"With Bad Girls, though, people have got the box sets and watch them again and again.
"There were far fewer episodes of Bad Girls, and it had far fewer characters, so maybe that's why it's the one people remember me for.
"It was a great character to play as well, and it probably was quite groundbreaking at the time. Now it has that kind of cult following.
"The thing that I personally feel most proud of is The Impressions Show.
"When I look back on those clips, I'm happy with them and I think, 'Yeah, that's the thing I wish more people had seen and would remember!'
"There are certain things you look back on and think you loved doing them. I'd have loved to have done more period drama. But I can still play the old maids!"
---
Midlife Cowboy is at London's Pleasance Theatre until October 6.