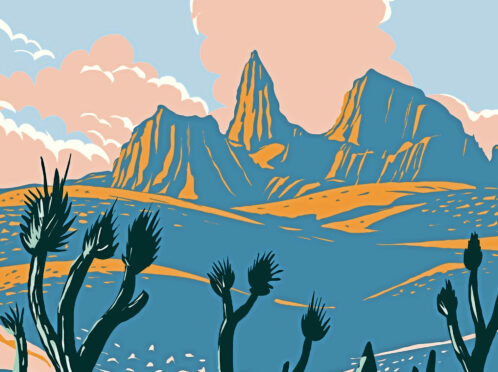 From watching westerns on TV as a child and scanning the skies over the spooky Roswell UFO area of New Mexico to lengthy breaks in the Joshua Tree National Park in California, the deserts of America's southwest have never failed to mesmerise musician Dean Owens.
The heat and the dust, the stillness, the big blue skies and the legends first struck him 25 years ago when the singer/songwriter and his girlfriend, Nicki – now his wife – arrived in Albuquerque for their first road trip adventure in the States.
"The desert has always called to me and I can't resist going back time and time again," said Dean, who lives near Berwick-upon-Tweed but is originally from Leith. "On that very first visit, I couldn't get over the drama of the landscape and the blue New Mexico sky as it was so different from the grey and often rainy climate I was used to. It was from one extreme to the other and once I had a taste of the desert, I just had to get more, the lure was so strong."
The stark canyons, cacti, coyotes howling at night, doves, ravens and grim vultures circling on the air currents, all resonate with him and directly feed into his writing and musical output.
And, despite being fair-skinned and red-haired, Dean has even dared to record and film in the desert, although a steady supply of sunblock was as important as his song book while shade was desperately needed at each break in recording and filming.
"I did work with American chums in a project called Buffalo Blood and we left the comfort of the studio in Nashville far behind to travel three days out to the New Mexico desert to record a collection of songs.
"We visited the stunning Echo Canyon and Georgia O'Keeffe's Ghost Ranch in Abiquiu in Rio Arriba County where a lot of the filming for the TV series Breaking Bad was completed," said Dean.
"We would play and film, and I kept diving for cover under trees and bushes because the sunshine and heat were relentless. It was a great musical experience and I'm so glad I completed that work because it really felt just so natural to sing and play in the desert. There is nothing like it."
And Dean points out that there is nowhere quite like Death Valley in the northern part of the Mojave desert in California, where he and Nicki spent part of their honeymoon.
Most people tend to keep on moving through Death Valley, which is one of the hottest places on earth, but Dean and Nicki stayed at a place called Stove Pipe Wells, surrounded by sand dunes and "unbelievable heat".
"One evening when it was getting dark, I went outside and it was 120 degrees Fahrenheit," he said." It was like having a thousand hair dryers blasting at your face.
"It might sound crazy but I felt more alive there than anywhere I'd ever been."
Dean and Nicki also helped a family whose car had broken down in Death Valley.
"It was on a main road but they had been stranded for some time, so we gave them water and eventually they were rescued – but as it's so remote they could have been in worse trouble."
But it was in the desert around Joshua Tree where Dean and Nicki put down roots after buying an Airstream, the distinctive silver bullet trailer home, on eBay.
"We made friends with Bob Delacey, a former park ranger and his wife Michelle who ran a small animal sanctuary just outside the Joshua Tree National Park," said Dean. "They had some land they kindly let us use so we are able to live in the Airstream every time we return to California.
"And it's wonderful in so many ways. The silence in the desert is like no other. It is so still and dry you can hear your heart beating.
"The plants and the wildlife are amazing too and there is no place I love more. I can really understand why the desert has attracted so many musicians such as Gram Parsons, Townes Van Zandt, Calexico, even the Rolling Stones, because it is beautiful, wild, scary and dramatic.
"Like me, all these great musicians have found something in the desert that helps them create music.
"Some people like to go to church but the desert is very much like a church to me. I go there for spiritual guidance, for inspiration, for peace and calm and it's also a place I can mourn for family and friends I've lost over the years.
"The desert offers me so much and I always want more."
While the desert can be uplifting, it can be fierce as well and Dean and his family were caught up in a wildfire and were warned that they might have to evacuate their Airstream as the desert blaze raged just a few miles away.
"We were safe but watching the flames and smoke, even at a distance, was scary to witness, though I did get a song out of it called Dolina."
Its lyrics include the lines: "Remember the night we looked for snakes and watched the desert burn / Waited for all hell to escape and the violence to return."
While he was glued to John Wayne films such as Rio Bravo and The Searchers plus spaghetti westerns as a young boy, Dean has since developed an interest in the history of the indigenous people of America.
"We weren't told the true story in those old cowboy and Indians films, where the Indian was always the bad guy," said award-winner Dean, whose latest album, Sinner's Shrine, is released later this month.
And, like the Desert Trilogy of EPs he brought out in 2021, the effect of the desert on his songs is palpable with mariachi flourishes and bursts of Ennio Morricone-inspired whistling.
The opening track on Sinner's Shrine is called Arizona and the third New Mexico, two of his beloved desert states. Another, La Lomita – which means "little hill"– is about a church that sits on the border between the US and Mexico and has offered sanctuary to desperate migrants over the years. It was threatened to be bulldozed to make way for Donald Trump's wall.
The songs on Sinner's Shrine – recorded with members of the band Calexico – show he is not only intoxicated by the sounds and moods of the desert but reveal how much they have touched his heart.
"The new songs cover themes of love and lust, sinners and saints, the displaced, and the wanderers, while the border ghosts run through them as well," he said.
"Because of the pandemic there were delays so to see Sinner's Shrine finally getting its release into the world is a very special moment for me.
"Working with the guys from Calexico on this record in Tucson was a magical time, a time before lockdown and the pandemic.
"We recorded it out in the land of the Sonoran Desert and it almost feels like it's been buried in the sand for the past eighteen months or so. It's time now to brush away that sand and share with everyone."
Dean has dedicated the record, his eighth solo album, to "all those who have lost their lives trying to cross the US/Mexico border in search of a better life."
---
Sinner's Shrine by Dean Owens is a released by Eel Pie Records UK on Feb 18 and will feature in a special album of the week programme on Celtic Music Radio on Saturday.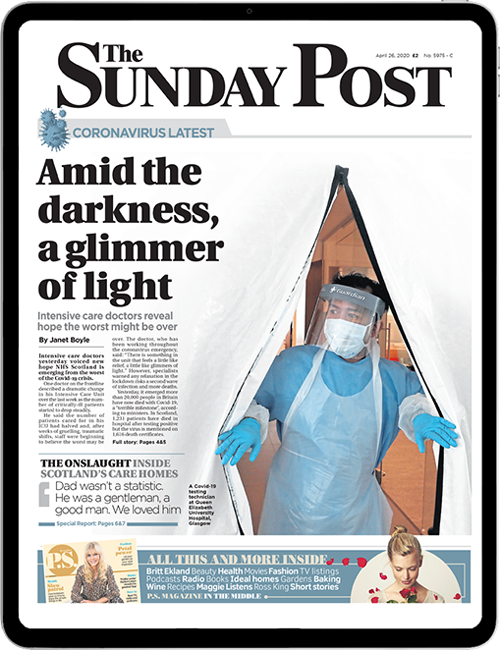 Enjoy the convenience of having The Sunday Post delivered as a digital ePaper straight to your smartphone, tablet or computer.
Subscribe for only £5.49 a month and enjoy all the benefits of the printed paper as a digital replica.
Subscribe