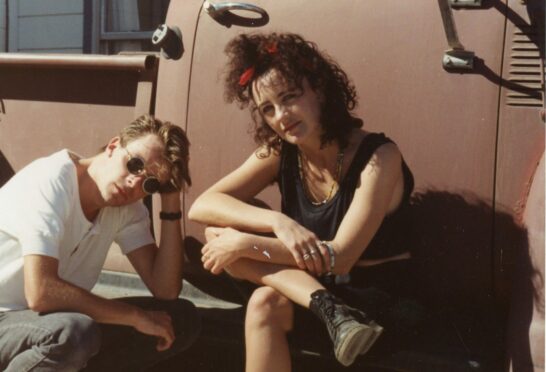 They are one of Scotland's biggest bands but Deacon Blue have never told their story. Until now.
To Be Here Someday is the first authorised account charting their 35-year career.
The author, Paul English, has interviewed them many times – the first time, in 1996, for his university magazine – and has now told their story in their own words.
He spoke to many fans too and, here, he remembers the summer day when he became one.
---
When I look at the footage of the crowd now, I still can't believe it.
A quarter of a million people standing in a park, celebrating a city's midsummer moment in the spotlight, waiting for the headline act of the biggest party the place had ever seen. And me, 14, right there, down at the very front.
The Big Day in 1990 was the apex of Glasgow's year as Britain's first European City of Culture. Some consider it a coming of age moment for the city's burgeoning cultural renaissance, after the decline of heavy industry.
Maybe so. But as a 14-year-old, I didn't know anything about all that. I just wanted to have an adventure with my best mates from the Renfrewshire village that was our home.
Anyone who has read Andrew O'Hagan's novel Mayflies, and who was lucky enough to have friends like mine to chase these moments with, will maybe understand why I related so strongly to the adventures of his teenage characters on their musical odyssey to Manchester.
The Big Day was as formative for me. Rolling through city streets, we were on an early journey in pursuit of our adolescent identities and a place down the front of the biggest crowd we'd ever seen.
June 3, 1990. Glasgow ringing with music from summer's day, into summer's night. As O'Hagan says, what else matters when the boys are made of sunshine?
In the popularity lottery of those early teenage years, reputations rose or fell on critical detail. What jeans you were wearing. How much your mum and dad paid for your sannies. Who your favourite band was.
I daresay I'd still have gone to The Big Day had Deacon Blue not been playing. There were other bands I liked on, too. Hothouse Flowers. Texas.
The significance of a guy called Michael Stipe singing on a tiny stage on the Broomielaw would elude me – and hundreds of thousands of others – until REM became the biggest band in the world a few months later. A year or so earlier, I'd heard a song called Chocolate Girl in my dad's pal Tommy's car. His daughter Elaine put the cassette on as Tommy drove us all on the back road between Port Glasgow and Kilmacolm.
I liked the sound of it. At first, I thought this music sounded like it was from America, which, being a 12-year-old boy in Scotland in 1988, I thought must mean it's good. I liked the way that woman's voice sounded with that man's. And, hey! A song about chocolate!
Maybe I'm giving my teenage self too much credit to say that I think I recognised Alan, the guy they sung about in the song, as one of those blokes my big sisters used to call yuppies and laugh at. I think I even felt a bit sorry for the chocolate girl, whoever she was, being broken up and swallowed and wrapped in bits of silver. Whatever that meant.
But what I did know was that there was more going on here than on those Now That's What I Call Music compilations my sisters would roll their eyes at when I asked for at Christmas.
Maybe I'd found my band.
Elaine, of course, copied it all onto a C90 for me. "Deacon Blue: Raintown and b-sides," it said on the spine of the index card.
Among the songs I spent weeks listening to on repeat, was one about a binman saving up to buy a dingy, calling it Dignity, sailing it up the west coast and packing his lunch in a Sunblest bag. A Sunblest bag? They didn't get that in America. Sailing around villages and towns? Like Uncle Jackie did in the wee boat he sometimes took us fishing off Port Glasgow in?
The guy in this song took no lip off nobody, either. And that was definitely something my mum and dad would say.
And what's that he's singing on that song, Raintown? "Job hurts and it don't pay?" Isn't that what they're always talking about on the tea time news that we're not allowed to turn over, with all those miners and steel workers and folk on the dole with tired eyes and tears and frowns?
Maybe this wasn't about America after all.
By the time Deacon Blue had knocked Madonna off the No 1 spot on the UK album charts a few months later with their LP When The World Knows Your Name, their poster was on my wall, I'd my own copy of Raintown, and was queuing in Rhythmic Records in Greenock to buy tickets for their concert at the SECC in December 1989.
My big cousins said it was cool that I liked this band, who I'd since learned weren't from America, but instead Glasgow, a fact that suddenly made that place I only knew for the football infinitely more exciting. My new pals in first year swapped copies of the albums. My sisters danced to them at the discos. My dad wanted a tape for the car. My mum liked Real Gone Kid, "the song with the train sound in it. Woo-ooh, woo-ooh, woo-ooh!".
When my sister moved into her student flat in Glasgow, I was quietly thrilled that it was around the corner from the Mitchell Library, which was on the back of their first album.
I'd probably found my band.
By the time Deacon Blue were a fixture in the singles charts I could measure their success by the shout from the kitchen on a Sunday afternoon. If the call went up that the soup was out before I'd pressed record on my tape deck, then they might be in the Top 10. In the end, Timmy Mallett was all that stood between them and their Four Bacharach and David Songs EP going to No 1. Cold soup, that day.
As I progressed through school, they released two more albums, grafting new songs onto the rolling playlist of memories. My head spun when I won a Radio 1 competition, being flown to London with a pal for a warm-up gig at the Clapham Grand in 1993. I'd missed the bus to school, hanging back to hear who the winner was, bursting in high and late to Higher English, desperate to tell the mates who'd already heard it all on the way to school.
University came with new people, new influences, new bands, new music. When Deacon Blue split up on my 18th birthday with an album at the top of the charts and a Barrowland farewell in May 1994, it was as bittersweet as that song about chocolate.
I couldn't know then that their story was only half-told, that there would be many more records, gigs, and memories. Nor that one day, years later, after all the albums and all the interviews, I'd write it all down with them.
In Tommy's car all those years ago? I definitely found my band.
---
Cumming: I was crying in California and singing Dignity
Hollywood Scots Alan Cumming and Craig Ferguson might have made their names in far-away places, but the sounds and streets of Raintown keep them connected to home.
The pair are among hundreds of fans contributing memories and anecdotes to Deacon Blue's first book To Be Here Someday.
Cumming recalls meeting the band on STV's Terry Neeson Show in 1987 and being "fan-girly", and recalls singing Dignity at party in San Francisco, to his husband's family, with tears streaming down his face.
He said: "They were all singing Frank Sinatra, and there I was crying in a house in California singing Dignity, thinking about home."
Comedian and actor Ferguson joined the band on stage at Glasgow Barrowland in 1989, carousing as Santa and singing Christmas Baby Please Come Home.
He said: "I was still chemically excitable at the time, it was before rehab, but there was such a great atmosphere, and people still talk about it years later."
Other fans contributing to the book include FM Nicola Sturgeon, authors Ian Rankin and Val McDermid, as well as actor Johnny Vegas and veteran BBC DJ Johnnie Walker – the first to play the band on Radio 1.
Band members past and present reveal hilarious anecdotes about Superman Chris Reeve, rock 'n' roll legend Little Richard and soul singer Roberta Flack.
But the book also contains a poignant tribute from the wife, bandmates and friends of their late guitarist Graeme Kelling, who died from cancer in 2004.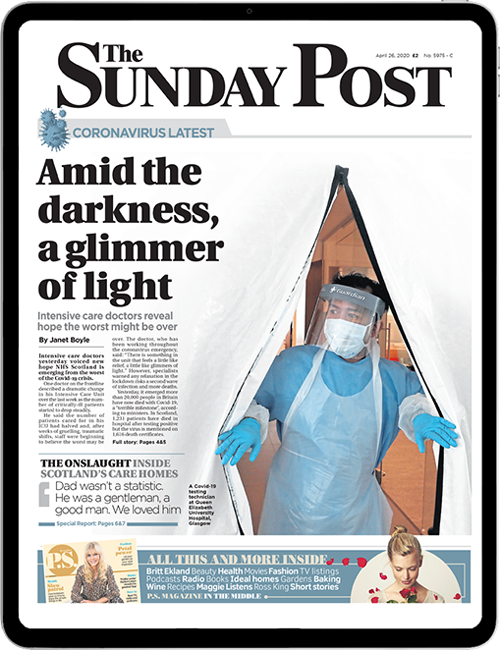 Enjoy the convenience of having The Sunday Post delivered as a digital ePaper straight to your smartphone, tablet or computer.
Subscribe for only £5.49 a month and enjoy all the benefits of the printed paper as a digital replica.
Subscribe