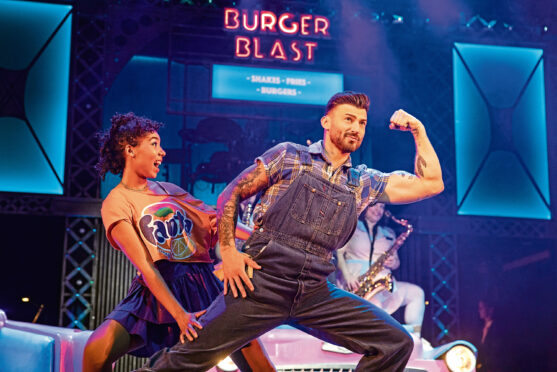 Darren Day is in hospital, hooked up to an IV drip.
"Three weeks ago I went to a 24-hour gym after a show and I dropped a dumbbell on my shin," he explains.
"I had a hairline fracture but I don't like missing work so I kept going, but last weekend it didn't look right so I went to A&E. I had developed an infection and was told I was in danger of developing sepsis if it wasn't treated!
"Luckily the infection hadn't got into the bone. I'd been doing my best not to limp on stage, so putting weight on it made it worse. The doctor said I had been working on a broken leg for three weeks."
Musical theatre star Day, 53, is currently touring Footloose, playing the tyrannical reverend who has banned dancing in the local town. Luckily the part requires very little dancing, so he can get back on stage quicker.
"It's always a blessing for the audience if I don't dance," he laughs. "I've turned down Strictly three times because I know I'll be the butt of the joke. My managers say those are the ones who get great coverage but I know I'd be considered a song-and-dance man, but I have to work so much harder, working after-hours with the choreographer."
Since the pandemic ended, the dad-of-three has taken on two roles that were on his bucket list – Billy Flynn (in Chicago) and now the reverend.
"Twelve years ago I met the producers for both shows within six weeks of each other and both said they liked me but I didn't look old enough, so I suppose the downside is I now look old enough," he laughs.
But Day is happy to be the father figure both on-stage and off these days. Describing himself as a former "party boy", and having begun his musical theatre career in Joseph 29 years ago, he says he has only started to feel comfortable in his own skin for the first time these past 18 months.
"In both Chicago and Footloose, younger members of the cast have come up to me and told me I signed their programme when I was in Joseph – one of them was seven at the time! At first it made me feel really old, but now I think it's cool that I was the first person they saw doing musical theatre and now they're doing it. I smile when they come to me for advice – it's just as well they didn't ask me 15 years ago!"
Day believes Footloose's story is stronger than other jukebox musicals because the songs and the story were created at the same time. He even had the chance to chat with the film's Oscar-winning screenwriter and songwriter Dean Pitchford and receive tips on how to play the role originated by John Lithgow in the 1984 hit.
"I need to come in with the drama after the dancing and huge hits like Holding Out For A Hero, but it works and the audience comes with us."
Having opened Chicago in Glasgow and Edinburgh last September, he is determined to be back on stage for Footloose's Scottish dates.
"Neither venue had hosted a show for more than 500 days and when the band struck up I don't think I've heard an ovation like it," he smiles. "Also, I'm half Glaswegian on my dad's side – my family is from Milngavie. I have so many memories of being there as a kid, and experiencing Hogmanay, so it represents happy times.
"My two youngest are going to be with me in Glasgow and Aberdeen and it'll be the first time they get to meet my cousin and her children.
"My grandfather on my dad's side was a comedy strongman with his father. They supported Laurel and Hardy and George Formby. He told me about the Vaudeville days and left me some of his billboards. I have a picture of one from the Glasgow Empire as my phone screensaver. Wild horses couldn't keep me from performing in Scotland."
---
Footloose, Edinburgh Playhouse, Tuesday-Saturday His Majesty's, Aberdeen, July 25-30 King's Theatre, Glasgow, August 1-6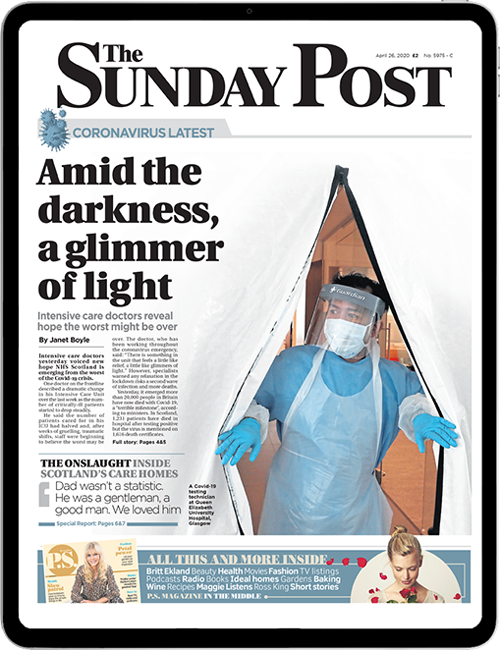 Enjoy the convenience of having The Sunday Post delivered as a digital ePaper straight to your smartphone, tablet or computer.
Subscribe for only £5.49 a month and enjoy all the benefits of the printed paper as a digital replica.
Subscribe