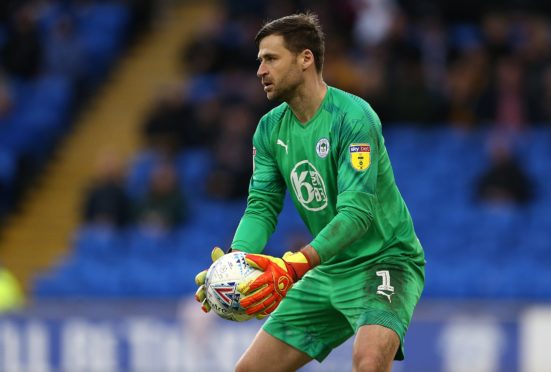 David Marshall hopes to hear this week that he's been given a green light to get back playing.
Apart from anything else, it will mean the physical pain will have been worth it.
The EFL are expected to announce this week that the Championship will follow the English Premier League's example and re-start season 2019-20.
The Wigan Athletic and Scotland keeper returned to training with his club in the past week, and discovered few allowances were being made for goalkeepers.
"It was strange, getting tested twice for Covid-19 but it's what needs to be done," admitted the 35-year-old.
"We need to make sure the environment in football is as safe as it possibly can be.
"The training was non-contact stuff, and the sessions were staggered to allow us to work in small groups. It was great to get back into it, and feel the ball again.
"That said, the goalkeepers had to do some of the running the other day – and it was as tough a physical session as I've had in a long time!
"It was a like a proper pre-season shift.
"But that was what I needed. I've been away from the game for the best part of 10 weeks, and that is the longest period I've ever had to sit things out since I became a professional almost 20 years ago.
"I've missed it, to be honest.
"I enjoyed getting back to training with our goalie coach, Nick Colgan, who used to play for Hibs. He's brilliant at what he does.
"We hope that we will be into the next phase quite soon. We tend to follow the lead of the Premier League, so we are around a week behind them.
"So it's a case of waiting to see if the league will resume and a decision gets rubber-stamped. That is out of our hands but we'll be ready to go."
When football came to a halt in mid-March due to coronavirus, Wigan were flying.
They'd taken 10 points from their last four games and in that period Marshall hadn't conceded a goal. The Scotland No. 1 was in sensational form.
The Latics had climbed to 20th spot in the table and fancied their chances of going higher. Relegation was not on their minds, and still isn't.
That's why Marshall hopes the season resumes. He wants to see Wigan continue their good work for the remaining nine games, but realises a lot has happened since they last kicked a ball.
"Yes, it's strange times," he said. "For tens of thousands of people, it's been traumatic.
"I never lose sight of that, and never forget the importance of what this has been about.
"But we have had our focus back on football in the past week, and our aim is to pick up from where left off.
"We were in great form. Now we might just be three wins away from safety, and we'd look to get that done as quickly as possible.
"But we all know how competitive the Championship is. Most teams still have something to play for.
"In fact, whether it's to make the top six or avoid going down, I think every team has something to focus on.
"When we get back to playing, there won't be time to take a breath. It will be intense and exciting. I'm looking forward to it."
Away from the domestic game, Marshall is also waiting to hear what is going to happen with international football.
The former Celtic, Norwich, Cardiff and Hull keeper knows that Scotland are just two games away from qualifying from the Euro Finals next summer.
If they get past Israel at Hampden, they will face either Serbia or Norway away from home.
Then they'd just be 90 minutes away from being the first Scotland team to make it to a major championship since the 1998 World Cup in France.
It would be the highlight of Marshall's career, and that would be something.
He has been a top-flight keeper since he starred on the UEFA Cup stage in 2004 with stunning displays for the Hoops against Barcelona.
That was during a successful Parkhead era under Martin O'Neill.
Indeed, tomorrow it will be exactly 20 years since the Northern Irishman was paraded as the new Celtic boss.
Marshall recalled: "I was just 15 when Martin was appointed.
"I went full-time the following summer, and was there with the likes of fellow goalies Jonathan Gould, Dmitri Kharine and Rab Douglas. It was a great learning experience for me.
"Martin made an instant impression on the football club, and it all started with the 6-2 win over Rangers.
"I was a ball boy that day. What an incredible time that was!
"To go from that to playing for Celtic against Rangers, then in big European games and winning silverware, was very, very special.
"I've been very privileged and fortunate. I hope I have a few more good moments to come in my career."