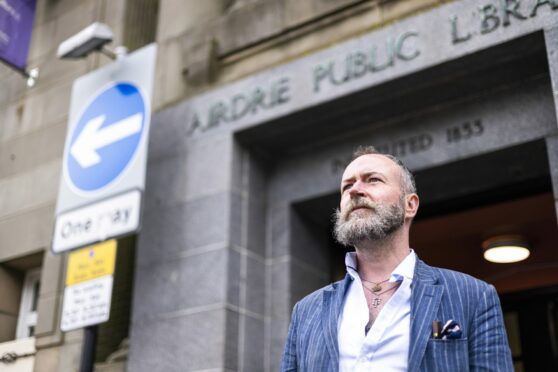 Vigilantibus. Be Watchful. Airdrie's heraldic motto sits proudly beneath a double-headed eagle but even its most beady-eyed residents could not have foreseen the Lanarkshire town becoming a literary lightning rod, a magical vortex of psychedelic revelation.
Local boy done good, David Keenan, a hurtling, prolific star of the counter-culture with a string of experimental but critically-acclaimed novels on the shelves, insists the inspiration of growing up in Scotland's most magical postcode, ML6, runs like a seam through his books.
Sometimes the inspiration is obvious. This Is Memorial Device, his breakthrough book, charts the eponymous fictional band as it hurtles through the town's underground music scene in the early 1980s, in pubs and clubs stuffed with misfits and musical visionaries. Novelist John Niven described it as: "Dream-shaped, intoxicating and brilliant. A hymn to small-town energy and intelligence."
For its author, the reason This Is Memorial Device struck such a chord is because so many people can relate to the experience of growing up away from the big cities and bright lights. However, Keenan also feels there is something about Airdrie that makes it particularly special and has returned there for his new novel, a prequel called Industry Of Magic & Light, set in the hippy counterculture of the '60s and early '70s.
Psyched to officially announce – and reveal the cover – of my sixth novel, INDUSTRY OF MAGIC & LIGHT, the long-coming prequel to my debut THIS IS MEMORIAL DEVICE, publishing 25/8/22 @WhiteRabbitBks.

Airdrie. 1960s. Up in the Sun.

Pre-orders open: https://t.co/qijWLNwttX pic.twitter.com/dujl8Kszjk

— David Keenan (@reversediorama) April 20, 2022
"If you grew up in a small town in the 20th Century, and were into music and art, the books will reflect your experience and that sense of adventure and quest. I speak to lots of people from different places and they say This Is Memorial Device was about them, and I love that, but I feel Airdrie has a particular magic to it, without a doubt," said Keenan, a propulsive, fast talker with multivarious enthusiasms.
"I think it's unique, with mystery, magic and eccentric people. It's a vortex, a hard place to escape. It had the least mobile population of any town in Scotland, which explains why Airdrie Savings Bank lasted so long [Britain's last independent savings bank closed in 2017, after more than 180 years] – the next generation opened an account in the bank because no one left.
"Airdrie has a strange grip on you and in a way I've never left, even though I live in Glasgow now. It still has a complete grip over my imagination, and I'm still completely in love with the possibility and myth of Airdrie."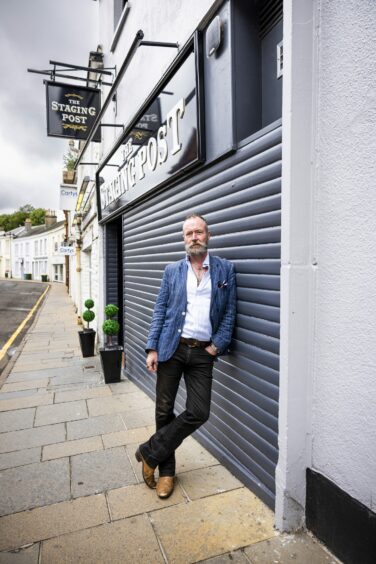 Born in 1971, Keenan spent 25 years as a music journalist before turning to his first love of fiction. He has published four novels, including last year's monumental and aptly-named Monument Maker. Industry Of Magic & Light – released later this month and previewed by a talk from its author at the Edinburgh Book Festival on Saturday – is his fifth. The sixth is also already written and again is partly set in Airdrie, a sequel to Memorial Device.
"When I was younger, I always knew I'd write about Airdrie, because I had a magical time growing up there and I wanted to write the novel that flew in the face of the typical working-class small-town novel, which is more like misery memoir about drugs and alcohol and no culture, which wasn't my experience at all. I wanted to write a love letter for that time, when post-punk transformed working-class towns and made them full of optimism.
"Everything was magical to me when I was young in Airdrie. I'd see all these cool people walking around and I'd think, 'Wow, what wild lives are they leading? What are their houses like? What music are they listening to and which books are they reading?'
"One of the books that inspired me and continues to inspire me was The Book Of Airdrie, which was edited by Mr Scobie, who taught me calligraphy when I was 11. There was a section in it about witchcraft and the supernatural and magic in Airdrie. Interestingly, that part was excised in later editions, but I remember it blowing my mind. I realised the very streets I was walking down had their own mythos and supernatural history, its own ghosts, and I thought it was amazing.
"I was really into reading science-fiction and when my grandfather died he left me some money and I bought a telescope and joined the observatory (Airdrie is home to the second oldest of only four public observatories in the UK). It was an amazing learning experience being there, turning you on to the fact there were these encampments of eccentric people in Airdrie. There's a section in the sequel that takes place at the astronomy club, where one of the characters, Paimon, turns up and gives a lecture to the kids, which goes back to the strange lectures we heard there from the eccentrics. These talks would blow my young mind.
"I know the people who run the astronomy club now and a few years ago, for my birthday, my wife secretly organised a tour for us and we went to one of the meetings and it was magical."
Industry Of Magic & Light centres on a group of hippies running a psychedelic light show. Told in two halves – the first in the form of an inventory of a caravan's contents abandoned by one of the hippies, the second as a tarot card reading – it's described as a channelling of the energy of the '60s.
"I'm in love with the '60s," Keenan continued. "I do consider myself philosophically a hippy – I grow my own vegetables, I have an allotment, I built myself a wooden hut with a wood-burning stove, I don't have a TV. I believe in the values of poetry, free jazz and psychedelia and I'm a big collector of that culture. The '60s was the apex of the 20th Century."
At the time that I met him, Big Patty lived somewhere near the top of South Bridge Street, but the weird thing is I've no idea how I first got to know him, perhaps I met him one night at The Staging Post across the road from Airdrie Library, perhaps I met him at the library itself. I was a teenage sci-fi, horror and existentialism nut and that was my haunt, if you know what I mean, my medieval castle, but really I have no idea, which is weird, but appropriate, perhaps, because it makes it seem more like an amnesiac alien abduction than the beginning of an awkward long-term friendship, which, looking back, is closer to what it actually felt like.

– From This is Memorial Device
The 21st Century, however, hasn't been so kind to towns like Airdrie and Keenan says his heart sinks when he goes back now, not just for the beleaguered high street but for no obvious signs of culture.
"On the streets I don't see any sign of art or alternative lifestyles and cultures, but we live in different times now and the tribal stuff happens online these days. Back then, there was no social media so in order to be seen and make connections you had to be on the streets in tribal colours as a punk or mod."
He added: "It's statistically unusual, the number of strange, artistic people who come from Airdrie. I'm friends with The Young Team author Graeme Armstrong, who is from Airdrie. He also remarks on how strange and unique Airdrie is, how it gets under your skin and is hard to let go of. The Young Team was about that – growing up in Airdrie and Coatbridge, the magic that was there. Other people recognise it and are driven to memorialise it; it's quite incredible the effect the town has had on people.
"I write in gratitude for a magical, wonderful life, an incredibly happy childhood, and for all the experiences I've had. It's my way of paying back the universe for the beautiful situations and life it has given me.
"These books are about eccentric lives lived on the periphery, on the edge of the map, groups that were never written about in NME or Melody Maker, but somehow it meant more. It's difficult to be fully committed to alternative art and culture in a town like that, so I think there's something bold there if you look at the people who did."
'It has become shorthand for a magical cultural experience'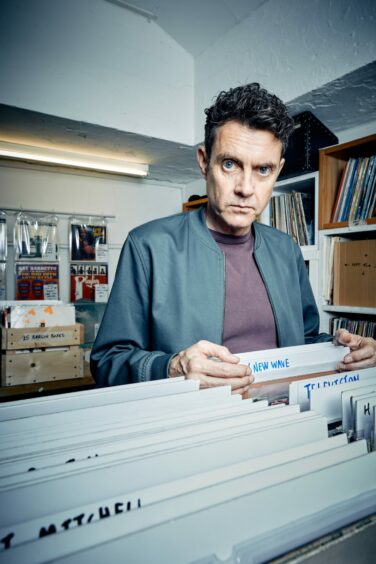 The Thick Of It and Line Of Duty star Paul Higgins will star in a new one-man play based on This Is Memorial Device at this year's festival.
He plays Ross Raymond, the character in the book who curates the interviews and stories of Airdrie's post-punk movement – particularly Memorial Device. It runs nightly from Saturday.
Keenan said he never envisaged the book being adapted for the stage but says the result is mind-blowing.
"It's interesting, I wasn't sure how I would feel about it because I'm not a writer who has any interest in adaptations of my work," he said. "I'm a novelist, these books are novels and they are finished as novels. People always say, 'Maybe they'll turn it into a TV show', but who cares, it's not a stepping stone to more success for me.
"There was a one-off performance at the book festival a few years ago, when I worked on the script with (writer-director) Graham Eatough and I absolutely loved it. I began to realise Memorial Device doesn't belong to me anymore; everyone is their own Memorial Device. Everyone reads it differently, everyone sees their own memories through the filter of it, and has a different idea of what it sounded like and looked like, so I realised the book had to go into the wild.
"It's exactly in the spirit of Memorial Device to have multiple tellings, because even in the book people tell contradictory stories about the same events, because that's how people remember things.
"There's a Memorial Device Twitter account with 34,000 followers and it has nothing to do with me. I don't know the person behind it and have never met them, but they wrote to me early on and said it came from a love of the book.
"They are total fans, so I gave them my blessing. I have no say over it but they get it 100% and it has become a community of people.
"Memorial Device has almost become a shorthand for a magical cultural experience in growing up and having your world transformed by art. Seeing this cult and mythos built around the book slipping through my fingers and stepping off the page, in a way it's what every writer wants, for the book to become real and to be out there in the world, changing and transforming.
"It's absolutely beautiful and I'm so excited to see the play."
---
David Keenan: Nothing Is Real In Airdrie, Edinburgh Book Festival, Wee Red Bar, Saturday, 8.30pm. Industry Of Magic & Light, is out this month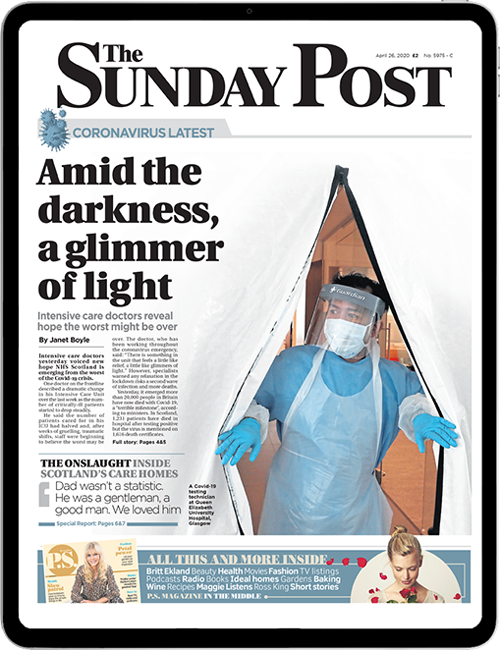 Enjoy the convenience of having The Sunday Post delivered as a digital ePaper straight to your smartphone, tablet or computer.
Subscribe for only £5.49 a month and enjoy all the benefits of the printed paper as a digital replica.
Subscribe