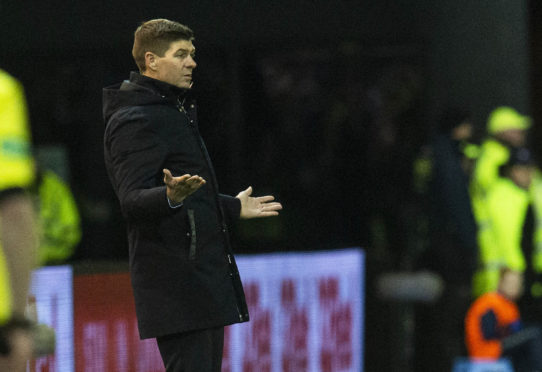 "When I look back at my time at Rangers, there are several moments that stand out as key to what lay ahead."
The words are from Craig Whyte and Into The Bear Pit, an autobiography that reinforces the impression you couldn't give the Ibrox outcast a red neck with a blowtorch.
Littered with excuses and accusations it is, to be fair, entertaining in places.
For example, the revelation the club hoped to get Brad Pitt and, Whyte hoped, Angelina Jolie along to a match – but had to settle for Jim Davidson – prompts a smile.
The man repeatedly voted the world's sexiest – that's Pitt, not Davidson or Whyte – was agreeable. But the demand for £25,000 appearance fee was too pricey.
Stand-up comic Davidson, in town to do a panto, was content for a (good) seat at the fitba'.
As tales of high expectation meeting less-than-thrilling reality go, it is not the worst.
It is not close, say, to the meltdown experienced under Whyte's stewardship in 2012.
What it is, though, is relevant to supporters suffering through Rangers' recent on-pitch displays.
Steven Gerrard's side dropped more points in the five games up to and including the defeat at Kilmarnock last Wednesday than they did in the preceding 20 games.
The explosion of optimism that followed victory at Celtic Park on December 29 is now just a memory.
Even should Rangers win the two remaining Premiership derbies, they could still fail to halt Celtic's march to nine-in-a-row.
Put simply, the Hoops – with all the experience of successive winning campaigns behind them – are doing a better job of seeing off the rest.
Their win at home to Hearts on the same night Rangers were crashing at Rugby Park made it 51 points out of the last 54 available.
Such form would win titles anywhere in the world. It should be no shame to finish second-best in the face of such dominance.
The problem for Gerrard is that is not what he signed up for. He has to deliver silverware.
Losing the league this season would leave the Ibrox club on the horns of a dilemma – to stick with Gerrard or twist on a new manager in what would be a desperate bid to halt 10-in-a-row.
There is plenty to like and admire about the man they have in the position.
As you might expect of a Champions League winner with more than 100 England caps, Gerrard has a definite presence about him.
He is, in short, a class act.
Since his arrival at the club in the summer of 2018, he has added to the prestige of the club.
Yet it cannot be forgotten that the 39-year-old is in his first managerial job and, at times, it shows.
Supporters, exasperated by the failure to take care of teams such as Hearts and Kilmarnock, have criticised a lack of tactical flexibility and, more generally, the recruitment policy.
It is perhaps significant after each major setback that Gerrard has – while not sparing himself – had a go at his players.
History suggests that is a high-risk strategy. Managers who lose the dressing room tend to lose their job soon after.
When the time comes to look back on his key moments with Rangers, Gerrard will hope for highs as landmarks of his time north of the border, rather than the lows of the soul-searching that followed defeat.
Who knows if Craig Whyte is of the same mind-set?