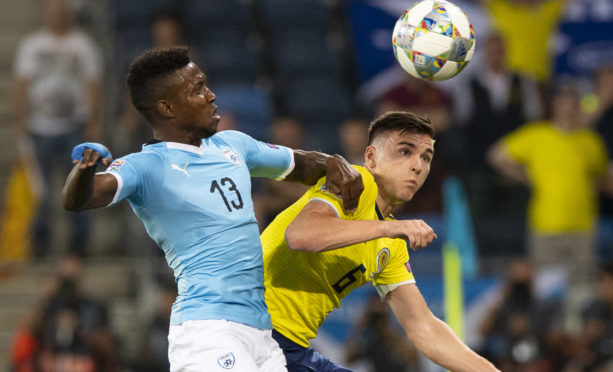 As any boxer will tell you, sometimes you have to roll with the punches.
The startling absence of Kieran Tierney from Steve Clarke's Scotland squad was one of those occasions.
Previous national coaches have described the 22-year-old as the country's second-best player behind skipper Andrew Robertson.
It is a view now being vindicated by his performances in the English Premier League, and in Europe for Unai Emery's Arsenal.
No surprise, then, that Clarke found himself inundated by media questions on the subject, some of which came close to accusing the young Scot of dereliction of duty.
Querying the patriotism of a man who chose to fly a round trip of 6,000 miles to Kazakhstan back in March when he was injured – and knew he would be sitting in the stand – is plain daft.
The decision was taken not by Tierney, but by Arsenal.
Why?
Because, having waited three years to land the player from Celtic, they are disinclined to take risks on what they regard as meaningless international games, Scotland's hopes of qualifying for Euro 2020 by the conventional route long since having taken flight.
Because, having spent £25 million to get him, they feel they have the right to dictate where and when he plays.
Because they believe he still has some way to go in terms of his fitness following his summer rehab, hence his 'slow-phased' introduction into the side, which often sees him taken off before the end of games.
It is a triple whammy strong enough to silence the arguments of most players.
What they don't explain is Clarke's response to a clear example of a big club flexing its muscles.
International managers frequently rail at the selfishness of clubs who, through pressure clear or implied, succeed in keeping their stars away from going away with their countries.
The Scotland coach, though, took a softer, straighter approach.
It might not have been what the media or the Tartan Army wanted to hear, but it was pragmatic.
With Champions League winner Andy Robertson available at left-back, Clarke knows picking Tierney would have given him a headache as to where to use him.
Right-back would be an option, but Tierney has looked uncomfortable when switching flanks in the past, and Liam Palmer is making pleasing progress in the position.
More importantly, a fight with Arsenal now could lead to trouble with the London club when it comes time for the Nations League play-offs in March.
Were Robertson – who faces a staggering workload this season with Liverpool pushing hard on all fronts – to be unavailable then, Clarke would look see Tierney as a dream of a replacement to be able to call upon.
Without doubt, too, the player's future at the Emirates looks brighter than that of the manager, Emery, whose contract is reportedly unlikely to be renewed at the end of the season.
As Brendan Rodgers – who could yet get an input on Tierney's Scotland duties as he is hot tip for the Gunners job should it become vacant – persuaded the player when getting him to reject a £10m move from Celtic to Arsenal in 2016, sometimes the long game is the best one to play.