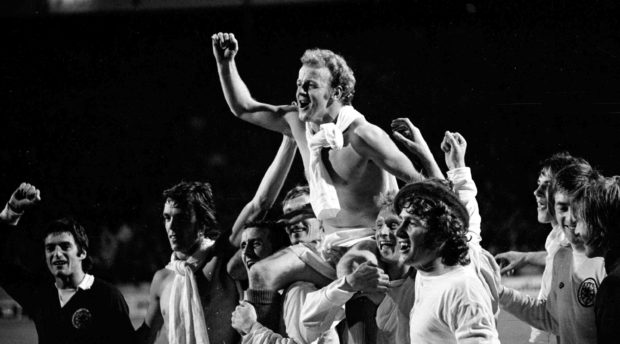 A company in England has been in the news for allowing staff to pre-book "hangover days".
Employees do their shift from home, allowing them to set up camp on their sofas, or even beds.
Similar "prepare-for-the-worst" planning lies at the heart of the Scottish FA's cut-price ticket promotion for the Nations League play-off.
Israel visit Hampden in March for a tie that could put Scotland within 90 minutes of a place in Euro 2020.
Given the country haven't qualified for a tournament Finals since France 1998, it will be a monster occasion.
Yet still the SFA have felt it necessary to reduce prices to their lowest level for a qualification game in over a decade.
Concessions start at only £5. Adult Scotland Supporters Club members can sit in the East and West Stands for just £15.
Why?
In their own words, "to help ensure as many supporters as possible can cheer on Steve Clarke and his squad."
It is a commendable ambition.
Thanks to last year's victory against Israel and the run of more recent wins over San Marino, Cyprus and Kazakhstan, Andy Robertson & Co. have reason to be confident they can get over this hurdle.
Clarke has repeatedly spoken of the part the Tartan Army have to play in encouraging the team to achieve the goals they share.
However, it is when viewed in context that the cuts tell of a need for the supporters themselves to be given a wee inducement to produce that encouragement.
Scotland's last four home qualifiers – games against Russia, Belgium, San Marino and Kazahkstan – have been watched by a combined 98,170 supporters.
In 1973, when Scotland were just 90 minutes from the Finals in West Germany, the World Cup qualifier against Czechoslovakia drew 95,786 to the National Stadium!
Times change. The official capacity of Hampden Park is now down to 51,866.
With the quartet of recent games averaging out to 24,542, it is more than big enough for Scotland's needs.
To be fair, the ties mentioned were all played out against a backdrop of failure.
The wounding opening-day loss in Kazakhstan and the entirely more predictable defeat to Belgium in the King Baudouin Stadium, put the pressure on for the visit of Russia, who proved too strong.
Again, context is crucial. Belgium are No. 1 in the World Rankings, Russia sit at 38th, Scotland are 50th and Israel 93rd.
Those numbers are not everything, but they do give a decent assessment of where the teams sit.
The title of the SFA's campaign for the play-off is Let's Do This.
Yes indeed. But given the last 21 years of hurt, we can be forgiven for – if not quite booking hangover days – at least keeping the paracetamols close to hand for the morning after.