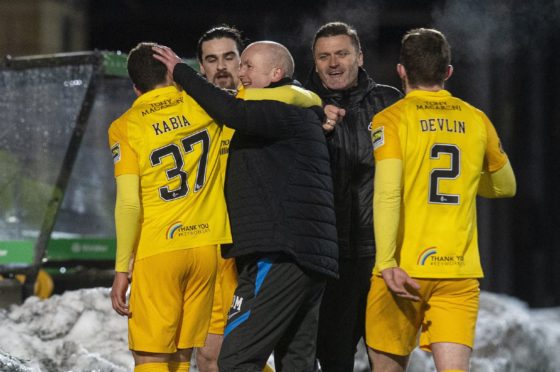 In football, as in life, a sincere and timely apology can fix just about anything.
David Martindale can empathise with that.
Having finally passed the SFA's fit-and-proper peson test to continue in his role at Livingston, his team celebrated their manager's reprieve with two late goals against Kilmarnock last Wednesday night to extend their unbeaten run under his charge to a dozen games.
My own playing career has no evidence of such consistent form.
But, like Martindale, I learned during it the power of simply saying: "Sorry".
The Saturday amateur leagues around Aberdeen in the 1980s was a hazardous environment, populated by a fair smattering of semi-professional hatchet men.
One day, playing against a pub team so rough you would have crossed the street to avoid them, we ran into a fearsome example.
Psycho (if he wasn't called that, he should have been), was intent on dismantling our team – one limb at a time.
With the referee hiding in plain sight, the mood in our half-time team talk was grim.
"It is carnage, we need to retaliate," said the coach, turning to look in my direction.
"Ginger, you do it. You are good at that sort of thing."
Blessed with hindsight, two points stand out.
One, his reputation for being rubbish at making up nicknames was well-deserved, and two, beware those who would use compliments to lure you into ill-advised actions
Back then, I was eager to please, and soon threw myself into a two-footed, studs-up tackle that would have made the late Norman "Bites Yer Legs" Hunter proud.
Well, if I had caught my target with anything more than a glancing blow on the boot, he might have been.
As it was, Psycho bounced up and grabbed me warmly by the throat.
In the two-team melee that followed, the ref – adhering to social distancing long before it was a thing – waved his red card at both of us.
Banished from the pitch, and with the dressing rooms off in the far distance, I was left with only the terrifying man for company.
Aye, didn't think that one through.
A quick, fulsome – and frankly untruthful – apology (I claimed I slipped on the mud as I went in for the tackle) smoothed things over, and we resolved to say no more about it.
Having negotiated SFA scrutiny, the same sentiment should now apply to Martindale and his now well-documented criminal past.
It was a serious business.
In 2006, he was sentenced to six-and-a-half years in jail over drugs and money laundering charges, but he served four years of his sentence and has since been a model of contrition.
The strength of his frequent apologies have not been diluted by excuses. He has never attempted to minimise the scale of his offences – quite the reverse – and is eager to use himself as an example to others about the potential for rehabilitation.
Given the above – and with the 46-year-old having already carried out the role since last November without any issue – the members of the Association's panel have evidence on which to justify their decision.
It is when apologies fall short of expectations that problems can arise – regardless of how minor the issue involved may be.
Departing Celtic chief executive, Peter Lawwell, stated that, with the benefit of hindsight, the club's controversial trip to Dubai was a mistake, for which he apologised.
That, though, drew criticism from sections of the Hoops support, unhappy it had taken a number of days to be delivered, and that it had also been followed by a lengthy defence of the circumstances.
Neil Lennon, who along with assistant John Kennedy and 14 of his players, had to self-isolate after the trip, took an entirely different approach
Angrily stating that he felt no one else was due an apology for the trip except the Celtic supporters, he railed at what he saw as the hypocrisy of the media and certain government officials.
His comments were later described as "absolutely appalling" by Deputy First Minister, John Swinney.
Lennon himself demanded an apology from pundit Andy Walker, but received little more than a clarification over the latter's use of the word "jolly" in connection with the trip.
A phrase former Celtic owner Fergus McCann was fond of – "The dog barks and the caravan moves on" – neatly sums up the lull that often follows even the fiercest of rows.
That is not to say that the lack of a satisfactory conclusion will not lead to lingering bad feeling capable of bubbling over in the future.
Sorry might indeed, as Elton John famously suggests, be the hardest word. But it is always worth making the effort to get it out there.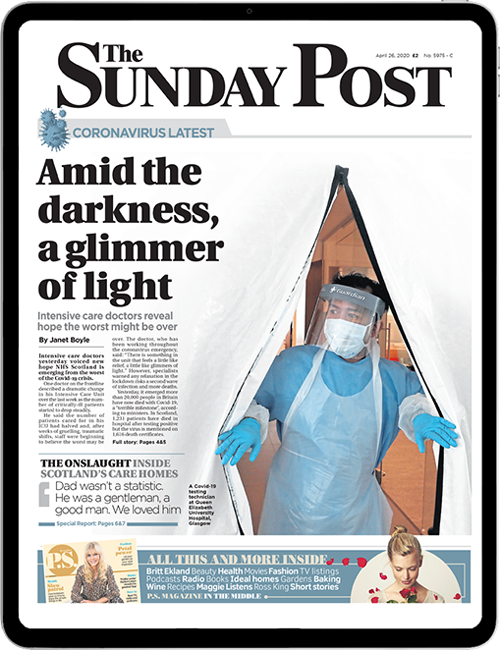 Enjoy the convenience of having The Sunday Post delivered as a digital ePaper straight to your smartphone, tablet or computer.
Subscribe for only £5.49 a month and enjoy all the benefits of the printed paper as a digital replica.
Subscribe