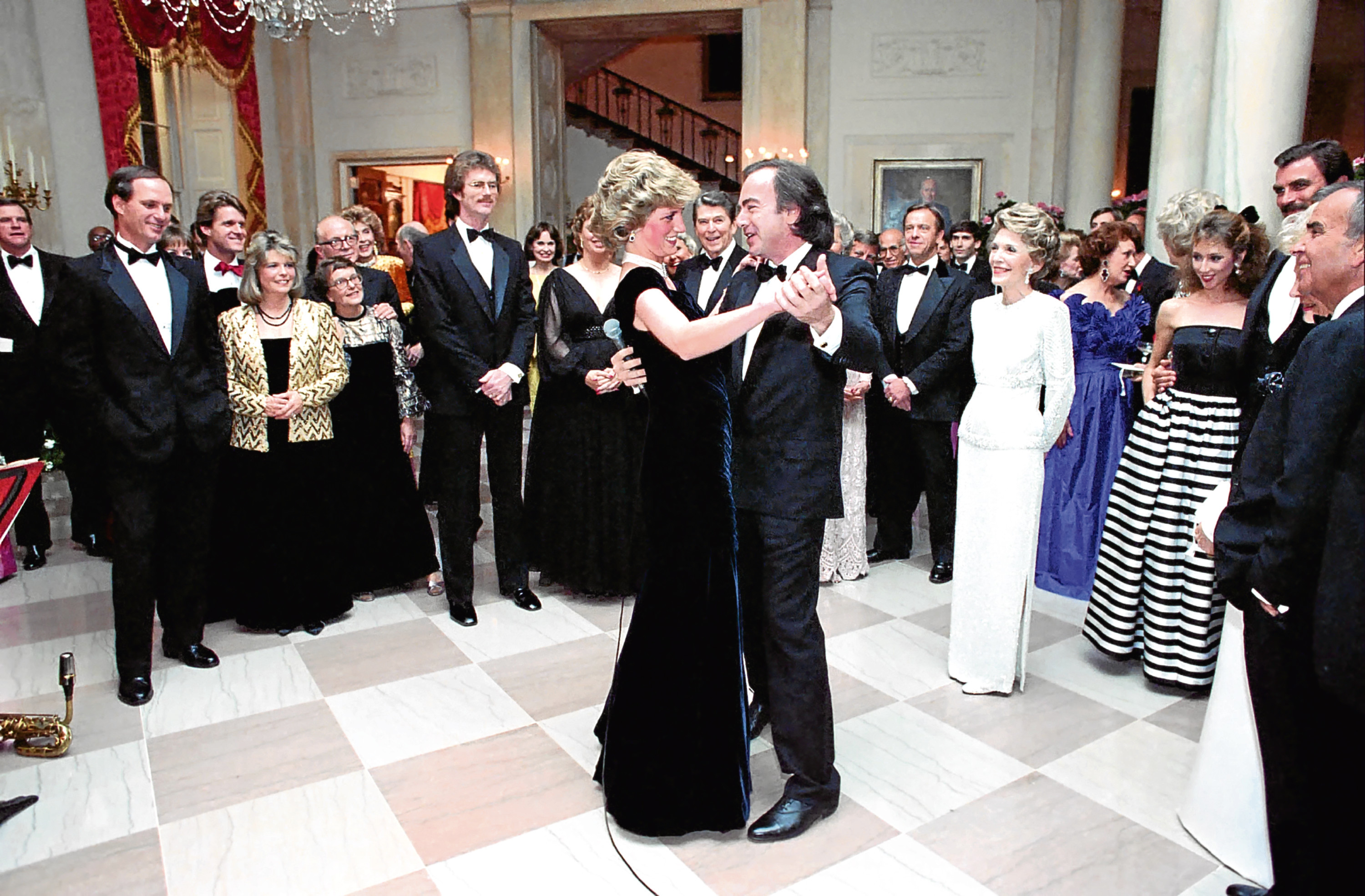 SINCE his earliest tours, Neil Diamond has broken box-office records all over the world.
Ticket sales are in the millions, as are the sales of his recordings.
He is a film star, a solo singing star, a great performer and a brilliant songwriter.
He is quiet but confident. So is there nothing that can make this man nervous?
"Every performer experiences some kind of nervousness," Neil admitted.
"Probably the most nervous I have ever been was in 1985 when I attended a White House dinner in honour of Prince Charles and Princess Diana.
"I was asked to sing a number and I chose September Morn.
"Looking around the room as I sang, it all seemed so unreal seeing President Reagan and his wife, the Prince and Princess. Some of the most-famous faces in the world were watching me.
"As an encore, I did You Don't Bring Me Flowers.
"When I stepped off the stage, Princess Diana asked if it was proper in America for a lady to ask a gentleman to dance. That's how I came to dance with her.
"We had met before at a charity concert in Birmingham and my heart was beating fast then. It certainly beat fast again when I danced with her at the White House.
"She was a lovely lady."
Under the spotlights, nobody shines more than Neil Diamond, but his story began well away from any stardom in January, 1941, when he was born to Kieve and Rose Diamond in Brooklyn.
They were of Jewish European roots — Kieve's family from Poland and Rose's family from what was then the Soviet Union.
Neil's parents were into ballroom dancing, but professionally, his father was into dry good stores and for a time, Neil was encouraged to follow in his father's footsteps.
"It was not for me," he said.
"I realised at an early age that there was a much bigger world outside the store than there was in it. Perhaps I was a dreamer.
"I was very grateful that my parents were hard-working and devoted, but I wanted more from life than being in a store.
"I actually had a great interest in science and I wanted to find a cure for cancer, but that was not going to work out either, so I dreamed a little more."
Dreamer he may have been, but Neil Diamond not only discovered and explored the world outside that store, but conquered it as well.
His own story is not unlike that of Jess Robin, the central figure he played in The Jazz Singer.
After a see-saw early career of exciting prospects and disappointments, Diamond finally made it as a world superstar.
He had been given a guitar as a 16th-birthday present, learned three chords and tried his hand at songwriting.
His first job earned him $50 a week, writing songs for a publishing company.
Eventually, he struck out on his own and struggled on until he was approached by record producers Jeff Barry and Ellie Greenwich.
Suddenly, he was a recording star, and since then, he has received silver, gold and platinum discs for a prolific number of hits.
One of his own favourites was You Don't Bring Me Flowers, which he recorded with Barbra Streisand in 1978.
"I wasn't sure that it would work at first," admitted Neil.
"Barbra and I knew each other quite well. We were neighbours and even as kids, we had sung in the same school choir.
"But everyone thought it could be very good, so we went into the recording studio and I was delighted, of course, that it became such a huge hit."
https://www.youtube.com/watch?v=wj10EzNKA2M
Most of Neil's recordings have been hits since he cut his first disc in the 1960s, but there is another classic song which he wrote and became almost a signature tune for another bunch of guys.
"Yes, I wrote I'm A Believer," he said with a smile.
"I originally thought of it as being something of a country song although I did not take it too seriously.
"The Monkees recorded it and it was very successful. I was delighted, of course, as it helped put my name on the map and put some cash in my pocket, too.
"They followed up with A Little Bit Me, A Little Bit You which also did well and that was mine too.
"I also wrote Red, Red Wine, which was a big hit for the fantastic UB40. Didn't they do an amazing job! I am very proud of that.
"I try to write every day, regardless of whether I feel like it. I discipline myself and I won't listen to any other music of any sort until I have completed what I'm trying to do.
"I won't run it past anyone either until I have recorded it."
Quite a shy and softly-spoken guy, Neil has developed into an extravagant performer, every inch the superstar in his dazzling concerts, which never fail to bring the audience to its feet.
"I just love having a live audience," he said.
"I don't know why some of them still scream at me, but I love it. I know my audience and I know what they expect from me. I never want to disappoint them.
"Many of them have been with me a long time. They know me. They didn't suddenly turn to me and then just as suddenly turn away again.
"Each concert should be a special occasion for both them and me."
Married three times, Neil's home is in Los Angeles, where he can often be seen driving his favourite car — a Volkswagen Beetle!
Despite a heavy work schedule, he values family time.
"I always like to have family time between tours and recordings," he said. "It's very important to me. We are in touch all the time and I love to see my grandchildren. No matter how busy you might be, you have to put family time first.
"I'm excited about my world tour which gets underway very soon. I cannot believe that we are celebrating 50 years of performing. It feels like I only started yesterday.
"The tour starts in the US and we are going through the whole country, which will not only be a fantastic experience, but also bring back the memories of past concerts in Madison Square Garden and many other great venues.
"It will be the same when we come to Europe and especially Britain. We are coming and the dates are being sorted now.
"We are in the States through to August, so we shall be in Britain soon after that or maybe in 2018, depending on the venues and the arrangements.
"I can remember the time when all you had to do was throw a guitar in the back of your car — or your friend's car — and turn up at the venue.
"It is all much more involved these days, but the end result is the same — walking out to face a huge audience of friends and feeling the love that comes towards you.
"I have talked to many sportsmen who get the biggest thrill when they score their goal or touchdown and the crowd roars. It is like that when you come to the end of a song.
"They join in with the old favourites and cheer you on but then when you reach that final note, they just go crazy.
"That is such a special feeling and you can only get that with a live audience, which is why I love touring and why I love British audiences.
"They just enjoy themselves and become the most important part of the show."
Watch this space for the dates — it's a golden anniversary for Diamond.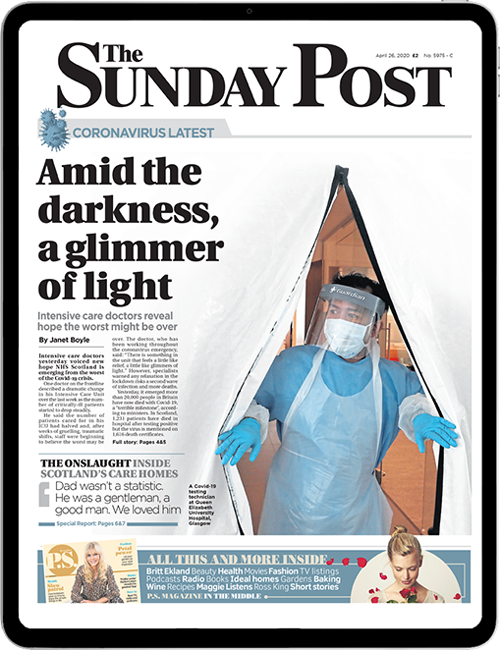 Enjoy the convenience of having The Sunday Post delivered as a digital ePaper straight to your smartphone, tablet or computer.
Subscribe for only £5.49 a month and enjoy all the benefits of the printed paper as a digital replica.
Subscribe