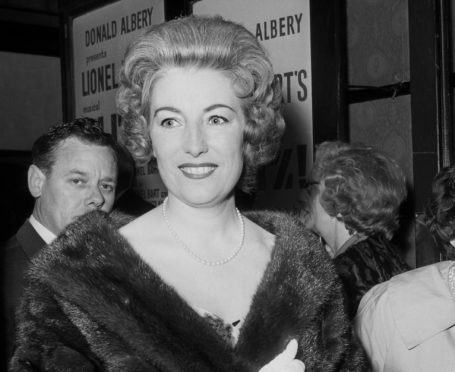 With a suitcase full of enthusiasm, talent and hope, Norman Wisdom turned up for his first professional engagement.
Decades later he was the most popular comedy star in Britain and could fill any theatre in the land, as well as coining a greeting that was copied by millions – "Mr Grimsdale!"
Lew Lake was the manager of the legendary Collins Music Hall in London and Norman decided to try to get a booking there.
He turned up with only a vague idea of what his act might be like; he would probably pull together some of the things he had been doing in the Army.
He need not have fretted too much as Mr Lake turned him down, explained there were plenty of talented performers coming out of the services now that the war was over, and advised him to get a proper job.
Norman refused to be put off.
"I did not give up on Mr Lake," Norman revealed later. "I haunted him. Several times a day he would turn around only to find me there.
"Every now and then I plucked up the courage to speak to him and eventually, after about three weeks, he gave in and said that he would put me on first house on Monday – but if I was no good I would promise to leave him alone.
"One of the advantages of Collins was that it had a reputation for introducing new talent, so a lot of agents and other venue managers used to go along and take a look.
"When the Monday came around I was thrilled to see my name in the programme and I was told to be on second in the running order.
"That was known as the graveyard spot because if you were good not many people remembered you as they had the best part of the show to come. If you were no good it didn't reflect on the show for the same reason."
So, on Monday December 17 1945, aged 30, Norman Wisdom made his debut as a professional entertainer at 6.15pm.
He wore a misfit tail coat and tried to look like a classical singer. He had rehearsed with the band and they were primed to change key and tempo while he tried to stay with them, eventually losing his temper and threatening them only to try to rush to the on-stage piano to show them how to play.
Of course, he tripped, crashed into the piano, slammed the lid on his fingers and so on and on.
The stage manager was hissing at him to get off because he was running over time but Norman couldn't hear as there was so much laughter.
He also later admitted that he didn't know how to end his act; he hadn't thought of it.
He got a ticking off afterwards but other than that there was no commendation or encouragement, though he had not been sacked either. He was in show business!
It would be easy to say the rest is history, and in a sense we have to because the story is so immense it would require several editions of The Weekly News to relate it. Let us look at a few highlights, however.
Norman was becoming established as a supporting artiste but stardom was still at a distance. Two events helped him to get there.
One of them came about because he was appearing at Bournemouth where show director Hastings Mann was also arranging a Water Rats charity show at the Victoria Palace in London.
When one of the stars had to drop out because of ill health Mr Mann asked Norman to do a spot to keep the numbers up.
Norman couldn't believe that he was being asked to appear on the same show as Clarkson Rose, Charlie Chester, Will Fyffe, Harry Tate Jr, Nat Jackley, Vera Lynn and many other great names, with his heroes Laurel and Hardy topping the bill.
"I kept pinching myself to make sure I wasn't dreaming," Norman remembered. "I had a brief rehearsal and someone at the back of the auditorium actually applauded. I didn't know who it was. So, I was ready for my spot which was second in the second half.
"Then Vera Lynn's pianist came and told me that she asked if I might change places with her as she had to catch a train. I agreed straight away of course.
"It was lovely because I followed her and was able to see her perform and have the audience totally in the palm of her hands. I found myself applauding too and then suddenly I was on stage to my do my turn.
"Unbelievably at the end of my act I took four curtain calls and when I finally went off stage, Vera gave me a big hug and a kiss.
"I said: 'Hang on a minute, I thought you had a train to catch.' She laughed and said: 'I saw you at Brighton and I thought you deserved a better place on the bill… I thought it would be nice to be your warm-up instead of the other way round.'"
From that moment on, Norman Wisdom was a star. That performance and Vera Lynn's kindness made him the toast of the town and he remained at the top for the rest of his life.
Another milestone came at Scarborough where he was appearing in a summer show which starred David Nixon, the great conjuror and TV personality.
David needed a stooge for one of his routines and asked Norman if he would help him. Norman agreed at once and went to a second-hand shop in the town to find an ill-fitting suit.
It worked brilliantly and thus Norman had a new dimension to his character – the well-meaning ordinary bloke for whom everything seemed to go wrong. He was a huge success at Scarborough and the "Gump" was born.
The Rank Organisation took a gamble they could ill afford when they decided to try Norman in a film. He had made some television appearances, and was topping the bills in shows, pantomimes and just about everywhere.
The great Billy Marsh had taken over his management and Norman was ready for trying anything.
When he agreed to appear in a panto on ice at Earls Court he said that he could skate when he couldn't but quickly took lessons. Whenever he had to perform a dance routine he worked and worked until he got it perfect.
Norman was that kind of performer and he was exactly the same in his films. Most of the many stunts that made us laugh and cringe at the same time were both devised and performed by him.
Trouble In Store in 1953 was his first big film and he starred with Margaret Rutherford, Jerry Desmond, Lana Morris, Moira Lister, Megs Jenkins, Joan Sims and a host of the great names.
In America he also became the toast of the town for his film and stage roles in productions like The Night They Raided Minsky's in which his co-stars were Jason Robards and Britt Ekland.
For the rest of his life Norman Wisdom went from being a star to being a legend. He worked tirelessly for charities and throughout his life he kept a promise he had made to himself.
"I was a delivery boy for Liptons Grocers in Deal when I was a young lad," he recalled. "Nobody ever spoke to me unless it was 'Oi! You – take that to No 16' or 'Sweep up!'.
"I promised myself I would never knowingly ignore anyone, whatever walk of life I went into, and I have done my best to stick to that."
He certainly did. Having walked along the road with him many times I can vouch for the fact that a five-minute walk from car to studio often took half an hour to complete because he insisted on more than just waving to fans.
He would cross the road and have a chat. He was completely down to earth, a real human being.
Norman was still making appearances aged 90. He made a return cameo appearance in Last Of The Summer Wine and even turned up in Coronation Street.
You may have noticed that we have been calling him Norman all this time but that was how he liked it, even after that day on June 6 2000 when the world laughed as he did something only he could get away with.
You probably saw it on television. It was a Tuesday and the day he finally gained full recognition for his achievements as the Queen made him Sir Norman Wisdom. It was all the more memorable because he still had to entertain, even then. Perhaps we should let him tell the story in his own words.
"I couldn't resist it," he said afterwards. "There was I kneeling on a very comfortable, purple stool. Her Majesty, looking beautiful I might add, touched me on each shoulder with the sword. I was grateful she wasn't nervous, I had become attached to my ears.
"Anyway, she congratulated me, I backed away as told and then turned to walk away. It just came into my head to do a little trip and I did it instinctively.
"Fortunately Her Majesty and everyone else found it funny, otherwise I might have been the shortest knight in history in more ways than one!"
There was a big family and friends private celebration afterwards, but throughout the world the television images brought laughter to millions of homes.
Norman did not like it much when he was told he could not drive any more or indeed ride his motorbike. He was sad to see them go but his Rolls-Royce and his Honda bike were sitting in the garage doing nothing and only made Norman's frustration at not being able drive a lot worse.
After discussing things with his family, it was decided that Norman should move into a residential home.
He had a housekeeper at home, but she could not be expected to care for him should his health fail.
As it happened, Norman did not mind the Abbotswood Nursing Home. To him it was like being on a cruise ship once again.
He used to run up and down the stairs, play the piano and organise sing-songs, mess about for laughs and generally turn the place into a holiday camp.
There was a bit of a shock for everyone on December 28 2008 when Sky News announced that Norman had died and actually ran a pre-recorded obituary.
Needless to say there was a general panic among those close to him.
Norman wondered what all the fuss was about and said he had never felt better.
It was really only the last six months of his life in which Norman's health deteriorated.
Finally, after three strokes, Norman Wisdom died at 6.46pm on Monday October 4 2010.
The world received the news with sadness, perhaps especially on the Isle of Man where he had become one of their own.
When his funeral took place on October 22 the church and the streets were packed with his former neighbours and friends and many iconic figures from the world of entertainment. Tributes had poured in from all over the world.
His agent for 30 years, Johnny Mans, said: "Norman was more than just a client whom I managed for more than 30 years. He was a true friend of myself and my family. He was like grandad to my children.
"He was just a complete one-off, an absolute genius with comedy timing nobody could match.
"He was a kind man. On cruise ships he would often exchange cabins with one of the support artistes if they were not comfortable enough. He always thought of others first.
"He was always mischievous, though. At heart he was always a naughty little boy, but that was Norman.
"The word 'legend' is used all too easily but it is a fitting description for Norman Wisdom."
On a personal note, I first saw Norman in a show back in the early 1950s and it was such a privilege later to both work with him and to be called a friend by him.
Let's give Norman the chance to sum it all up in his own words. When asked what he thought of his life, his fame and his countless achievements, Norman simply said: "I'm just a lucky little devil!"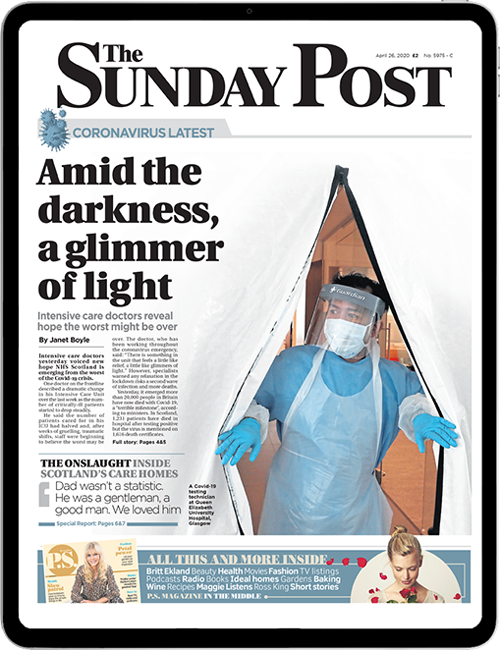 Enjoy the convenience of having The Sunday Post delivered as a digital ePaper straight to your smartphone, tablet or computer.
Subscribe for only £5.49 a month and enjoy all the benefits of the printed paper as a digital replica.
Subscribe