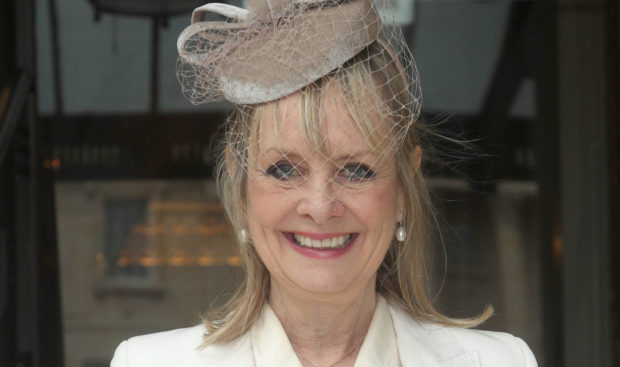 Twiggy? 70? No way! Yes indeed, Britain's favourite model of all time reaches her eighth decade and she doesn't care a bit… she is enjoying life, looks great and loves being a model who is also a granny.
"I am growing older gracefully as I always said I would," said Twiggy who will be 70 on September 19 but certainly doesn't look it.
"I'm enjoying getting older and I'm active, except when my back plays up a bit.
"I think that comes from walking in heels so much and having to stand in funny positions while people take photographs of you for fashion shoots.
"I am not knocking that, of course, I am still doing those fashion shoots and enjoying them but whatever you do eventually gives you a few twinges now and then.
"Life goes on though and I never think of giving up. I never think of trying to hold back the years too much either.
"For some people surgery might be useful but not for me. I wouldn't blame anyone for trying to correct something that is a problem but not for trying to recapture what you were as a teenager.
"That is a bit pointless – you can look good at whatever age if you just take care of yourself with the right skin care, food and exercise."
These days Twiggy is also known as Dame Lesley Lawson DBE having been awarded the title in this year's New Year Honours List for her contribution to fashion, the arts and charity.
"I have never got over the shock," she said. "I'm just an ordinary girl from Neasden, I never in my life thought that I would one day be a dame. I don't think it has sunk in yet. I mean, what do you do when you are a dame that you didn't do before?"
Twiggy is no stranger to pleasant shocks. Back in 1969 she was one of the first subjects of the very popular This Is Your Life. The show aired in December of that year when she was just 20!
"It was very nice to be thought worthy of such an honour but I had only been out of school a few years so I had hardly had much of a life at that stage. I have fond memories of it though."
In fact the first steps of Twiggy's career were taken after she was given a Saturday job at a hairdressers.
"There were a few pictures taken to demonstrate hairstyles because I had the sort of hair and look that showed off the style," she said.
"Someone saw the photos on the wall, talked to someone else and the next thing I knew I was being asked to try some clothes modelling. It was fun, it was exciting but the last thing I expected would be that I would become a professional model and then travel the journey that has brought me to today.
"It is funny that I am always thought of as a 60s person and, of course, that was when my career began but in reality I had always been interested in style and designs of clothes from all different eras and my favourites were and still are the 20s and 30s. Yes, I liked Downton and loved all the different costume styles from the years it covered.
"It was a dream come true for me. I was mad about clothes and when it was suggested that I might be a model I couldn't believe my luck. I had thought of becoming a dress designer or something like that. I went to art school to learn design techniques but then when the modelling started everything changed.
"I suppose I was the first of the supermodels with pop star interest but it was quite overwhelming or would have been if my family had not kept my feet on the ground.
"I might go home from a photo shoot where I had been having my photograph taken all day but I still had to do my share of the washing up and other chores. I am really glad about that, it was good for me to keep things in perspective.
"When I look at pictures of myself from those days in the 1960s I find it hard sometimes to believe that I am looking at myself. I looked more like a young boy than a girl model. It was a popular look in those days for modelling."
Twiggy did not want to remain a model all her life. It was not that she was unhappy but she wanted to prove she could do more than pose for photos or walk up and down a catwalk.
"I think I wanted to show I was a real person, not just an image. I had always liked the idea of being an actress and I really wanted to try.
"So, when I got the chance for the female lead in The Boy Friend movie for Ken Russell in 1971, I was determined to make it work. It was such an amazing opportunity I knew I had to make the very most of it."
That led to a film and stage career that has run alongside her modelling work ever since. It was not easy to convince people to take her seriously as an actress but when Twiggy went on to star on Broadway and earn two Golden Globes she silenced her critics.
"It was a fantastic feeling to be accepted as an actress. I genuinely listened to advice and worked hard. I launched myself into it and it worked but I still had to keep pinching myself to make sure it was not all a dream."
Twiggy still remains the girl next door despite her stardom and she could never be accused of being po-faced.
"Life's too short to take it too seriously," she said. "You can't help it sometimes because things happen that are really upsetting but generally I accept work doing something I like and with people I like.
"I also spend as much time with my family as I possibly can."
One of the people she likes is, of course, her husband Leigh Lawson to whom she has been married since 1988. Previously she was married to Michael Witney for six years until his death from a heart attack in 1983.
"I have a very happy home life with Leigh and I also see a lot of my daughter Carly and, of course, my stepson, Jason.
"My granddaughter is Jodi and Jason's son is Solomon and I love them all to bits. It is so much fun being a granny and being able to spoil them."
Of course, Twiggy doesn't look like a granny so what is the real secret?
"There isn't a secret really," she said. "I look after my skin – I don't go to bed without taking off my make-up, I make sure I get enough sleep, I drink plenty of water and I get exercise with pilates or simply walking, especially when we are at our home in Suffolk – walks to the pub are very popular!"
Amazingly, decades after Twiggy became a 60s sensation she is still such an iconic figure that one recommendation from her can send make-up or fashion sales soaring.
"I have never got used to that and I don't think I ever will," she revealed.
"Like any other lady I like to look nice. I know I will never be or look like being a teenager any more so I intend to carry on my life by being busy and growing old gracefully.
"To do that you just dress properly, use make-up styles that suit your age, act your age instead of trying to pretend and generally just be your self the way you are – not trying to be some kind of image.
"Even though there have been iconic images of me, especially in those early days I have always remained Lesley Hornby.
"Of course I don't mind people calling me Twiggy, I am flattered they are interested. I have never been anything other than myself. I like sewing, I go to bed fairly early and, to be honest, I am still quite happy to do the washing up."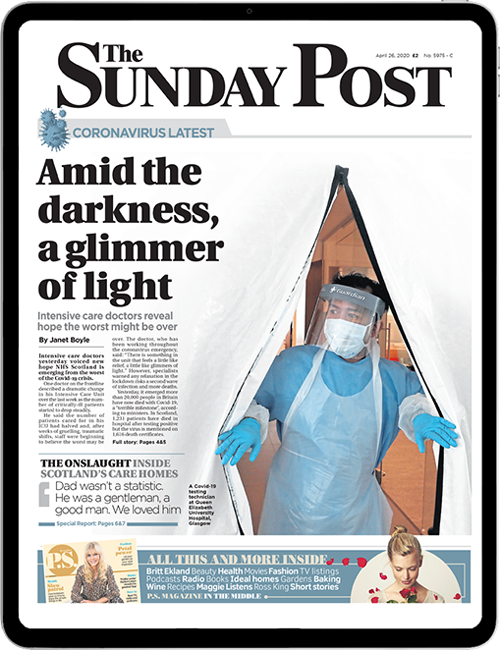 Enjoy the convenience of having The Sunday Post delivered as a digital ePaper straight to your smartphone, tablet or computer.
Subscribe for only £5.49 a month and enjoy all the benefits of the printed paper as a digital replica.
Subscribe