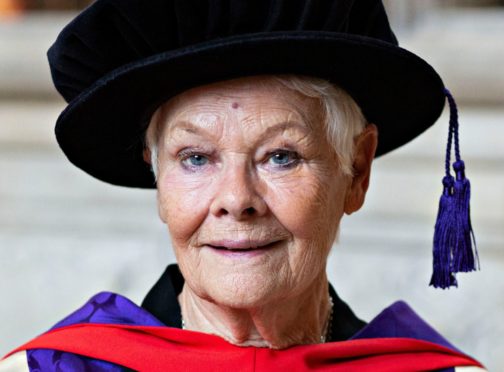 You can never accuse Dame Judi Dench of being half-hearted about anything – she always enters into the spirit of whatever part she is playing and that is what made her almost the only choice to appear in the new film – Blithe Spirit.
"I was delighted to be asked," said Judi. "Noel Coward wrote the play for the theatre and it was a huge success when it made its debut and then came the film with Rex Harrison and, of course, the role of the eccentric Madame Arcati was unforgettably played by the equally eccentric but brilliant Margaret Rutherford.
"It is a very funny tale and I don't think anyone could play Madame Arcati better than Margaret did, but I am happy if we get anywhere near her performance. When the play was first on stage in 1941 it was both funny and quite dark, as were any tales involving death or spirits, but it was a huge success nevertheless and we just hope that fans of the original film will come along and enjoy what we have done."
Oscar-winning Dame Judi is rarely involved with anything that is not a huge success. Even though her own performance was acclaimed in last year's film offering of Cats, the actual production was not well received.
"It happens sometimes, a shame really because a lot of production work went into it and many people really did enjoy seeing it. You can never please everybody – you can only try to please the majority."
Judi's performances have been pleasing people for decades.
"I'm an actress," she said. "That's it. I like to think that simply being an actress is enough but often people want to put you into some sort of box with a label on it that says 'comedy actress' or 'Shakespearian actress'. I have never been comfortable with that.
"I am an actress and that means that you should be able to turn your hand to anything and not be limited by a label."
If that sounds a bit of an attack from Dame Judi, it isn't. She is one of those ladies who rarely fails to smile for very long. She has a wicked sense of humour and is perfectly happy to laugh at herself and not take life too seriously.
"Maybe my humour comes from my Irish heritage," she said. "My mother was from Dublin and my father wasn't born there but was brought up in Dublin.
"She was a seamstress in theatre and he was a doctor so I have quite a mix within me. I have relatives all in the west of Ireland, in Dublin and over the border in the north. I have been to quite a few Irish parties so I know full well that Irish people love to laugh and have fun. I hope I am like that.
"Yes, I think the secret of whatever success I may have had is my mother who was such a great influence, a larger than life lady who worked hard and made sure that she did her very best at everything, including being a mum.
"I hadn't thought as much about my Irish heritage as I should have but a while ago when I was filming in Ireland a man said to me: 'You know you have cousins in this town? And they're coming down to see you.' I was amazed but he was right and they did come to see me, lots of them. Add to that the fact that my father met my mother when he was studying medicine at Trinity College, Dublin, and my Irish heritage is there for all to see.
"The arts are very important in Ireland and I cannot help thinking that I have my Irish heritage to thank at least in part for getting me this far.
"I do find that while I do not feel my age at all, I notice things about myself that are a little surprising. I really feel that I am a 40-something but I am aware that I don't rush about like I used to.
"I was never one to sit around for long but now I quite enjoy sitting around and I have to convince myself that there really is a need for me to get up out of that comfy chair.
"I am not short of energy, though. The only real problem is with my sight. I need a lot more light than I used to. I've got what they tell me is macular degeneration. My mother had it too.
"Apparently it is something that you can get when you grow older – a bit like a bus pass, I suppose. Your sight gradually gets worse and you have to live with it.
"I can see myself one day walking on stage and addressing my lines to a prop tree thinking that I am talking to the leading man. It is a good idea not to get too close to the edge of the stage either. You can just see the headlines – Judi Dench falls into orchestra pit!"
Judi, who's 85, remains an actress who refuses to fit into a category or give in to what is expected of someone at her age or with her obvious talent.
"I have never been complacent," she says. "I am aware that I must be of some use at what I do otherwise I would not have been doing it for so long but I still get a bit nervous from time to time, even if it is a role that I have played many times before.
"Sometimes when you are shooting a film the word goes round that someone famous is visiting and, if it is someone you admire but have never actually met before, it can be quite tesing. I remember Sophia Loren visiting a set once and I became a bundle of nerves. She was lovely and I don't know what made me nervous but there I was getting all tense over it."
Judi Dench looks back on her past with many great memories but really she is far more interested in the future.
"I have sometimes been described as a national treasure," she said. "I really don't like that. It makes me sound as if I am in a dusty drawer behind the scenes of the British Museum and only brought out when there is a jubilee or something. That's not me at all.
"I might have clocked up a few years since my birth certificate was signed but there is plenty of life left in me yet. I am enjoying my work and still having fun.
"My life is my motivation. Yes, I have gained a lot of awards and I appreciate that but they are all about what you have done and I like to look forward to what I am going to do next. I like the variety of doing a voice-over one day, playing Madame Arcati the next day and walking on stage in The Tempest the day after.
"Nobody really needs much motivation to enjoy themselves. As far as I am aware, I can still walk and talk and my memory is pretty good so I can still act and I plan to go on doing so for a long time yet.
"I like people who never admit defeat and even if they have problems, they get up and go on again. My greatest ambition is my next role, no matter what it is."
Maybe it is her heritage that makes Dame Judi so special – or is it her Blithe Spirit?