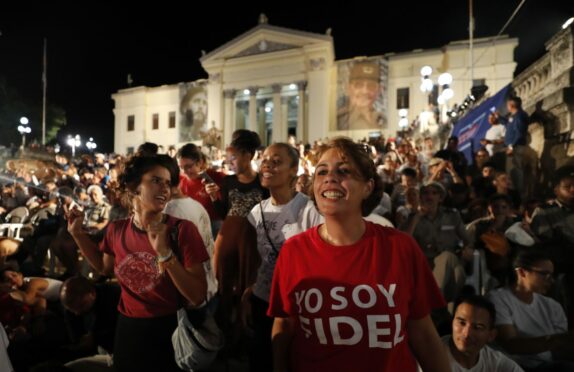 Braving the freezing Moscow winter, the Russian president and his Cuban counterpart attended the unveiling of a statue to Fidel Castro in a ceremony rich in Cold War nostalgia.
"The Soviet Union and Russia have always supported and continue to support the Cuban people in their struggle for independence and sovereignty," Vladimir Putin said as troops paraded.
Miguel Diáz-Canel, the Cuban president who was visiting Russia as part of global whistle-stop tour last month, responded in kind. "Russia can always count on Cuba. Both Russia and Cuba are subject to sanctions, which come from and have their origin in the same enemy, the Yankee empire," he said.
Their words offered a nod to the past, when the Soviet Union extended Cuba an economic lifeline for decades.
But it is the future relationship between the superpower and the Caribbean island that puts Havana in something of a post-Cold War conundrum. The communist nation of 11 million is among a handful of countries that have so far avoided condemning Russia at the United Nations over its invasion of Ukraine.
In a speech to the Russian parliament, before meeting Putin, Díaz-Canel said: "The causes of the conflict in Ukraine are to be found in aggressive policy of the United States and in the enlargement of Nato to the borders with Russia."
Havana, at least in public, wants to show that its enemy's enemy is its friend. But this hesitancy to condemn Putin's invasion of Ukraine is likely to complicate any efforts by Cuba to thaw its relations with the West.
Cuba is struggling through its deepest ­economic recession since the early-1990s when the collapse of the Soviet Union forced Castro to call on Cubans to survive what he called this "special period", which meant food shortages and record emigration to the neighbouring US.
The latest crisis, caused by state ­mismanagement, the pandemic and tightened sanctions under former US President Donald Trump, which his successor, Joe Biden, has done little to change, has led to renewed food shortages, power cuts and a new surge in emigration.
A record 220,000 Cubans were caught at the US-Mexico border in the 12 months to October. Michel Suarez, a correspondent for Radio Martí, a station that is independent from the Cuban government, said Cubans lacked proper food and faced continued blackouts.
"Cubans have an average of 10 hours of ­blackouts every day because the electrical system has collapsed. This contrasts with millions put into hotel investments by the military which control this business," he told The Sunday Post.
"The government blames this on the US trade embargo but, in spite of this, if you invest in luxury hotels it leaves health, education and energy in a chaotic situation."
Suarez said economists said yearly inflation ranged between 37% and 200%, a figure estimated by Steve Hanke, of the Johns Hopkins University in the US. He said foreign cash could not save Cuba and the only solution was opening up the country to market economics.
Wendy Lazcano is a Cuban journalist who emigrated nine years ago to Spain and works for Diario De Cuba, an online newspaper not aligned to the state. She studied at the Vladimir Ulrich Lenin Institute, whose name bears witness to the links between Cuba and the former Soviet Union. It was a school for the country's elite, though the government made no mention of this when it opened in 1974 at a ceremony attended by Castro.
"This is one of many symbols in Cuba that shows how close the two countries were and still are. You see them everywhere," Lazcano told The Post. "But, a little like the relationship with the USSR, the institute has fallen into disrepair. It is no longer painted, and the swimming pools are not used."
The rusting Cadillacs, Studebakers, Chevrolets and Buicks so beloved of tourists are a reminder of when Americans exerted greater influence over the island before the revolution of 1959.
In order to claw its way out of its present dire economic troubles, Cuba needs to maintain support from the West, which contributes almost half of financial aid to the island, but it cannot afford to jeopardise the friendship with Russia and Cuba's new ally, China, experts said.
After visiting Moscow, Diaz-Canel arrived in China, whose relations with Cuba grew closer after the collapse of the Soviet Union.
Chinese President Xi Jinping and his Cuban counterpart pledged mutual support for their fellow communist states' "core interests".
Diaz-Canel was quoted in Chinese news reports as saying his visit "shows that we attach great importance and attention to the friendly and co-operative relationship between Cuba and China". China is Cuba's biggest single ­trading partner and another of its creditors.
Havana's ties with Russia and China, as well as its trade links to the West, mean it must tread a difficult path – it cannot afford to upset either side, experts on Cuba have said.
Ricardo Torres, a professor of economics at Washington University, calculated 47% of Cuba's external trade for 2021 came from the West – that is Europe, Canada and the US. In contrast, Russia contributed 7% and China 13%.
"Cuba has strong interests in ­maintaining good relations with the so-called West. By that I mean Europe, Canada and the US, but with the US it is far more complicated," he said. "How to strike a balance between those conflicting sides right is something which is haunting the Cuban government right now."
He said Cuba had a strong ­relationship with the USSR, then this suffered until 2015 when Russia became more important for Cuba. Moscow wrote off Cuban debt and trade improved because the Venezuelan oil shipments faltered because of mismanagement and kleptocracy by Caracas. Russia sent at least eight shipments ­totalling 4.3 million barrels of oil to the island since the beginning of the Ukraine war and recently extended repayment terms for a $2.3 billion loan to Cuba.
"Cuba is in a mess. It is unable to service its debt but is the West ready and able to provide Cuba financial relief for this financial stress. How would that look like?" asked professor Torres. "The West has parliaments, budgets and Europe is going through its own stress just now with energy. Would the US provide some (financial aid)? No. The only country that would make any difference is the US. A different calculation for Cuba is the long term but the long term does not exist when you are trying to think about tomorrow."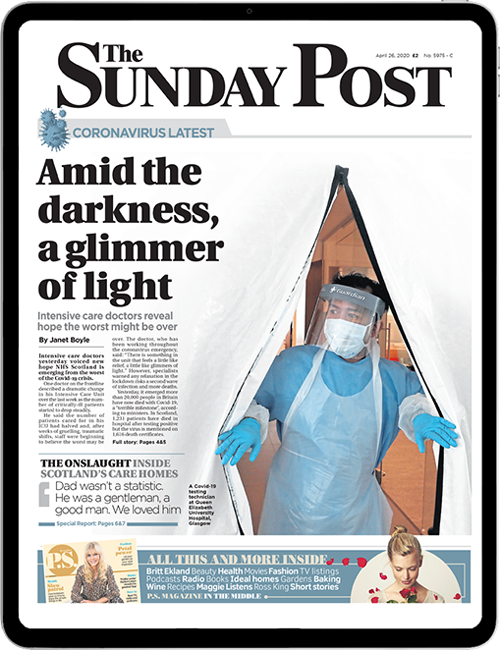 Enjoy the convenience of having The Sunday Post delivered as a digital ePaper straight to your smartphone, tablet or computer.
Subscribe for only £5.49 a month and enjoy all the benefits of the printed paper as a digital replica.
Subscribe