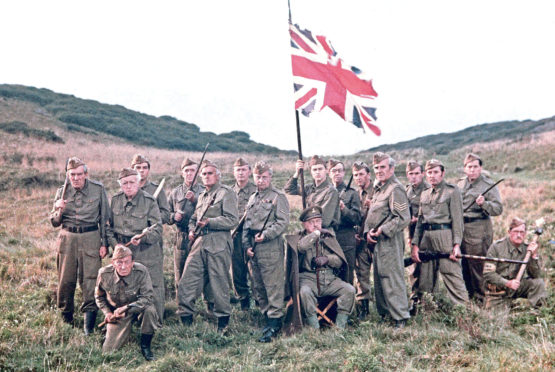 If you compiled a league table of most successful writing partnerships based on episodes written and how often they're repeated, chances are Jimmy Perry and David Croft would top the pile.
This estimable writing team has given us, among others, It Ain't Half Hot Mum, You Rang, M'Lord?, Hi-De-Hi! and the evergreen Dad's Army.
The wonderful Home Guard sitcom is undoubtedly their most successful project and still entertains millions, five decades after it first marched onto our screens.
Often TV classics mature with age and this is true of Dad's Army. When the first series aired in 1968, critics and audiences weren't bowled over by the escapades of an ensemble of mainly veteran character actors. But that soon changed. Today, it continues to pull in large audiences whenever an episode is screened.
When the idea for Dad's Army was conceived, its creator, Jimmy Perry, was working for Joan Littlewood at the Theatre Royal in the East London suburb of Stratford.
Although only an actor at this point, Perry harboured dreams of writing for the small screen – largely because he wanted to create a decent part for himself.
On his daily train ride to Stratford East, he pondered over the idea, realising that it was important that he wrote about something he'd experienced.
"Suddenly, I thought about the Home Guard – after all, I'd served in it at Barnes and Watford during the Second World War," he once told me.
After conducting plenty of research, Perry – who died in 2016, aged 93 – was convinced the Home Guard was a subject which could be explored via comedy.
Once he'd sketched out a script, with a working title of The Fighting Tigers, he put it aside for a while until an opportunity arose to show it to producer and co-writer David Croft, who died in 2011, aged 89.
During summer 1967, Perry's agent, who happened to be David Croft's wife, rang offering him a small part in Beggar My Neighbour, which Croft was directing.
Playing Reg Varney's uncouth brother, Reg, led to an opportunity Perry wasn't going to miss.
"We were rehearsing on a hot summer's day and I saw David outside fiddling with his white sports car. So I grasped the opportunity to tell him about my script. He was non-committal but agreed to read it."
A few days later, Croft confirmed he was excited by the idea and asked for a second script. Once that had been delivered, it wasn't long before a series was commissioned.
From the beginning, Perry and Croft's writing styles complemented one another's.
After getting together – either at Croft's home in Notting Hill or Perry's flat in Westminster – and roughing out detailed plots for two episodes, discussing the odd joke or piece of dialogue, they'd go separate ways and write an episode each.
Amazingly, in all the years they scripted Dad's Army, they never felt the need to swap scripts and read each other's work.
"It was extraordinary how our writing styles were so similar," Croft told me. "Whenever I watched an episode, I couldn't tell who'd written it."
Croft once described the writing process they followed for all the sitcoms they wrote together.
"I'd dictate my episode on to a dictating machine which entailed rewriting any of my lines which didn't transfer into spoken dialogue satisfactorily.
"Round about the end of week two, we'd get together again and read or play our episodes to each other. I never recall either of us rewriting our scripts."
Writing episodes this way afforded Perry and Croft the chance to work at their own pace and in their own time. "I preferred writing during the morning and early afternoon. Jim liked the evening.
"Jimmy and I were from similar theatrical backgrounds and both well-versed in farce, pantomime and summer season sketch comedy. We thought along the same lines."
Perry always stated that he fell in love with the entertainment world after being taken to the theatre as a five-year-old.
While based at Oswestry during his army days, he set up a concert party and, later, established an entertainment unit while serving in India.
After demob, he trained at RADA before working in rep and, eventually, taking over the lease of Watford's Palace Theatre, which he ran with his wife for eight years.
Croft, meanwhile, was born into a theatrical family. During the Second World War he rose to the rank of major and served in North Africa, India and Singapore.
After the war, he returned to the stage and worked in rep and musicals before, in 1954, joining Rediffusion as head of the light entertainment script department.
In 1959 he helped launch Tyne Tees Television before eventually moving to the BBC where he became one of the corporation's most prolific producers and co-writers.
Dad's Army ran for nine years with a staggering total of 80 episodes. In fact, most of Perry and Croft's sitcoms were long-running – an indication of quality writing.
While holiday camp comedy Hi-De-Hi! ran to 58 instalments between 1980-88, It Ain't Half Hot Mum extended to 56 episodes between 1974-81.
A believer in writing from experience, Perry based Hi-De-Hi! on his days as a Butlin's Redcoat and It Ain't Half Hot Mum on his time spent in India.
Perry regarded the latter as his favourite sitcom and could never understand the BBC's reluctance to repeat it.
"Some people say it's racist but that's nonsense because David and I knew what we were writing about. But such views are because Michael Bates, who played Rangi Ram, wore a light tan. What they don't think about is the fact he was actually born in India."
Despite the show being set in India, King's Lynn and, later, Farnborough were chosen to represent the Far East.
As David Croft recalled, the locations did cause a few headaches. "Usually, we filmed during October and November which meant I couldn't take close-up shots too early in the morning because cold air made the actors' breath visible."
Although the BBC didn't splash out on exotic locations, thousands of pounds were spent on tropical plants, which were cleverly mixed in with existing trees to add a touch of realism.
But of all the programmes Perry & Croft wrote together, there is one series they felt was very underrated and not given a fair crack of the whip in terms of scheduling.
The inspiration for You Rang, M'Lord? was the stories Jimmy Perry's grandfather regaled him with about his days as a butler.
Aware of the popularity of the Hi-De-Hi! stars, Perry and Croft were keen to devise a new vehicle for, among others, Paul Shane, Su Pollard and Jeffrey Holland.
Episodes of You Rang, M'Lord? ran to 50 minutes, unusual in the genre of sitcom, to resemble the period dramas it parodied. Lighting, sets and camera work were also of a quality reserved for drama productions.
Sadly, unfortunate scheduling and an atypical programme duration didn't bode well for its long-term future, even though it did run to four series.
Regarding the scheduling, David Croft once commented: "The show was meant to be a piece of major entertainment to go out on a Thursday at 8pm, to be followed by Points Of View and then the news.
"The controller of BBC1 in his wisdom elected to send it out on a Saturday evening. A Saturday show it was not. The ratings were good but the Saturday audience was looking for a more robust entertainment like Hi-De-Hi!."
Times were changing in the world of TV with costs and budgets playing an increasingly important role in decision making – even, sometimes, at the expense of production quality.
Reflecting on the writing partnership's many rewarding years spent writing for TV, Jimmy Perry once told me: "I know it's a sign of dotage to keep harping on the good old days, but working in BBC television in the late Sixties, Seventies and Eighties was a wonderful experience.
"The creative freedom and encouragement were amazing. David and I were having lunch in the canteen one day when Huw Wheldon, the then managing director of BBC TV, stopped at our table.
"He asked: 'What are you boys doing now?' We told him about whatever show we were working on at the time and he replied: 'Well done. Cleared it with Michael Mills (the head of comedy), have you?' We nodded. 'Excellent. Good luck.' And that was it.
"No committees to argue with, the BBC had complete confidence in our work. They were indeed the golden days of television."