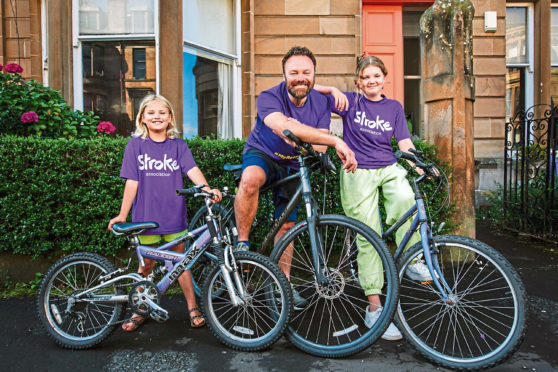 Stephen Kinnaird knows only too well how quickly life can change, and how an ordinary day can suddenly become a turning point for the decades ahead.
For Stephen, his two daughters, their family and friends, that day was December 6, 2017, when his partner, Justine Hird, just 46 years old, suffered a stroke from which she would never recover.
Fit, healthy and an avid cyclist, Justine showed no warning signs of the life-threatening condition, and her sudden illness was a shock for everyone – especially Thea, then 10, who discovered her mum unconscious and called for help.
"It all happened very quickly in one day," explained Stephen, who is also dad to Elsa, eight. "I was in London for work, and had spoken to Justine at lunchtime. She mentioned having a bit of a sore head, but it passed later that day. She picked up the girls after school, went to the park with them, and then they came home for dinner.
"After she fed the girls, she started to feel poorly so went to lay down for a while. It was only later, when Thea went to wake her up, she knew there was something wrong."
When Stephen's flight arrived in Glasgow he turned on his phone and discovered messages from a worried Thea, who had called an ambulance.
Stephen continued: "I had never heard of someone so young having a stroke, so when I walked in the door it was the last thing on my mind.
"Justine was on the couch and couldn't speak. I was shouting her name and trying to get her to respond, but she couldn't. She knew in her own mind something was drastically wrong, so there was a look of relief on her face when she realised that I was home."
Unable to move her right arm, Justine's face had also started to droop on one side, and she was taken to the Queen Elizabeth University Hospital by ambulance. There, Stephen was told to prepare for the worst.
He explained: "I phoned my mum, and she came down to look after the girls, but Thea was beside herself and didn't want to leave me, so she came with me to the hospital.
"When I met the consultant, I knew it was bad by the look on her face. She just said, 'You need to prepare for the worst'. She said this in front of Thea as well, so it was really shocking.
"In an instant, everything was turned upside down. I was in disbelief."
Four days later, Justine passed away, leaving Stephen and the girls in shock.
Stephen added: "The doctors couldn't pinpoint why it happened. They suspected there was an artery that had been blocked in her neck, which potentially stopped blood flow. But they couldn't actually pin down and say why it happened.
"Justine cycled every day, she didn't smoke, ate healthily, and was slim and very active. So there were no warning signs."
In the weeks and months after losing Justine, Stephen knew he needed to focus on being there for his family, and wanted to do something to keep Justine's memory alive. So he set up a Just Giving page in aid of the Stroke Association, raising more than £8,000 in just a few weeks.
From there, Stephen and his friends – who dub themselves Team Justine – began taking on fitness challenges, including half marathons, to raise further funds. Today, the group have donated more than £18,000 to the charity, and even the coronavirus pandemic hasn't stopped their momentum.
Throughout August, Team Justine set themselves the challenge of walking, running, cycling and swimming a collective 2,000 miles – the distance between Glasgow and Istanbul, a city which holds a special place in Stephen's heart.
He explained: "In lockdown, I knew were weren't going to be able to get together as a team and run the half marathon as we planned, and lots of events were getting cancelled. So I set up a virtual event, which would allow the core team to run in their own neighbourhoods, and pool together the miles at the end of the month.
"We were trying to work out how far our collective miles would reach – you know, either to the moon and back or from Land's End to John O' Groats. We realised Istanbul is 1,8000 miles from Glasgow as the crow flies or 2,200 miles if you drove.
"Justine and I went to Istanbul when Thea was two, and it was one of the first times we were away together as a couple without children. It was an amazing trip and experience, so it's been nice to remember."
Stephen hopes the challenge has also encouraged more people to lace up their trainers.
He added: "Being involved with the Stroke Association, having a focus and a purpose, and doing something in Justine's memory has really helped me, especially in the first year when I was still in shock and gripped with grief.
"When Justine passed, it was such a shock because of her age. It really had an impact on people who knew us, and a lot of people have told me it made them change the way they were living as a result.
"Part of the challenge was, not only to raise awareness around strokes, but also to encourage other people to get out and be more active as well."
Visit justgiving.com/fundraising/justinesmiles2020
---
Know the symptoms
A stroke is a serious life-threatening medical condition that happens when the blood supply to part of the brain is cut off. The sooner a person receives treatment for a stroke, the less damage is likely to occur.
The main symptoms of stroke can be remembered with the acronym FAST:
Face: the face may have dropped on one side, the person may not be able to smile, or their mouth or eye may have dropped.
Arms: the person may not be able to lift both arms and keep them there because of weakness or numbness in one arm.
Speech: their speech may be slurred or garbled, or the person may not be able to talk at all despite appearing to be awake. They may also have problems understanding what you're saying to them.
Time: it's time to dial 999 immediately if you see any of these signs or symptoms.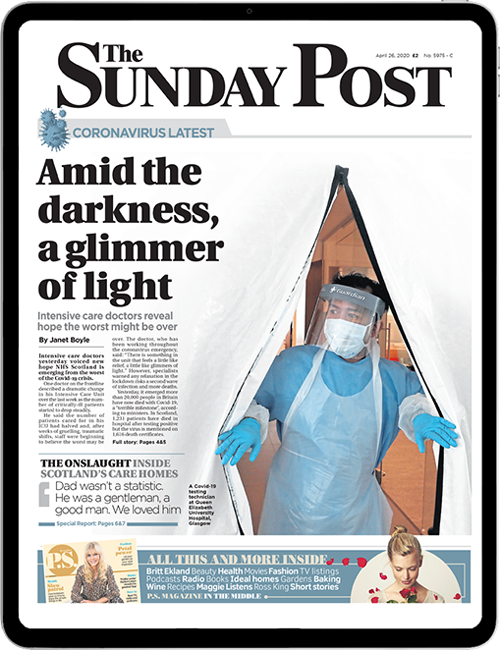 Enjoy the convenience of having The Sunday Post delivered as a digital ePaper straight to your smartphone, tablet or computer.
Subscribe for only £5.49 a month and enjoy all the benefits of the printed paper as a digital replica.
Subscribe