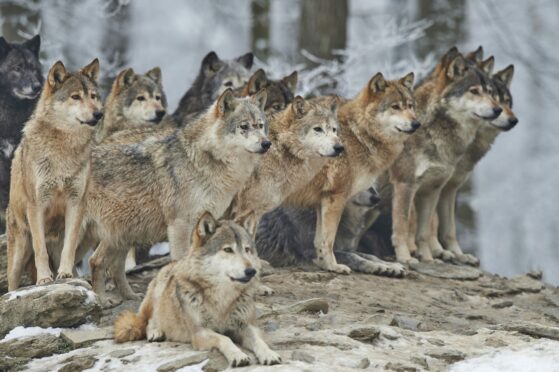 Shepherd Kay Krogmann knows all about wolves, and what they can do. Working with his father, Krogmann used to look after 800 sheep on the coastal dikes in Beversedt, in the north-western German state of Lower Saxony.
The open, flat coastal landscape looks nothing like the kind of dense forest normally associated with wolves but Krogmann, 41, knows different. Last year he gave up his flock after years of wolf attacks – some in broad daylight – left him unable to cope.
"I've identified 17 wolf attacks since 2012. They were horrific. Sometimes the entrails were spread over several kilometres," he said.
"Surviving sheep are left panicked for months. Many males can't mate, many ewes can't fall pregnant. Some lambs born straight after an attack ran head first into walls so hard they killed themselves, or ran out into traffic and caused accidents."
Krogmann's views are typical of German farmers who are furiously opposed to the reintroduction of the animals. He says wolves have become over-protected.
With about 2,000 animals now living in Germany, just less than 10% of the European population, he believes they are no longer an endangered species. Meanwhile, livestock owners, he argues, are left to suffer emotionally and financially.
"The state reimburses us for the protective fences but not for the work erecting them, maintaining them or replacing them after wolf attacks," said Krogmann. "For my €100,000 damages, the state of Lower Saxony gave me a pitiful €7,000 in compensation.
"I became depressed and a ­nervous wreck. My father told me I needed to get out. I just can't cope any more with how untouchable the wolf has become. The situation is impossible. The wolf population has to be reduced. Authorities should issue more permits to hunters to shoot aggressive wolves."
In December Hermann Grupe, a politician and farmer in Lower Saxony, posted a message on his party's website calling for robust legislation to contain the rapidly rising wolf population. "The wolf continues to spread unhindered and snatches sheep, cattle, ponies, horses and calves from the pastures directly on the farm," he said.
"The population must be significantly reduced in some regions and kept at a tolerable level through active population management. We need a wolf ­regulation that really takes effect."
Grupe pointed to one attack in which 15 sheep were killed, even though they were protected by a 6ft fence, an additional 4ft electric fence – and even four donkeys. He said: "It is horrific for these farmers to wake up and see sheep literally ripped. All the shepherds I know personally are quitting."
Now Krogmann and Grupe's wishes are about to come true. Though the 1992 EU Habitats Directive is supposed to conserve wolves in Europe, in Lower Saxony selected hunters have once again been authorised to shoot specified wolves, to the delight of some and the horror of others.
Until the beginning of this century wolves were extinct in Germany, with the last pack recorded in Brandenburg around 1850s. After the Second World War, just nine "immigrant" wolves – so called because they had crossed over from a neighbouring country – were shot between 1945 and 1990. In East Germany, the figure was 13.
Following German ­reunification in 1990, wolves were placed under legal protection via the Federal Nature Conservation Act – a move that paved the way for their gradual return.
In 1998, two wolves were seen for the first time on Muskauer Heide, a forest near the Polish border in Saxony. By 2000 the pair had pups – the first recorded wolves born in Germany since reunification. Since then the wolf ­population has skyrocketed. These animals are descended from the Baltic wolf population of north-­eastern Poland. In the past 50 years this ­population has extended to western Poland, and some have crossed over the open border into Germany.
Figures from the Federal Agency For Nature Conservation show that in April 2021 a total of 157 wolf packs, 27 pairs and 19 territorial individuals lived in Germany.
Most wolves live in Germany's eastern state of Brandenburg (49 packs and eight pairs), followed by Lower Saxony (35 packs and five pairs).
The main source of food for wolves there is deer, followed by wild boar as well as sheep, hare and other small and medium-sized mammals.
Though federal law stipulates that illegally shooting wolves comes with a five-year jail sentence, various states have local exemptions.
Lower Saxony is the most recent to introduce a wolf cull, with the Ministry of the Environment issuing permits to selected hunters. Peter Blanché, chairman of the Society for the Protection of Wolves, condemned the move.
"Five times in a row the wolves shot in 'authorised shootings' were the wrong wolves," said Blanché. "We feel this is very sad and unlawful given that they are a designated conserved species both under both German and EU law.
"The bad wolf belongs in the realm of fairy tales. It is used to stir up fears and spark hysteria. The facts, however, are very different. Healthy wolves do not pose a threat. Even today we can see a very healthy co-existence of humans and wolves in densely populated areas."
Wildlife specialist Nadja Michler, of PETA Deutschland, agrees. She describes an unholy alliance of politicians, hunters and farmers as the real problem. In a written statement to The Sunday Post she said: "Politicians, hunters and ­farmers are often interested in the wolf losing its protected status, and becoming fair game for hunting. Farmers do not want to protect the animals, only their sources of income.
"Hunters do not tolerate ­competition. Many claim that native wild animals lack natural enemies such as wolves, while killing them themselves. It is ethically unacceptable to kill wolves to satisfy the profit intentions of the animal owners."
Instead, Michler favours more of a rewilding approach when it comes to dealing with wolves.
"We demand peaceful co-­existence with wolves, which are essential for an intact ecosystem," she added. "After the wolf was wiped out more than 100 years ago and in view of the global extinction of species, the return of these animals is a positive development that we expressly welcome."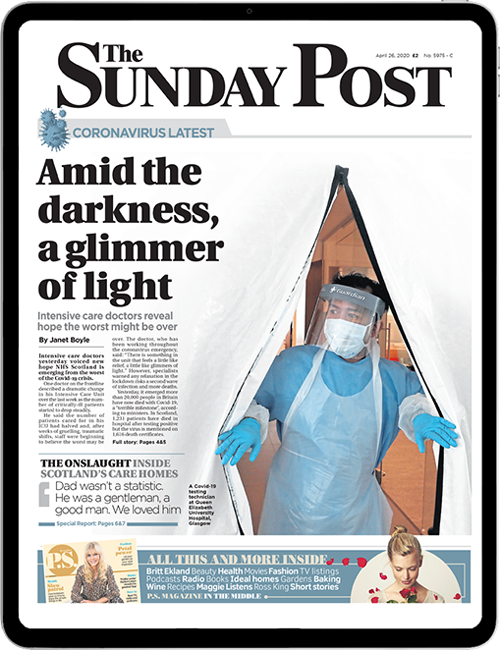 Enjoy the convenience of having The Sunday Post delivered as a digital ePaper straight to your smartphone, tablet or computer.
Subscribe for only £5.49 a month and enjoy all the benefits of the printed paper as a digital replica.
Subscribe