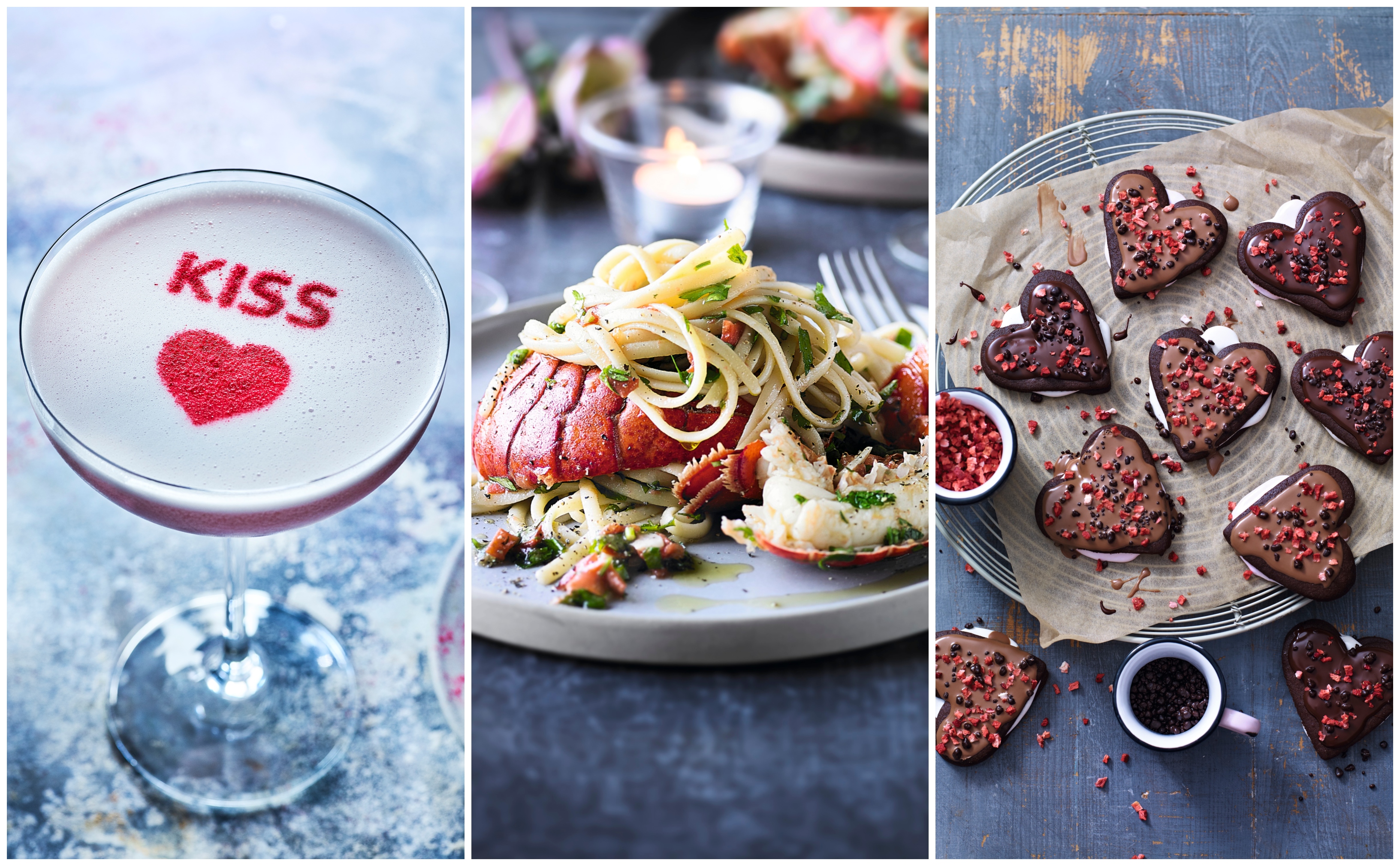 WHY book an expensive restaurant for Valentine's Day when you can cook your own delicious meal with love?
For the romantic among you, we've collected some recipes that are guaranteed to impress your valentine!
From main courses to dessert, and even a cocktail for later, we've got you covered.
Recipes and images courtesy of Waitrose & Partners
---
Lobster linguine with tomato, garlic & chilli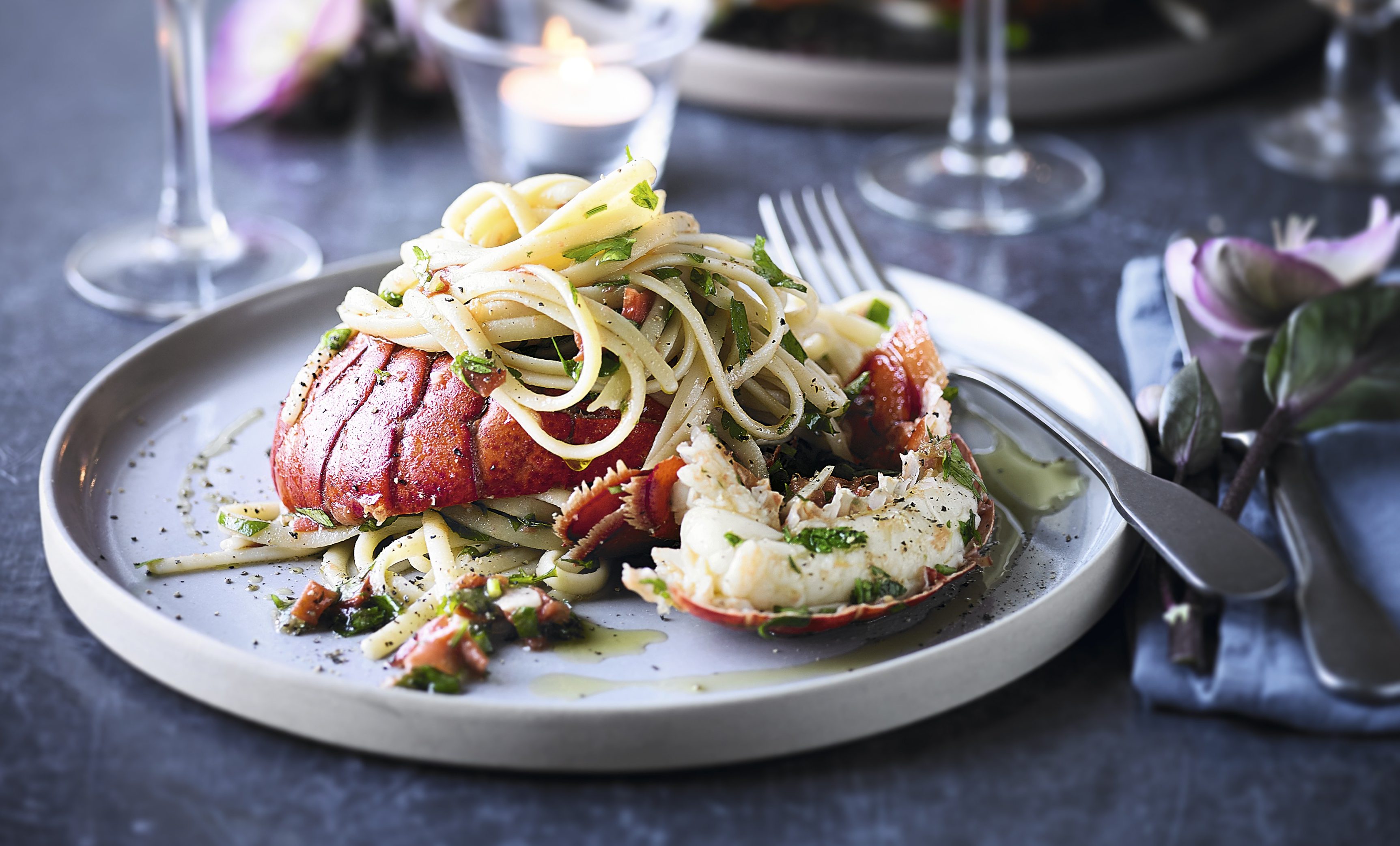 Preparation time: 15 minutes
Cooking time: 14 minutes
Total time: 29 minutes
Serves: 2
Ingredients
3 lobster tails, from the fish counter
200g linguine or spaghetti
3 tbsp olive oil
2 cloves garlic, sliced
1 tsp dried chilli flakes
6 fresh tomatoes, deseeded and chopped
½ x 25g pack fresh flat leaf parsley, chopped
Method
1. To cook the lobster, bring a sauté pan of water to the boil, add the tails and cook for 5 minutes. Remove and plunge into a bowl of iced water until cold. Check the lobster tails are cooked: the shell should go from a blue/pink colour to bright red and the meat from translucent to white and opaque.
2. Cut each tail in half straight down the middle so you have 6 pieces of lobster in their shells.
3. Meanwhile, bring a large pan of water to boil and cook the linguine according to pack instructions.
4. Heat a large sauté pan, add the olive oil and gently warm with the garlic and chilli until the garlic starts to turn golden but doesn't burn. Add the tomatoes, followed by the lobster tails in their shells and toss until hot.
5. Remove the linguine straight from the pan into the lobster mixture along with 100ml of the pasta water, shaking the pan and tossing the pasta so the liquid emulsifies. Serve with the fresh parsley sprinkled on top and an extra drizzle of olive oil.
---
Oysters with shallot vinegar and lemon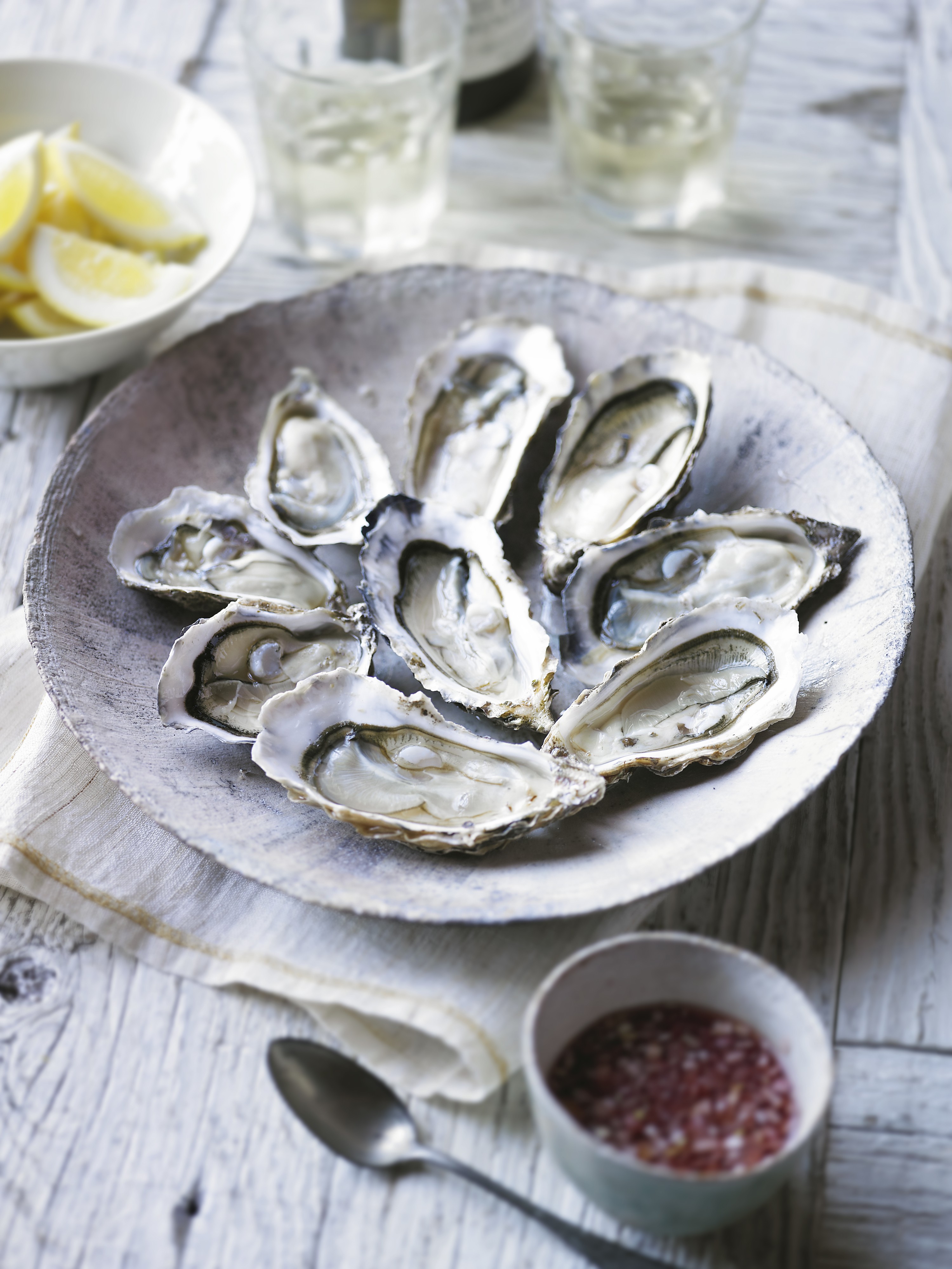 Preparation time: 30 minutes
Total time: 30 minutes
Serves: 3-4
Ingredients
12 oysters (seasonal availability)
100ml red wine vinegar
1 tbsp caster sugar
2 shallots, finely chopped
1 lemon, cut into wedges
Method
1. To prepare the oysters, carefully open, or shuck, them (visit
waitrose.com/howto
for a video clip that shows you how to do it). Then run a knife underneath the flesh of the oysters to detach them from the shells. Leave the oysters in the shells and place them on a bed of ice in a dish or platter.
2. To make the shallot dressing, mix together the remaining ingredients in a small bowl. Spoon a little dressing over each oyster and serve immediately. Place any remaining dressing in a small serving pot to serve along side. Serve with a wedge of lemon, if you like.
---
Fillet steak with salsa verde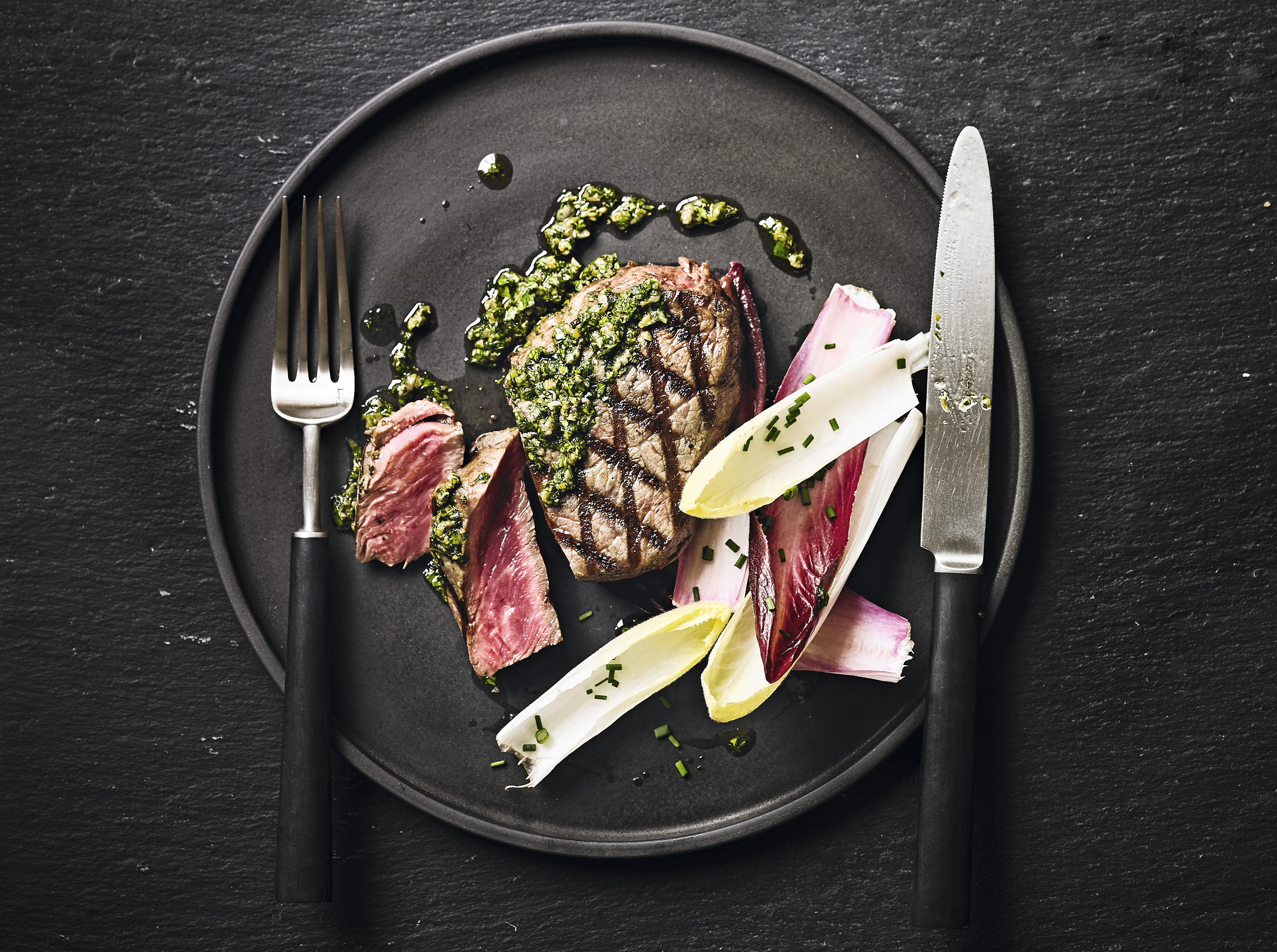 Preparation time: 10 minutes + resting time
Cooking time: 5 minutes
Total time: 15 minutes + resting time
Serves: 2
Ingredients
2 beef fillet steaks, trimmed of fat
2 tbsp extra virgin olive oil
FOR THE SALSA VERDE
25g pack fresh parsley, stalks removed
2 tbsp capers
½ clove garlic
4 anchovy fillets
½ tsp Dijon mustard
½ tsp red wine vinegar
7 tbsp extra virgin olive oil
Method
1. Place all the ingredients for the salsa verde in a mini chopper/food processor and blitz until fairly smooth.
2. For the steak, heat a dry cast-iron or stainless steel frying pan on a high heat until hot. Smear the steaks with oil on each side and season with salt and black pepper. When the pan is very hot add ½ tablespoon of oil and quickly add the steaks. Fry for 2 minutes on each side for rare. Do not move the steaks in the pan as soon as you put them in otherwise they will stick – let them form a crust first and then you'll be able to turn them over when browned.
3. Once the steak is cooked to your liking, remove from the pan onto a warm plate, and cover with foil and a couple of tea towels to keep warm. Leave to rest for 5-10 minutes. Serve with a little of the salsa verde sauce.
---
Easy chocolate almond truffles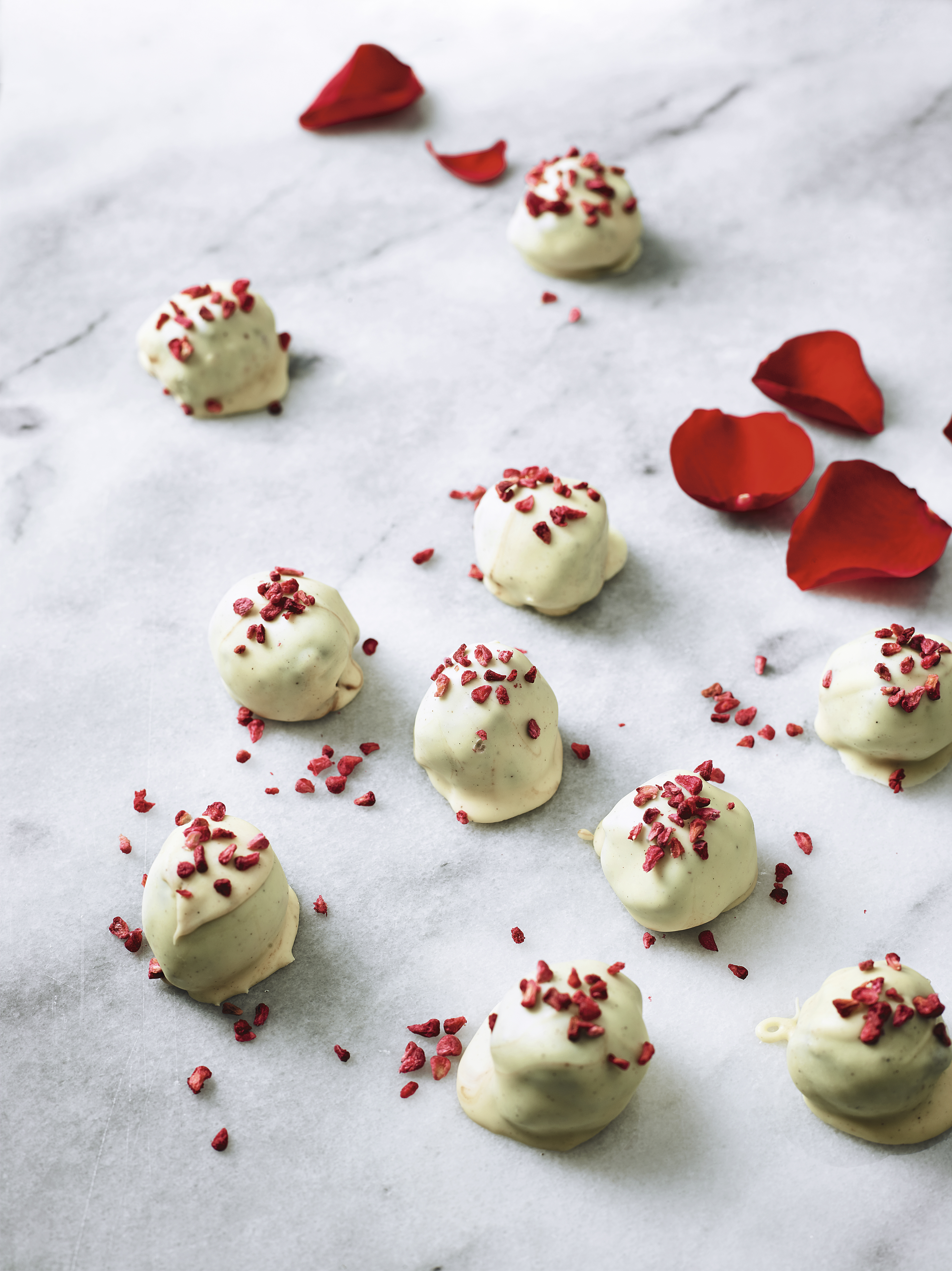 Using the ready-made cocoa-rich ganache cuts your preparation time, making these almond-flavoured chocolate truffles a doddle.
Preparation time: 15 minutes
Cooking time: 5 minutes
Total time: 20 minutes + freezing
Makes: 12
Ingredients
75g white chocolate, broken into small pieces
45g almond thin biscuits
135g pack Gü 3 Forget-me-not Chocolate Ganaches or similar pre-made chocolate ganache dessert
1 tbsp freeze-dried Raspberries
Method
1. Gently melt the white chocolate in a bowl over a small pan of simmering water, then remove from the heat and leave to cool to room temperature.
2. Line a small baking sheet with baking parchment. Finely crush the biscuits into crumbs then mix with the ganache. Using two teaspoons, shape the mixture into 12 small balls and place on the parchment. Freeze for 15 minutes or so until firm.
3. Carefully roll each ball in the cooled white chocolate then place on the baking parchment. Sprinkle with the freeze-dried raspberries and leave to set. Keep in an airtight container in the fridge for up to 3 days.
---
Chocolate Fondant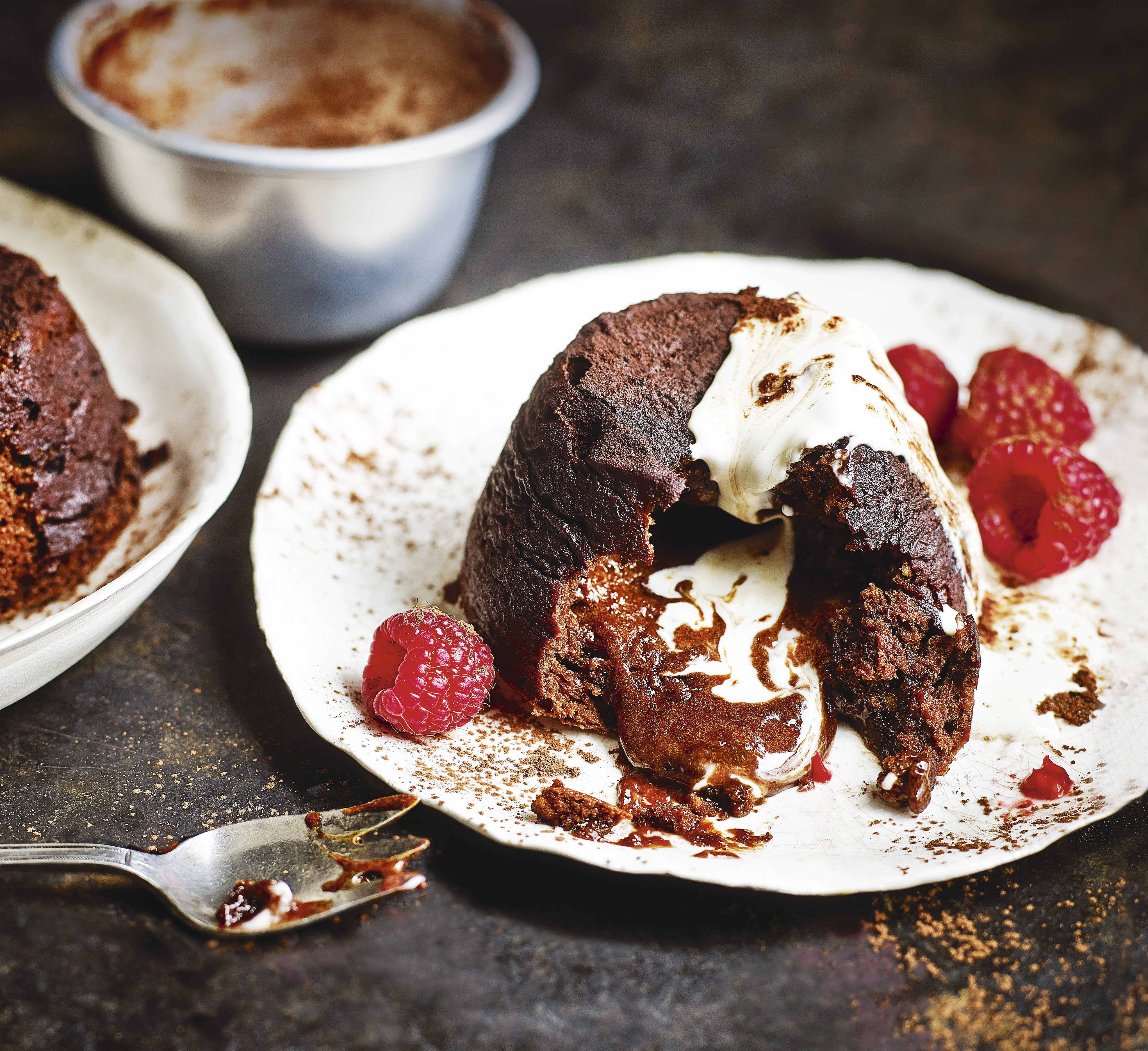 Preparation time: 20 minutes, plus cooling
Cooking time: 10 minutes
Total time: 30 minutes, plus cooling
Serves: 2
Ingredients
50g unsalted butter, plus extra, softened, for greasing
1 tbsp cocoa powder, sieved, for dusting
50g dark chocolate (70% cocoa solids), chopped into small chunks
1 egg, plus 1 yolk
25g caster sugar
1 heaped tbsp plain flour
Method
1. Preheat the oven to 200˚C, gas mark 6. Grease 2 x 150ml dariole moulds, add the cocoa powder to one and then transfer to the other, turning it as you go until the mould is evenly coated. Repeat with the other mould, discarding the excess cocoa.
2. Melt the chocolate and butter together in a bowl set over a pan of barely simmering water (or in a microwave, in short bursts) with a pinch of salt. Stir to combine and set aside to cool briefly.
3. Using electric beaters, whisk together the egg, egg yolk and sugar until tripled in volume; it should hold a trail for 2-3 seconds. Sift over the flour and gently fold in. Loosen the melted chocolate with a little of the egg mixture, then, in two batches, carefully fold in the remainder. Divide the mixture between the moulds, cleaning the edges with kitchen paper, if needed.
4. Bake for 10 minutes, until risen and a crust has formed on top; they should still have a slight wobble. Turn out onto plates and serve at once, dusted with cocoa powder.
---
Celeriac & blue cheese soufflés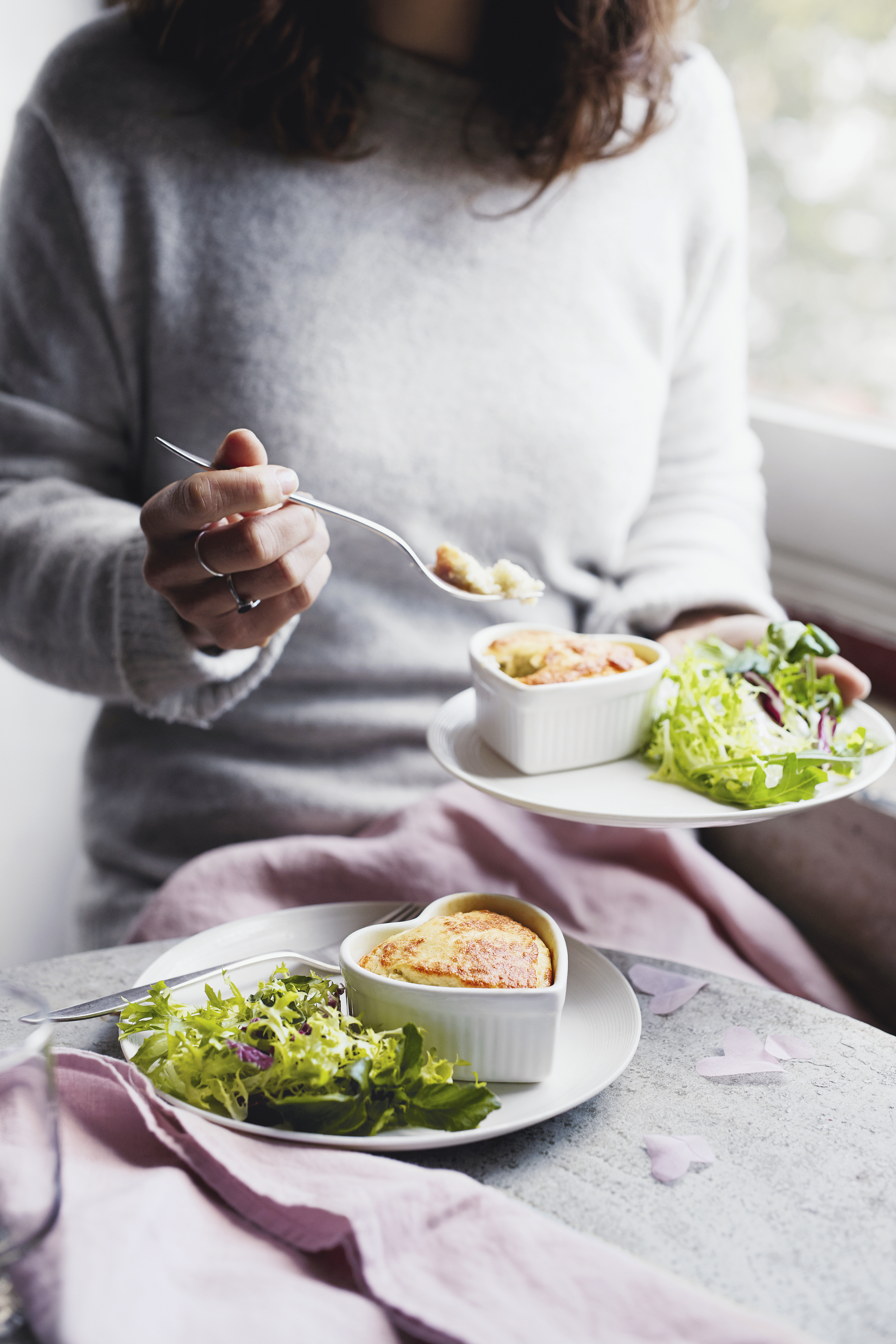 Preparation time: 15 minutes
Cooking time: 30 minutes
Total time: 45 minutes
Serves: 4
Ingredients
Small knob of butter, for greasing
500g celeriac, peeled and cubed
3 tbsp half-fat crème fraîche
150g blue cheese such as Stilton, Roquefort or Gorgonzola
4 large Eggs, separated
Green salad, to serve
Method
1. Preheat the oven to 200°C, gas mark 6. Lightly grease 4 x 250ml individual ramekin dishes.
2. Place the celeriac in a steamer set over a pan of gently simmering water. Cover and steam for about 8 minutes until very tender when pierced with a knife.
3. Place the cooked celeriac in a food processor with the crème fraîche and blue cheese and blitz until smooth. Transfer to a bowl and stir in the egg yolks one at a time, beating well after each addition.
4. In a separate bowl, beat the egg whites using an electric hand whisk until soft peaks form. Using a large metal spoon, lightly fold the egg whites into the celeriac mixture until well combined.
5. Spoon into the prepared dishes and cook for 20 minutes until risen and golden. Serve swiftly with salad on the side.
FREEZING TIP
These freeze well once cooked. Leave to cool completely, turn out of the ramekins, pack into bags then label and freeze for up to 3 months. To reheat, thaw completely and bake for 10–12 minutes at 180°C, gas mark 4 until piping hot.
---
Chocolate s'mores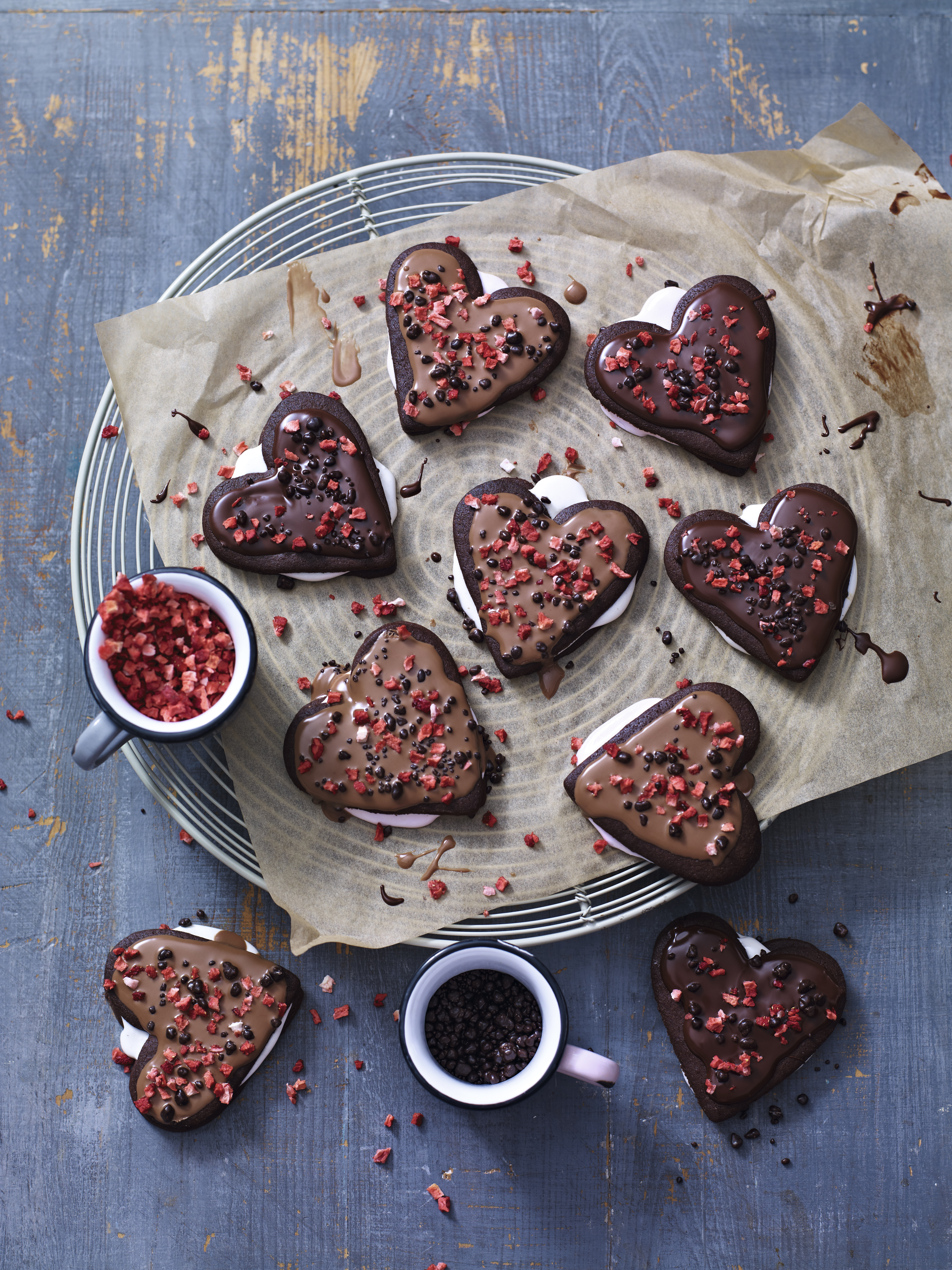 S'mores are a traditional American campfire treat that consist of a toasted marshmallow and a layer of chocolate sandwiched between two crackers.
Preparation time: 20 minutes
Cooking time: 10 minutes
Total time: 30 minutes
Serves: 12
Ingredients
150g plain flour
25g cocoa powder
60g unsalted butter
60g light brown muscovado sugar
70g golden syrup
6 pink & white marshmallows, cut in half
50g milk or dark chocolate
1 tbsp freeze dried strawberries
1 tbsp popping candy
Method
1. Preheat the oven to 180ªC, gas mark 5. Place the flour, cocoa, Lurpak and sugar in a food processor and whizz until well blended. Add the syrup and whizz again to make a smooth dough.
2. Roll the dough out between 2 sheets of baking parchment then, using a 5cm heart-shaped cutter, stamp out 24 shapes. Transfer to
a large parchment-lined baking sheet and bake for 10 minutes.
3. Carefully lift 12 of the biscuits onto a wire rack and reserve. Place a marshmallow half onto each of the remaining biscuits and return to the oven for 1–2 minutes until melted. Sandwich the reserved biscuits on top of each marshmallow and leave to cool – they may need nudging back into position if they start to slip.
4. Meanwhile, gently melt the chocolate in a heatproof bowl set over a pan of simmering water. Spread a teaspoonful of melted chocolate on top of each sandwich and sprinkle with the dried strawberries and popping candy. Leave to set completely.
Cook's tip
For a truly romantic gift on Valentine's Day, try piping the melted chocolate onto the biscuits to write a personalised message or spell out your loved one's name. White chocolate works really well, too.
---
Queen of Hearts jam tarts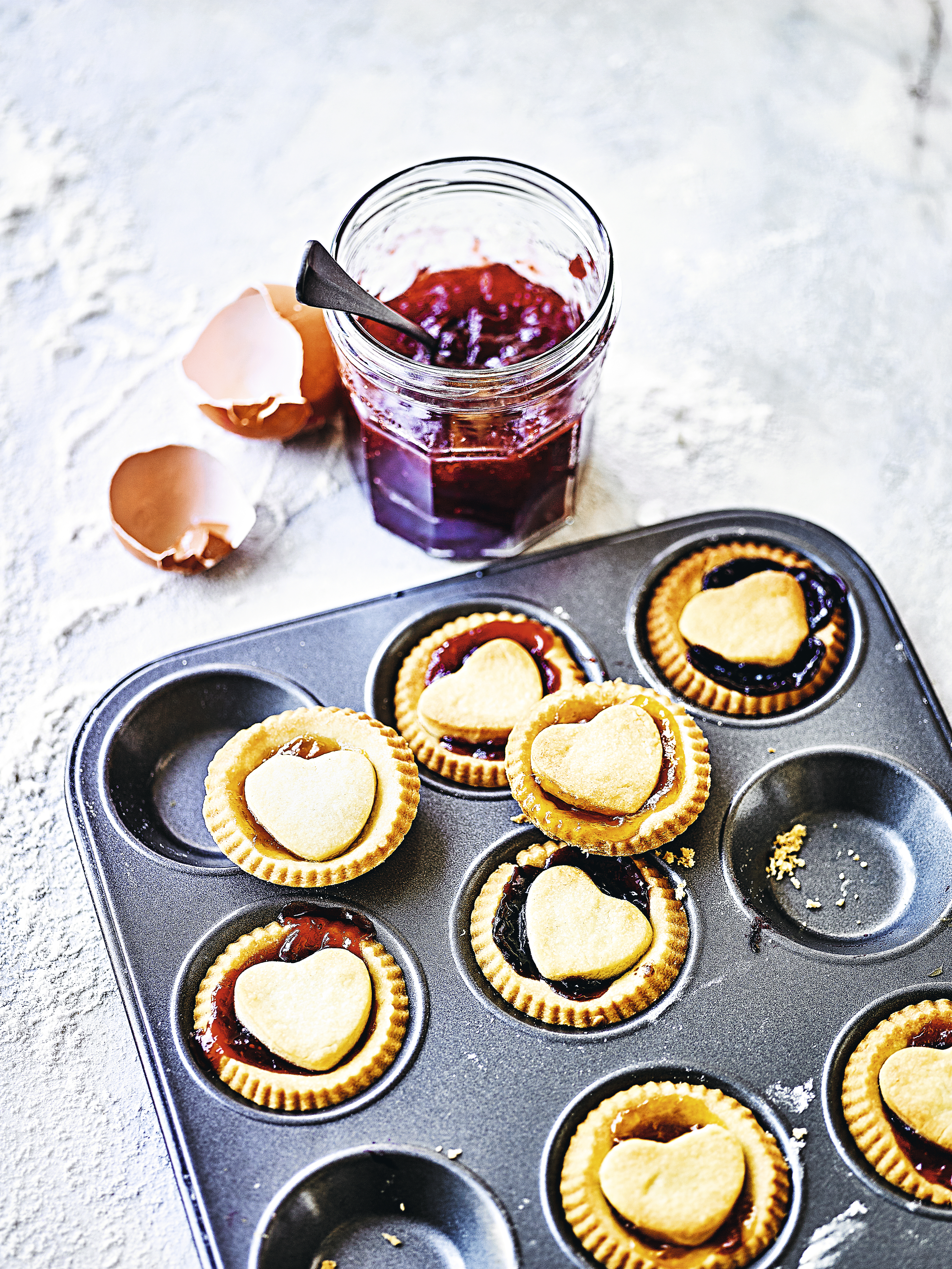 Preparation time: 15 minutes + chilling
Cooking time: 18 minutes to 20 minutes
Total time: 35 minutes + chilling
Makes: 24
Ingredients
200g plain flour, plus extra for dusting
20g rice flour
35g icing sugar
150g butter, diced and chilled
1 Egg yolk
Mixed flavours jam (approx 380g in total or 12 tsp of each) – ie strawberry, apricot, blackcurrant and raspberry
Method
1. To make the pastry, put the flour, rice flour and icing sugar into the bowl of a food processor. Blitz briefly to combine. Add the butter and pulse until the mixture resembles coarse breadcrumbs. In a small bowl beat together the egg yolk and about ½ tbsp ice-cold water. Add to the food processor and pulse until the pastry just starts to come together.
2. Tip out onto a clean work surface and use your hands to bring together into an even dough. Roll out on a clean, floured surface, in 2 batches if necessary, until the dough is the thickness of a pound coin.
3. Using a 7cm round cutter, make 24 circles and place them into 2 x 12-hole fairy cake tins. If you wish, use a small heart cutter to make 24 little hearts, rerolling the pastry if necessary. Fill each pastry case with 2 tsp of jam, using different flavours if liked. Top each with a heart, if using, and rest in the fridge for 30 minutes.
4. Preheat the oven to 190°C, gas mark 5. Bake for 18-20 minutes, swapping the tins around at half distance, until the tarts are golden around the edges and the jam is bubbly. Cool for 10 minutes before removing from the tins.
---
Red velvet cake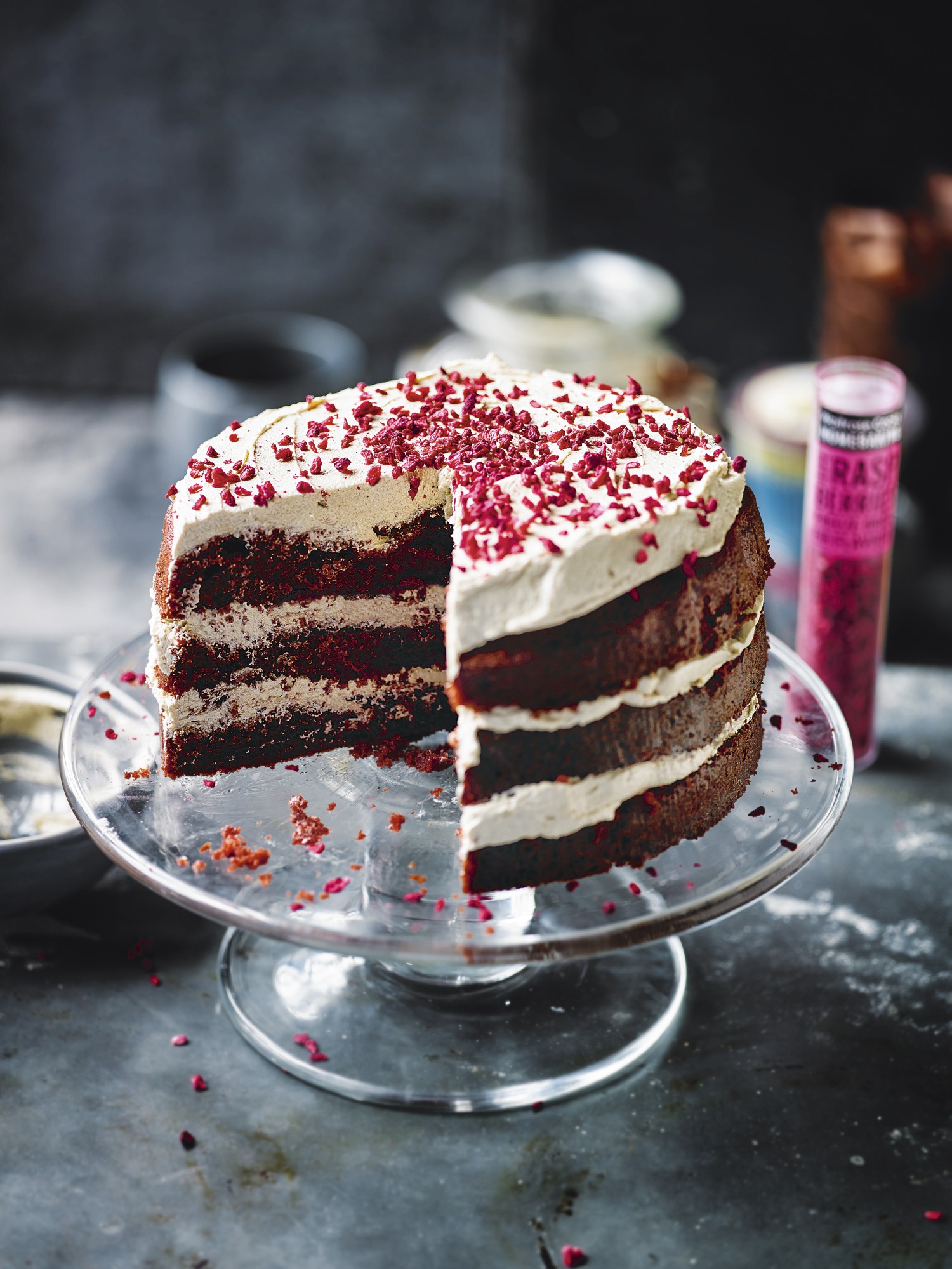 Based on the US classic, this beautiful cake will suit any special occasion or family get-together. The pale butter icing contrasts well with the red sponge layers.
Preparation time: 20 minutes
Cooking time: 50-60 minutes
Total time: 70-80 minutes
Serves: 8 – 10
Ingredients
200g unsalted butter
200g light brown soft sugar
1 tsp vanilla extract
4 medium free range eggs
200g self-raising flour
2 x 10g tubes gel food colour, bright red
1 tbsp cocoa
FOR THE FILLING
150g unsalted butter
1 tsp vanilla extract
200g light brown soft sugar
1 tbsp freeze-dried raspberries
Method
1. Preheat the oven to 170°C, gas mark 3. Grease and base line an 18cm round cake tin.
2. Whisk the butter, sugar and vanilla extract until pale and fluffy. Whisk in the eggs, one at a time, until combined (add a little of the flour if it looks curdled). Mix in the red food colour. Fold in the flour and cocoa.
3. Spoon into the cake tin and bake for 50 minutes to 1 hour or until a skewer comes out clean when inserted into the cake. Allow to cool.
4. To make the filling, whisk the butter, vanilla extract and sugar until pale and fluffy.
5. Cut the cake into 3 even-sized horizontal rounds. Spread ⅓ of the butter icing over 1 slice of cake, and then lay another slice on top. Spread this with another ⅓ of the icing and top with final slice. Spread with the remaining icing and sprinkle over the dried raspberries.
---
Strawberry & vanilla marshmallows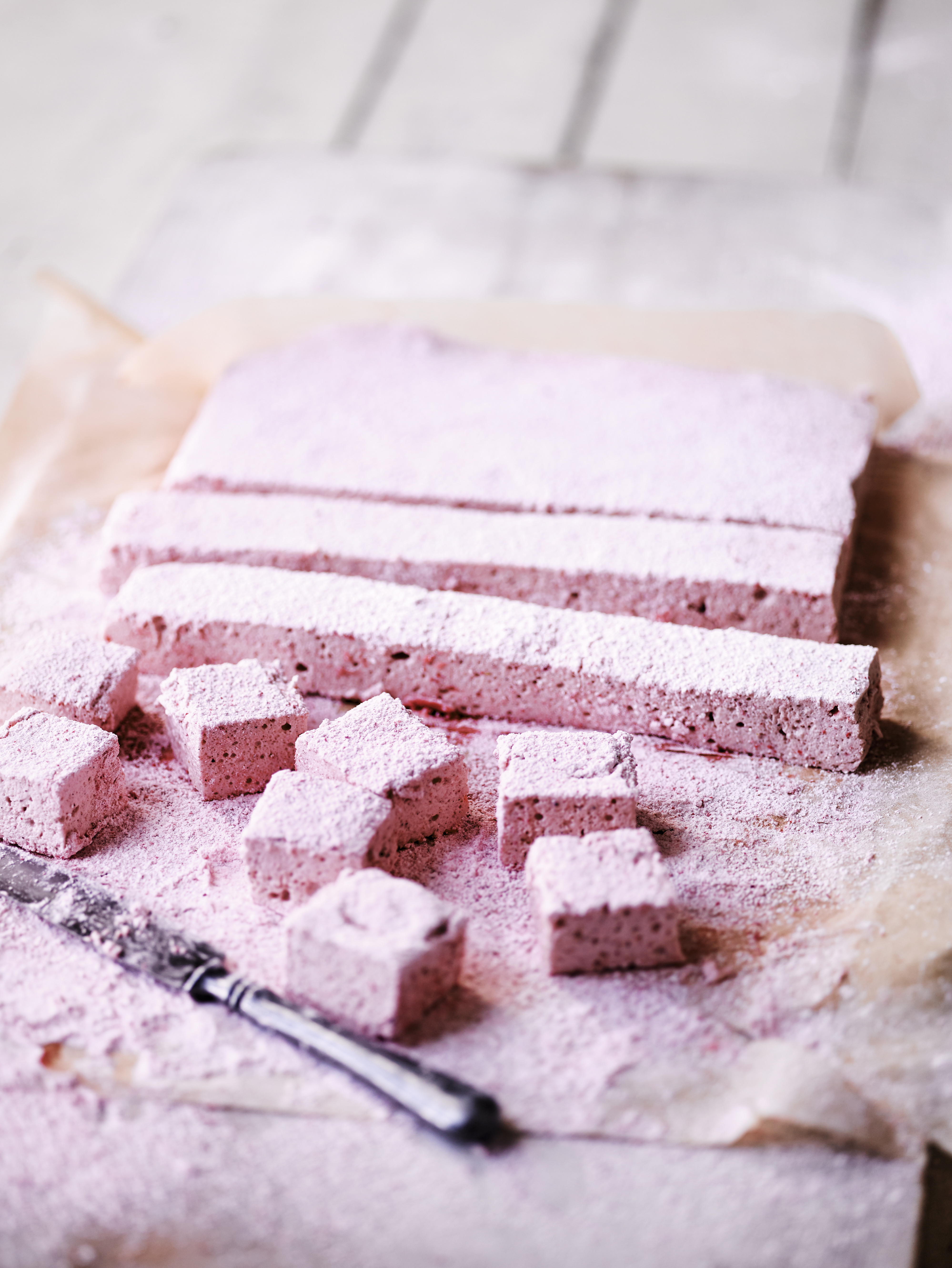 Preparation time: 20 minutes, plus chilling time
Cooking time: 10 minutes
Total time: 30 minutes
Makes: 30
Ingredients
21g freeze dried strawberries
2 tbsp icing sugar
2 tbsp cornflour
6 gelatine leaves
400g caster sugar
1 tbsp golden syrup
3 large free range egg whites
2 tsp vanilla powder
Method
1. Lightly oil and line the base and sides of a 20x30cm tin with non-stick baking parchment.
2. Grind the dried strawberries to a powder in a spice blender, or with a stick blender, and reserve.
3. In a large bowl, mix together the icing sugar, cornflour and ½ tbsp of the powdered strawberry, then sieve half this mixture on to the base of the lined tin.
4. In a small bowl, soften the gelatine leaves in cold water for about 10 minutes. Reserve 2 tbsp of the caster sugar and heat the remainder in a medium-sized pan with the golden syrup and 150ml cold water, stirring until the sugar has dissolved. Bring the sugar liquid to the boil and continue until it reaches the soft-ball stage (116°C on a sugar thermometer). Don't stir while the liquid is boiling.
5. While the sugar is boiling, whisk up the egg whites with the reserved 2 tbsp caster sugar in a stand mixer until soft peaks form.
6. Remove the hot syrupy liquid from the heat when it reaches the correct temperature and leave it to cool for 2 minutes.
7. Remove the gelatine leaves from the water and pat them dry on a clean tea towel.
8. Add the gelatine to the hot syrup, stirring gently to dissolve it. The mixture will bubble up slightly.
9. With the mixer on slow, pour the hot syrup on to the beaten egg whites. Once it's all been added, turn the mixer to high and beat until the marshmallow is thick and doubled in size (this can take up to 5 minutes). When nearly there beat in the remaining strawberry powder and vanilla powder.
10. Pour the marshmallow into the prepared tin and leave it to cool and set, preferably overnight.
11. Once set, use your fingers to ease the marshmallow away from the sides of the tin, then turn it out onto a chopping board dusted with a little of the reserved icing sugar. Cut the marshmallow widthways into strips about 3-4cm across and then cut into squares. Dust in the remaining icing sugar. Serve, or bag and give as gifts.
---
Raspberry Dust Cocktail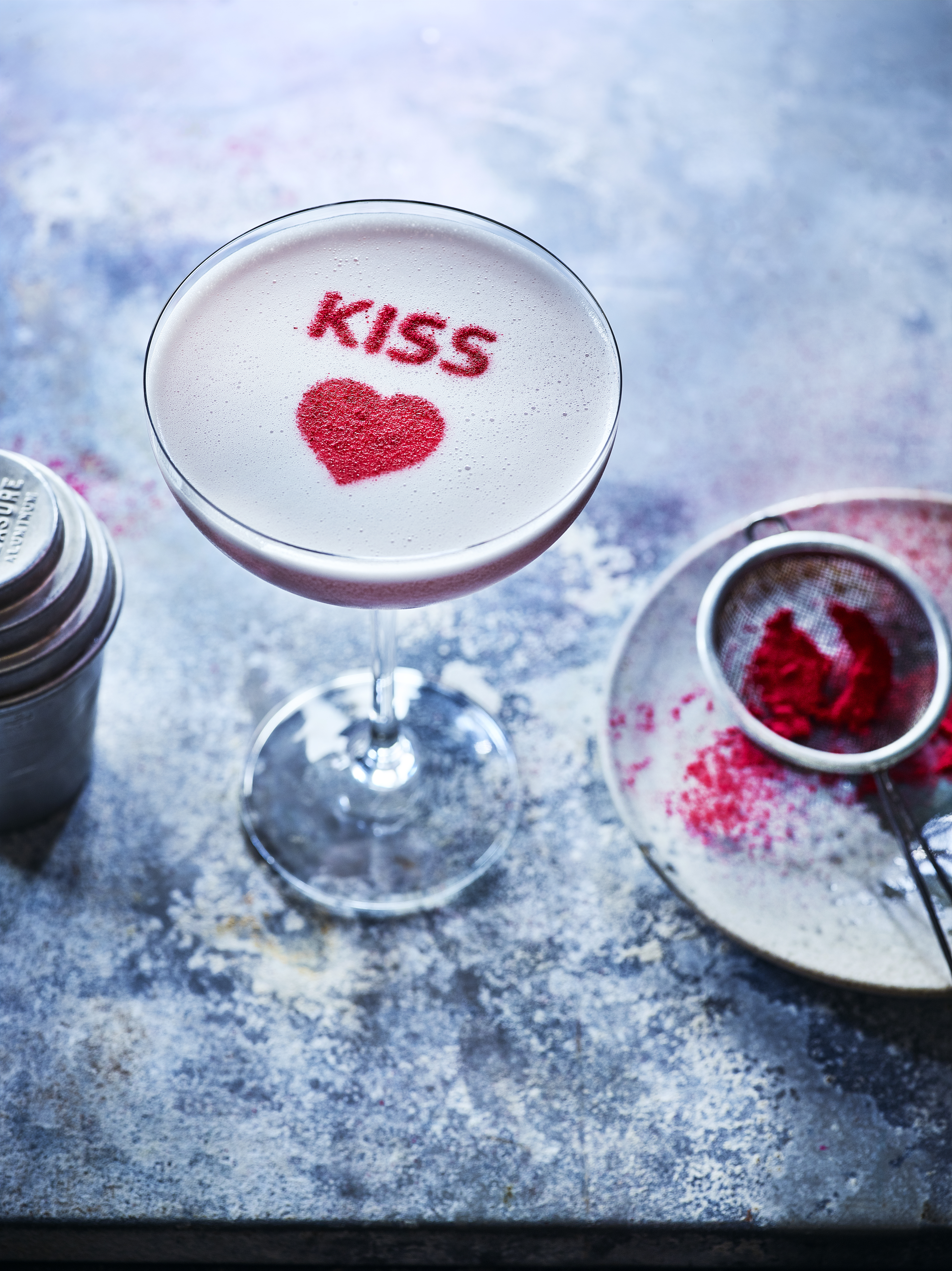 Makes: 1
Ingredients
50ml gin
20ml lemon juice
1 tbsp Teisseire Grenadine Le Sirop
1 medium egg white
Ice
Waitrose Cooks' Ingredients Raspberry Dust
Method
1. Place the gin, lemon juice, grenadine syrup and egg white into a cocktail shaker and dry shake (without ice) to emulsify.
2. Fill the shaker half full with ice and shake again, until the shaker is cold to the touch. Strain into a cocktail glass, then sprinkle over a little raspberry dust to finish.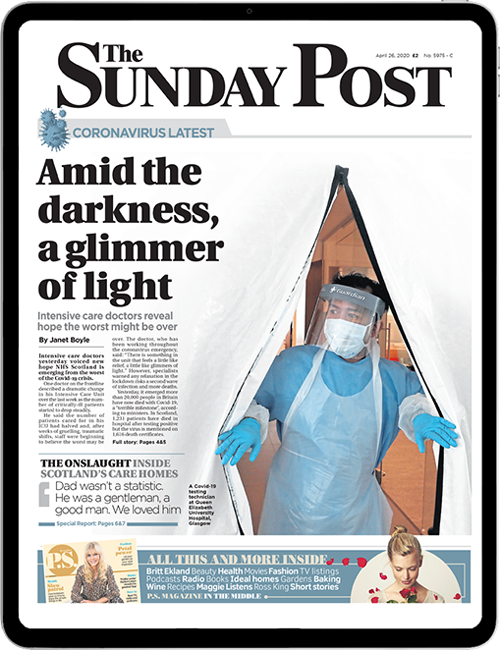 Enjoy the convenience of having The Sunday Post delivered as a digital ePaper straight to your smartphone, tablet or computer.
Subscribe for only £5.49 a month and enjoy all the benefits of the printed paper as a digital replica.
Subscribe