Alfie Low stands a proud 6ft 3ins tall at the bar.
His uncle Tommy Low, 67, is first in the queue for a celebratory drink, with aunt, Donna Merchant, 65, and cousin, Julie Anne Merchant, 40, who is clicking her fingers for faster service. "You're under age!" Alfie, 31, tells his uncle and the family erupt into laughter.
But they're not in a pub or restaurant, they're in Alfie's home and only one person is missing from the happy gathering – granny Margaret Low.
Back in 2013 The Sunday Post revealed how Margaret, then 81, was waging a fierce battle for compensation after a dangerous driver knocked down the cherished grandson she had raised from when he was nine months old.
Alfie barely survived the catastrophic head injury that has left him in a wheelchair, paralysed on one side and with speech problems. After he left hospital, the avid Celtic FC fan spent several years in an Aberdeen care home.
At the time, he said: "I'm not bitter. I just get on with it. I do have a dream though – to live in my own home and have a wife and a football squad of kids. And I'd love to one day walk again."
Retired fish worker and trade unionist Margaret – "Nunny" to her grandson – vowed to help make that happen. Margaret, 86, died last year – but not before learning she had won her long legal fight. And today, she would be proud to see her determined grandson now able to stand and take a few steps into the Aberdeen home she battled for.
Taking in his new disabled-adapted surroundings, which took a year to renovate, including installing a lift to the upper floor, Alfie said: "My Nunny was an amazing woman. She fought for me and did more.
"She knew we were getting everything ready with the house. She maybe did not show it, but she was getting ready to go.
"When she passed away, she felt she had done her job, that she could go now that I was OK I had my house and after all these years I could finally, begin to live my life. She died happy to know I was settled. She paid for my bar. When we raise a glass, we raise it to her."
Alfie, who already had learning difficulties, and was attending a course at Aberdeen College, had been at a friend's 18th birthday at a Granite City pub when he was knocked down in August 2008.
The driver of the car, Maxi Duncan, who was then 21, was charged with Alfie's attempted murder at Aberdeen Sheriff Court and released on bail. The charge was later reduced to assault but a jury found him guilty of dangerous driving.
Alfie's family had to wait for the criminal case to conclude before they launched a civil action under the Legal Aid system. Assessments were then carried out by the driver's insurers and an out-of-court offer was made.
Alfie now has the uncle who has been like a father to him living under the same new roof. There are rooms in the house, too, for Donna, Julie Anne and other family members who stay often. They are looking forward to barbecues this summer on the deck of the new home.
Alfie, who is a regular at the gym, has a busy social life and loves listening to rappers Snoop Dogg and Ice Cube, said: "I always had faith I would walk again. And this house is fabulous. My Nunny would have been proud."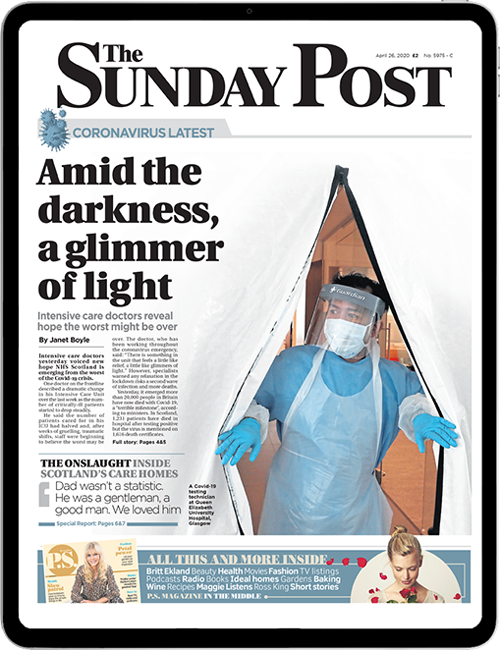 Enjoy the convenience of having The Sunday Post delivered as a digital ePaper straight to your smartphone, tablet or computer.
Subscribe for only £5.49 a month and enjoy all the benefits of the printed paper as a digital replica.
Subscribe