Older Scots who were the first to be vaccinated should be taking extra care until a booster programme is finalised, a public health expert said yesterday.
Announcements north and south of the border are expected within days as scientists scour research into how quickly vaccine effectiveness wears off.
There is an increasing expectation that third jags will be rolled out to the elderly and most vulnerable as the data is examined to establish if, over time, vaccines may mean people are more likely to become infected but still less likely to become seriously ill.
Government scientific ­advisers are expected to announce next week who will be eligible after a new study showed low antibody levels in some people with certain health conditions.
The Joint Committee on Vaccination and Immunisation (JCVI), which advises the UK Government and devolved governments on vaccine strategy, previously suggested all over-50s might be targeted. However, it is now expected third doses will be offered to only the elderly and immunocompromised.
The UK Government has already ordered an extra 60 million doses of vaccine for a booster campaign. On Friday, First Minister Nicola Sturgeon said Scotland is ready to deliver boosters as soon as the JCVI announces a decision.
Don't let guard down
Linda Bauld, professor of public health at Edinburgh University, said those Scots who had jags first should not be letting their guard down and should consider wearing more effective masks.
She said: "Infections have not gone away and the older and more vulnerable should take some protective steps. I think older people who were first to be vaccinated should be very cautious at the moment. They should avoid crowded places, wear a good-quality face covering – the FF2 face masks really seal around the face. Having a single layer of cloth over your face is insufficient."
She added: "They [the JVCI] will also be looking at what is happening in other countries, and Israel started their booster campaign six weeks ago. Their data shows boosters really raises the antibodies again in the older age groups who have waning immunity after six or seven months."
Virologist Dr Christine Tait-Burkard, of Edinburgh University's Roslin Institute, said: "Elderly people and organ donation recipients, those on certain cancer treatments and those who have immuno-compromising diseases are the ones we want to boost before the winter.
"They are most likely to have had a very low response to the first and second dose of the vaccines and they are at risk of severe disease.
"It's likely the most vulnerable and the over-65s or 70s will be the ones in the booster group. That could include people on the shielding list, which includes some young people. It is unlikely we will get a widespread booster programme."
Rising case numbers
Concerns over waning protection came amid rising numbers of cases. Another eight Covid deaths were registered in Scotland yesterday and a further 5,858 new cases. The number of people in hospital continues to rise, with 494 on wards yesterday, up from 479 the day before. There were 49 patients in intensive care yesterday, two more than Friday.
In the past week there have been more new positive Covid tests than at any previous time in the pandemic, with a record daily high of 6,835 recorded on Friday. However, there was no community testing during the first wave.
National clinical director Jason Leitch has predicted the daily tally may reach 14,000 by next week. Official Scottish Government projections suggest case numbers could be between 30,000 and 75,000 a day by the middle of next month.
About 3% of infected people still require hospital treatment, so the numbers in wards could soar to anywhere between 1,500 and 2,500, with up to 100 in intensive care.
Official figures show 4,098,078 people have received a first dose of a vaccine and 3,640,865 have had two doses. The average age of Covid patients requiring intensive care in the UK is now under 40 and yesterday Scottish Health Secretary Humza Yousaf urged the under-40s to come forward for a second dose.
Virologist Dr Jeremy Rossman, of Kent University, said: "We know you get really good immunity that lasts six months. Some evidence suggests it might last a lot longer but it varies from person to person. Some people may get six months and some people may get years. Unfortunately, we're at the point in time of wait and see."
Meanwhile, the World Health Organisation (WHO) has urged wealthy countries not to rollout a booster programme and instead offer more surplus vaccine to developing nations.
The Scottish Government said: "We continue to roll out the vaccination programme in Scotland guided by advice from the JCVI, and we understand it will announce its final advice on the booster programme in the coming weeks. We will await the final JCVI guidance and stand ready to implement their advice."
The UK Government said: "Any booster programme will be based the final advice of the JCVI."
The JCVI did not comment.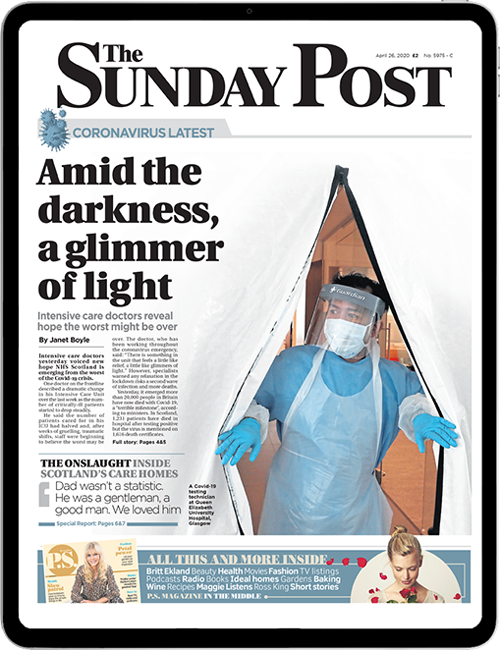 Enjoy the convenience of having The Sunday Post delivered as a digital ePaper straight to your smartphone, tablet or computer.
Subscribe for only £5.49 a month and enjoy all the benefits of the printed paper as a digital replica.
Subscribe