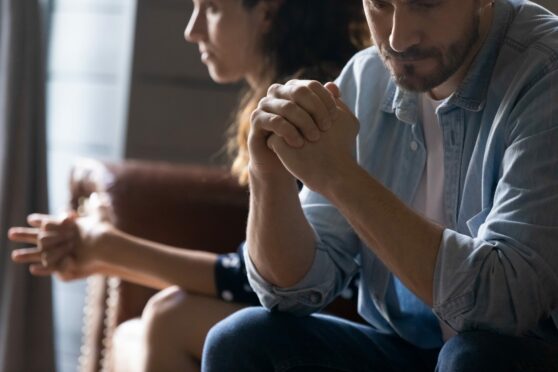 The annual thermostat wars will be taken to a whole new level this autumn as couples up and down the country debate the merits of cost over comfort.
While money worries have always been a principle driver of household arguments, experts fear the cost of living crisis may push many relationships to the brink. Family lawyers say they are expecting a rise in divorce rates but also warn many Scots may find themselves trapped in toxic living arrangements, stuck fast in a single home because they can't afford to move on.
According to leading solicitors Stowe Family Law, divorce inquiries in July were up 132% on the previous year but the firm expects that to increase further as the stress of money worries piles pressure on some already fragile marriages.
The company's research found that 55% of couples said their happiness had been directly affected by financial problems, while 70% feared their relationship wouldn't survive the months ahead.
Alexis Harper, partner in family law at Harper Macleod, which has offices across Scotland, said the figures were not surprising: "In my experience, clients have considered separation as a result of financial pressures, so this could become more prevalent in the present climate.
"Those couples who are deciding to separate now have the added complexity of navigating the division of their assets against an environment of uncertainty and spiralling costs.
"Many clients are concerned about maintaining the family home in light of increased mortgage rates, energy costs and inflation.
"We are also finding that some clients are simply too concerned to start a formal process at the moment because they are worried about having to factor legal costs into their budget. This could mean that more and more couples feel trapped in their relationships because they cannot afford to live separately."
Shaun George, partner and head of the family team at Brodies LLP, warned that people trapped in abusive relationships might also feel trapped financially and therefore unable to take steps to move away.
He said: "There are so many complexities which can come from financial issues in relationships. It might not be so easy to buy out the other person from a mortgage, or people might not be able to get the finance to fund another property.
"People might need to stay living together because they simply can't afford to move out. We're starting to see that already."
Clinical psychologist and couples' counsellor Michaela Thomas said money ranked among the top 10 topics her clients argued about, even those with no obvious financial problems.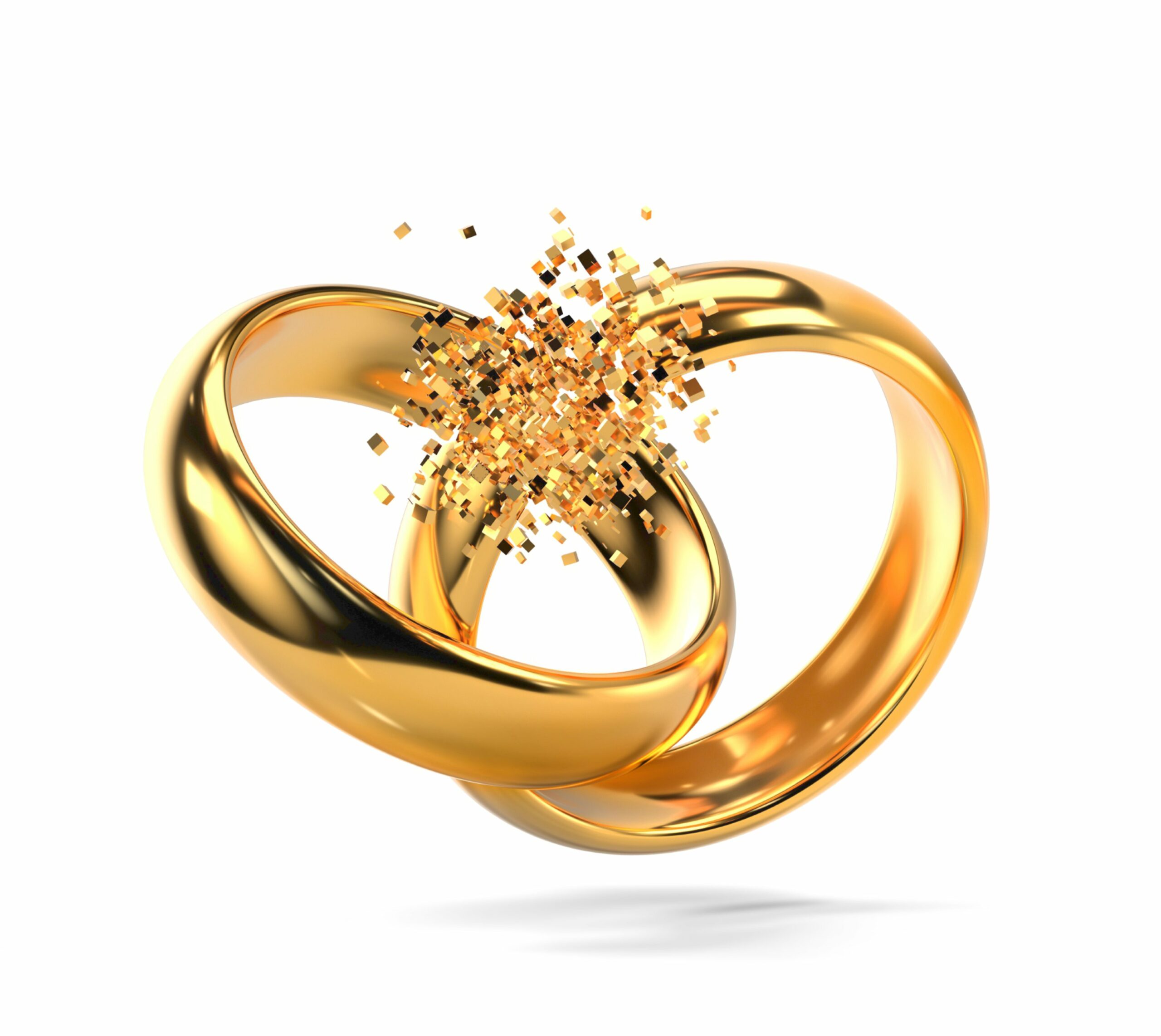 She said: "Money is linked to independence, stability, power and freedom – so of course we can disagree wildly about how to spend it. We don't want our partner to hold all that power, we want to be part of the decision making. Money is also linked to values and goals. So when money problems show up, they can cause serious arguments."
Disagreements on how to spend what you have deepen further when there's less of it. A new survey from asset manager Abrdn found 41% of 40 to 44-year-olds were worried about being unable to afford retirement, with 13% admitting their relationships had already been negatively impacted.
According to Thomas, author of The Lasting Connection, fear lies behind most money arguments. "Anything which gets us into our 'threat' systems causes a stress response," she explained. "Anger can be an easier emotion to express than fear. It's less vulnerable to criticise your partner than it is to say, 'I'm really worried we won't have enough to cover the next energy bill, and that makes me feel unsafe'."
Property company Share to Buy reported a 45% increase in households with no disposable income at all, and 30% spending all their savings to meet the cost of living.
So treats that traditionally helped to keep relationships running smoothly, such as "date night", have become impossible, with 65% no longer able to afford a restaurant meal.
Arguments about how to cope with the changes in lifestyle could be a big trigger for couples, said Thomas.
"Each partner will be bringing their own money mindset to the table when they discuss their finances. One partner might have learned that in order to stay safe, you have to be thrifty," she added. "The other may feel threatened at the prospect of not having the abundance they are used to."
The rise in the number of families falling into debt has already been reported with the Bank of England showing credit card borrowing was up 13% in July this year, its highest level since October 2005.
Sharon Bell, head of debt charity StepChange Scotland, warned that hiding debt from your significant other could have devastating consequences.
She said: "Talking about debt can stir up a whole mixture of negative feelings. Making your partner aware of your debt problem is likely to be uncomfortable, but not telling them could be seen as a breach of trust which could damage your long-term relationship."
Michaela Thomas agreed that communication was key to solving marital problems. She said: "Compassion and connection is the way through most tough times for couples.
"Compassion means using empathy and perspective, taking time to tune into your partner's pain and saying 'no wonder you feel that way, it makes sense'."
She added: "Compassionate communication and problem-solving will strengthen the bond between you. Connection grows not just in the good times but also in the bad, if you work together as a team."
---
Life became unbearable. I was desperate for a divorce but couldn't afford a lawyer
We married in our 20s and for the first few years we were happy, building a life and chasing success. We met at work in a marketing firm, and in 2007, we decided to start a similar boutique business together, pooling our expertise. We rented an office in the city centre and borrowed £10,000 on credit cards to get up and running.
We were full of plans and talked about the business, day and night.
We were just beginning to get a few contracts – then the global financial crash happened in 2008.
I remember watching the bankers leave their offices on TV, and saying to Steven: "I think we're in trouble."
But he wouldn't see it. He was convinced it was a temporary blip, and though I'd always admired his determination, as things worsened, he got more bullish, refusing to listen to my worries.
By the following year, we were really struggling. Most of our clients had left, citing financial problems, and a couple had gone bust themselves. I wanted us to admit defeat and return to steady employment, but he wouldn't have it.
We began arguing almost daily. Steve wanted to remortgage our three-bed semi, but I was certain we wouldn't be able to afford the repayments. Then I discovered he'd been keeping us afloat on the credit cards.
Suddenly, we had no money coming in and debts mounting. I couldn't sleep for worry, and we had no choice but to remortgage to pay our debts.
Our business folded in late 2009 but nobody was hiring. The rows got so bad that Steve was sleeping in the spare room and I was desperate for a divorce but couldn't afford a lawyer – and with no equity left in the house, there was no chance either of us could afford to move.
For almost a year, life was unbearable with constant rows and almost no money. I was sure our relationship was over.
Eventually, mainly to try to work through our finances before the split, we went to mediation.
In the second session, to my amazement, Steven broke down. He said he couldn't bear how he'd let me down, and all his pig-headed behaviour had been a desperate attempt to claw back my respect.
That marked a turning point. A debt charity helped us set up manageable repayments and Steven decided to retrain as a teacher. It took months for me to trust him again but gradually, as we got back on our feet, I found my old feelings returning.
Now, we're settled, we have a new house we can afford and I'm glad we stuck it out. Money worries are absolute poison to a relationship, though, and I wish we'd talked and admitted we were in trouble sooner, rather than trying to tough it out.
We only got through it because we finally decided to be honest with each other.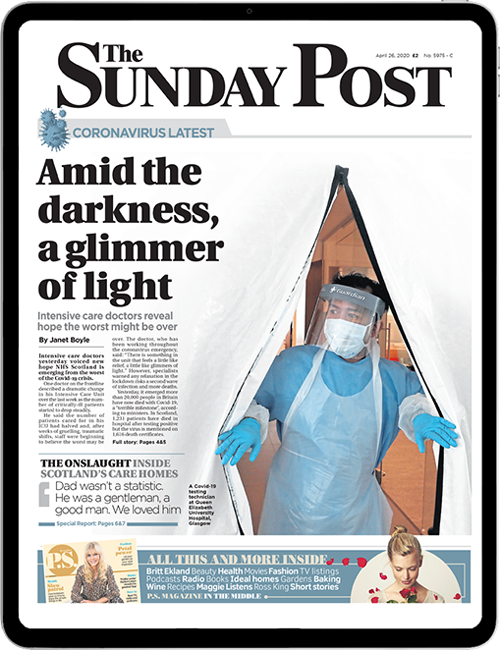 Enjoy the convenience of having The Sunday Post delivered as a digital ePaper straight to your smartphone, tablet or computer.
Subscribe for only £5.49 a month and enjoy all the benefits of the printed paper as a digital replica.
Subscribe