A sudden, unexpected love affair and an elopement to a far-away island seems like the stuff of romantic books and rom-coms.
But for author Rosalind Stopps running away to the Isle of Skye to wed the man of her dreams at 64 became an exciting, life-changing reality.
And she says starting again just at an age when most people are thinking about retirement is proof that it is never too late to find love and embark on a huge adventure with a partner for life.
Now the writer is planning to spend up to a year on Skye, where she will set a future book. With her gripping second thriller A Beginner's Guide To Murder about to hit shops, the author revealed how memories of their time on the romantic isle helped her and new husband, Dom Eliot, 67 – a tree activist and campaigner – bounce back from near tragedy.
She said: "In my latest book I really wanted to show that older people matter, and that it is possible still to have adventures as a person gets older. I am proof of that!"
The writer, now 66, previously worked with families of young children with disabilities and, when she met Dom, he was working with the long-term unemployed.
Both were interested in writing. She said: "We met in our mid-fifties at a writing group. We were both single. We definitely knew there was a spark, but I think I knew first. I had to explain it to him.
"Dom is very gentle, funny and smart. All the things that women like. Later we moved in together and were living in my house in London very happily."
It was during a family holiday in Paris, at the famous Père-Lachaise Cemetery that Dom popped the question. Stopps remembers: "We found the grave of the writer Colette and Dom decided that was where he would ask me to marry him. It was very sweet."
Between them the couple have eight grown-up children and a wide circle of family and friends: "People would have been hurt if we left them out of our wedding, or we would have had to have a great big palaver, and that was so unnecessary. So we thought we would just go off and marry on our own.
"We wanted it to be far and beautiful and I had always wanted to go to Skye so we booked the wedding there. The only person we told before we went was Dom's mum and she was thrilled. It was such a good plan because it was so wonderful and exciting.
"We took the Caledonian Sleeper train north and stayed in a beautiful converted boathouse on the shores of Loch Snizort. The wedding was in the registry office in Portree with a lovely registrar who suggested we try the charity shop next door for witnesses.
"Two members of staff – Elizabeth MacDonald and Stephanie Rossiter – said they would be honoured, and came dressed up for the occasion. I gave them all a copy of my first book The Stranger She Knew. I was still writing A Beginner's Guide To Murder.
"On our way home from Skye a week later, we messaged family and friends with our news. Everyone was pleased for us. Being 64 was a very exciting year for me. I had my first novel published in the April and got married that June!"
Crossroads Care Skye and Lochalsh former volunteer and board member MacDonald – who was since left the isle and the charity – told The Sunday Post: "During my time volunteering in the charity shop we had quite a few similar requests. Rosalind and Dom are a lovely couple and it was a great privilege to be with them on their special day."
Nine months after their wedding, lockdown hit and they decanted to the coastal town of Margate to escape London.
But on their return to the capital Dom suffered a cardiac arrest. Reliving the nightmare, Stopps said: "Luckily Emma, my son's partner had done a first aid course. She realised she would need to start CPR immediately.
The ambulance came very quickly and took over. Dom was taken to the Intensive Care Unit of St Thomas's Hospital and put into an induced coma. He was in ITU for five weeks.
"Because of Covid-19 I couldn't visit and could only speak to him through an iPad which staff propped it up beside his ear or on his chest so I could see him.
"I talked to him all the while he was in a coma; about the wedding, about Skye and the children. I always used to say, 'don't forget we are married.' It was a sort of talisman and it worked."
When Dom recovered, pictures of Skye were sent to his occupational therapist as an integral part of his rehabilitation.
He left hospital in November last year, only to later contract Covid-19. He was hospitalised again but survived that experience. He is now home with his wife.
She said: "We said we would go to Scotland on our first anniversary but couldn't because of lockdown. But we are aiming to go."
---
A Beginner's Guide To Murder by Rosalind Stopps, published by HQ, is out this month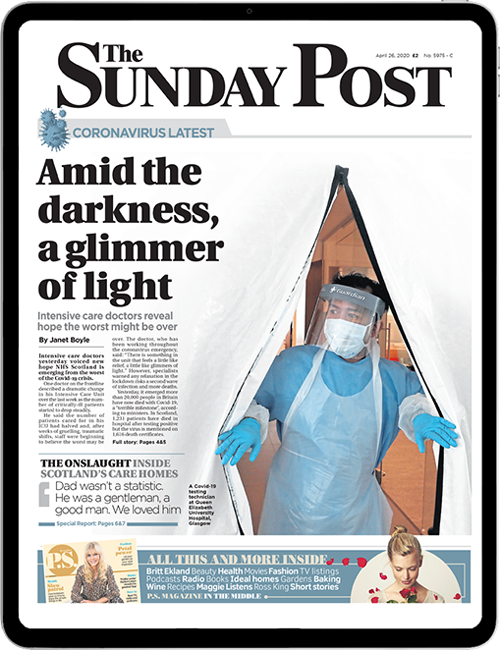 Enjoy the convenience of having The Sunday Post delivered as a digital ePaper straight to your smartphone, tablet or computer.
Subscribe for only £5.49 a month and enjoy all the benefits of the printed paper as a digital replica.
Subscribe