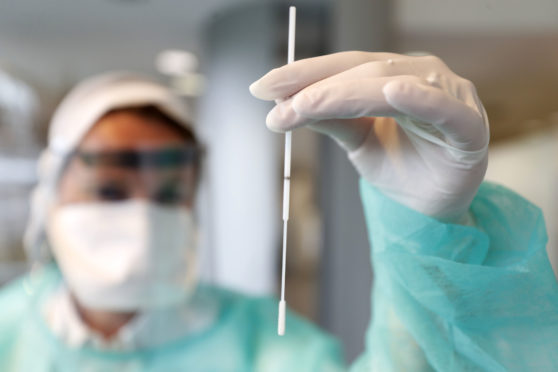 A total of 3,911 deaths have been registered in Scotland where Covid-19 has been mentioned on the death certificate.
The latest figures from National Records Scotland (NRS) show that, of the total number of deaths registered on the week of May 25-31 (week 22), 131 involved coronavirus.
That marks a decrease of 99 from the previous week, the fifth weekly reduction in a row.
Deaths involving Covid-19 accounted for 12% of those registered in week 22.
This proportion has fallen steadily from its peak in week 17, when Covid-19 deaths accounted for 36% of all deaths.
Additional analysis by NRS, covering the period until May 17, also showed that 154 of the Covid-19 deaths reported in hospital were of people who had previously been resident in care homes.
Care home deaths have overtaken hospital deaths, with a total of 1,818 linked to the virus since the outbreak began.
That figure is three more than than the 1,815 deaths recorded in hospitals.
#NRSStats show as of 31 May a total of 3,911 deaths have been registered in #Scotland where COVID-19 was mentioned on the death certificate. https://t.co/Ku0qgjtYYs pic.twitter.com/W2rQMbuNsU

— NatRecordsScot (@NatRecordsScot) June 3, 2020
First Minister Nicola Sturgeon said: "All of these figures are of course far higher than any of us would wish, and I'm also aware that no statistical trend will console those who've lost loved ones to the virus. My thoughts and sympathies are with all of them.
"However these figures do provide further grounds for optimism. The weekly number of Covid-19 deaths has now fallen for five weeks in a row. They are now at one fifth of their peak level.
"Excess deaths are less than an eighth of their peak level. Deaths in care homes are also falling week on week.
"The figures, in my view, reinforce the decision we took last week to ease some lockdown restrictions, but to do so very slowly and carefully."
Pete Whitehouse, Director of Statistical Services at NRS, said: "Every death from this virus is a tragedy. These statistics, alongside the other important evidence being made available by the Scottish Government and Health Protection Scotland (HPS), are valuable to the understanding of the progress and impact of the COVID-19 virus across Scotland.
"Across Scotland the number of COVID-19 related deaths registered in the week ending 31st May was 131 – the lowest weekly total since late March.
"Our aim is to ensure that our statistical publication provides information that is as useful as possible and adds value to the understanding of how the virus is spreading throughout the country. We will continue to review and develop these statistics as new information is made available."
---
What the figures show
46% of Covid-19 deaths registered to date related to deaths in care homes.
46% of deaths were in hospitals and 7% of deaths were at home or non-institutional settings.
The proportion of Covid-19 deaths which took place in care homes has risen over time but has dropped back in recent weeks. In week 22, it represented 52% of all Covid-19 deaths.
The number of deaths in care homes fell for a fifth week, by 56 to 68.
Three quarters (76%) of all deaths involving Covid-19 to date were of people aged 75 or over.
Of all deaths to date involving Covid-19, just over 50% were male (1,961) and just under 50% were female (1,950).
---
Why this data differs from daily updates
The weekly figures differ to the daily numbers announced by Nicola Sturgeon at her press briefings as they also include deaths where there has not been a positive test for Covid-19, but it is a suspected or presumed factor.
The First Minister's daily figures only record deaths of patients who have tested positive for coronavirus.
Scottish Government Covid-19 statistics, June 3:

2,386 deaths (+11)
15,504 confirmed cases (+33)
1,117 in hospital (-51)
34 in ICU (=)

Latest updates ⬇:https://t.co/IkWftPJGFN

— The Sunday Post (@Sunday_Post) June 3, 2020
---
Live updates