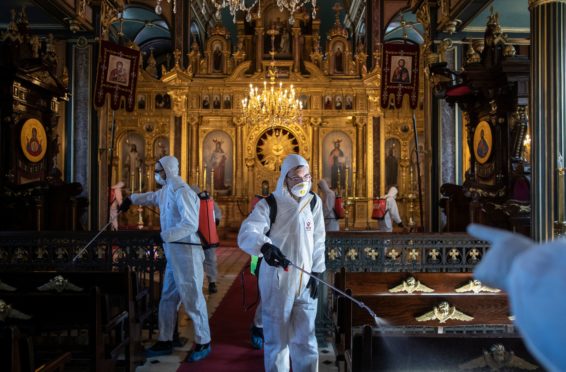 Scotland's religious leaders have joined in offering reassurance in troubled times as church services are cancelled across Scotland.
They spoke together on the World Day of Prayer and, together with the Humanist Society, which brings together those with no religious beliefs, delivered a simple message: stay calm, have hope, and help others.
The Anglican and Catholic churches and the Church of Scotland have announced that all gatherings and worship, including Easter Services, are cancelled.
Some churches will be open for private prayer with worshippers urged to observe strict health and hygiene guidelines. Many churches are hoping to connect with congregants on line. The Church of Scotland has also announced special measures around funerals and weddings.
The Muslim Council of Britain has invoked a UK-wide curb on public services while the British Chief Rabbi Ephraim Mirvis ordered the closure of all synagogues affiliated with United Synagogue – the largest network of Orthodox synagogues in the country, stating that the "extraordinary times called for extraordinary measures".Meanwhile, across Britain, the public is being asked to take part in a day of prayer and action on coronavirus and on this Mothering Sunday light a candle in their windows at 7pm.
The call has been issued by the presidents of the ecumenical grouping Churches Together in England, supported by the Church of Scotland, and the Evangelical Alliance.
It asks for all to pray for those working to contain the virus, the government, health care workers and the vulnerable. And it urges people to support others where they can, stressing that, despite the "lock down", everyone still had the liberty of their hearts, souls and minds. In a joint statement, the leaders said: "We have the great privilege and freedom to be able to call upon God, wherever we are for healing in our nation."
Meanwhile, Scotland's main churches say only close family should attend funerals during the coronavirus pandemic. The Church of Scotland said, on funerals: "The key phrase here is to minimise social contact. Sensitive conversations will need to take place with families and mourners ahead of ceremonies, and to consider the size of groups gathering for funerals."
Meanwhile, BBC Scotland has said virtual church services will be screened with the first thoughts, readings and prayers being broadcast today.
---
Rabbi David Rose, Edinburgh Hebrew Congregation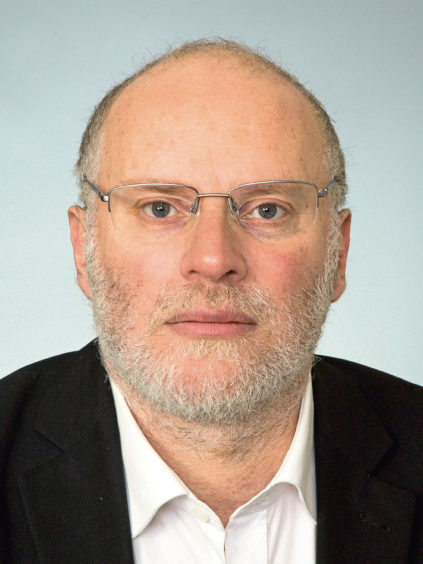 In the past few weeks, Jews have been reading in the Torah about the construction of the Tabernacle. At the heart of this project is the statement that God doesn't dwell in the Tabernacle but among the people.
This idea is especially important at the moment. Our physical meeting places have mostly had to close and many people may be feeling abandoned and unsupported at a time when they need support the most. This is especially true for those most vulnerable.
The message of the Jewish community and all religious communities is that this is emphatically not the case. Our communities not only continue to function, but are strengthening our activities. A community is not a physical building or even physical proximity to each other but bonds of caring and mutual responsibility.
It is in some ways unfortunate that what we are being asked to observe is called "social distancing". What we are really required to observe is "physical distancing". Socially we should be engaging more than ever. Many of our communities are already putting in place methods of care and interaction that ensure that everyone is connected, valued and, if necessary, looked after.
We are especially engaging our younger generation to join in helping those more vulnerable. By looking after each other, all working together and socially engaging while physically distancing, we will emerge on the other side of this crisis with an enhanced sense of community and a better society.
---
Rt Revd Anne Dyer, Bishop of the United Diocese of Aberdeen and Orkney, Scottish Episcopal Church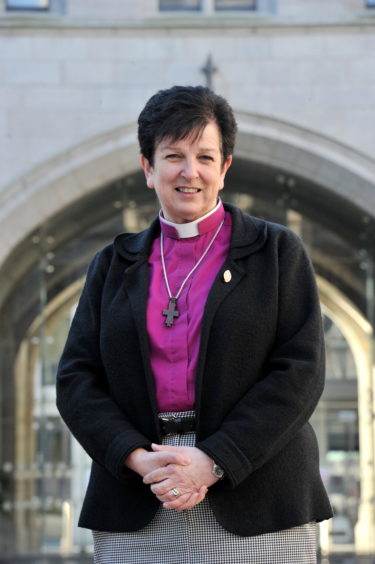 We have come to understand that we are living in unprecedented times. We are all giving up things that we love to do, including for Christians, going to church. Last week, I ended all collective worship in the churches in my diocese for the foreseeable future. All of this makes us very sad, and it is easy to focus on the things that we are losing, the things that we cannot do.
But we must not dwell on this for long. There are much more important matters to attend to.
Alongside our efforts to "flatten the curve" so that the NHS can cope, we need to give our practical attention to those most affected by the changes related to how we live.
As a priority, we need to make sure that poor and hungry children are fed, that the food banks continue to receive a steady stream of donations, that our neighbours have the shopping and medication that they need. And we will be trying to make sure that no one is lonely, we will be on our phones a lot!
In many ways, this dreadful crisis could be the making of us. Through it, we will be learning about who and what really matters. We will be learning the importance of living with less, and sharing what we have.
A man once asked Jesus how to spot a good neighbour. Jesus replied it was the one who showed mercy.
This is a time for all of us to be showing mercy to our neighbours, for the good of everyone.
---
The Right Rev Colin Sinclair, Moderator of the General Assembly of the Church of Scotland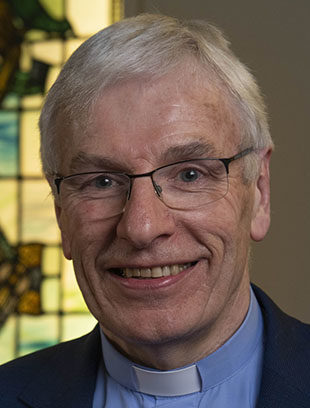 We can't always choose what happens to us, but we can choose how we respond. The speed at which normal life has gone on hold has caught us all by surprise. People are understandably worried, both for themselves, and their loved ones. They are concerned about their health and about the financial impact. Will we let this crisis bring out the best in us or the worst? Our instinct is self-preservation, so we hoard food and pull up the drawbridge. However, there is another way.
Christians follow Jesus Christ who calls us to pray, to love others, and to serve those in need. This is already happening such as those on the frontline caring for the sick. People are leafleting their community, offering to help with practical tasks, such as shopping or collecting prescriptions. Some take time to phone or find different ways to contact people feeling isolated, while others, hearing food banks are running low, are bringing an extra donation.
We are missing things we often moaned about but also rediscovering ordinary blessings. Some have found afresh the joy of laughter, the value of family and the difference encouragement makes. Games are being played, music enjoyed, books read, conversation renewed, and a companionable silence enjoyed. Now is the time to stand up, and practice faith, hope and love.
With God's help, we will get through this, and will rebuild our communities.
---
Bishop Hugh Gilbert, president of the Catholic Bishops' Conference of Scotland
In this time of trial, Scotland's Catholic bishops, wish to send you a word of reassurance and encouragement. We are all facing uncertainty, anxiety and an unpredictable future. This situation touches on every aspect of our lives. Sacred Scripture calls us repeatedly not to fear and to look to the help that comes to us from above. We are called to support one another in every way we can, especially those who are most vulnerable, through age or underlying conditions. Even in the midst of any necessary "distancing" we hope that no one feels abandoned in our communities, please do what you can in practical terms to help those who are alone.
Please pray for the sick, their carers, those in positions of responsibility, indeed for our whole country and the entire human family. We are being asked to put our trust in the living God who has created everything to be and to flourish and whose providence guides the course of world events. We put our trust in our Lord Jesus Christ, risen from the dead, and the true physician of our souls and bodies.
The Church has often been a source of comfort in times of trial and transformed sadness and fear into confidence and peace. Please join with all the Churches in a National Day of Prayer today, Mothering Sunday. As Catholics, we will pray the Rosary, for our country and for our world in this time of need.
---
Maggie Kinloch, Chair of the Humanist Society Scotland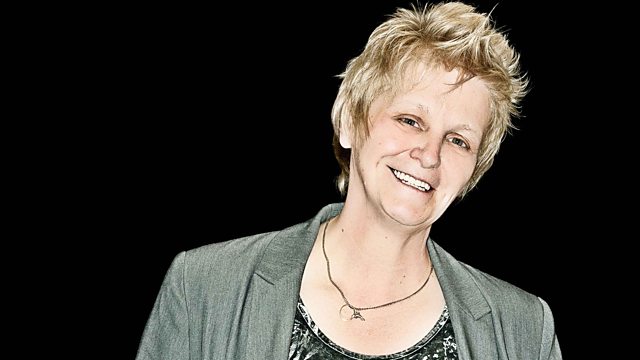 The crisis of the coronavirus pandemic has underlined why the humanist values of treating everyone with respect, love, tolerance and kindness are at the centre of living a compassionate and reasoned life.
At times of trouble, we can only survive with the help, goodwill and compassion of others. Never has that been more true than today, and as humanists we should do all we can for our fellow human beings.
It's hard to say what the world will look like once the crisis of the coronavirus has passed. But if we all work together as a global family, we could step out into a world that in some ways has changed for the better.
If we pull together now to protect each other and those who are most vulnerable, we will have set a valuable precedent for how we go forward as individuals, societies, and globally as the human race.
It is not hard to make a difference, even now. If you can help others while keeping yourself safe, please do. Shopping, cooking a meal and leaving it on a neighbour's doorstep, phoning self-isolated friends and family for a blether, chatting online, making sure people have entertainment in their homes…All of these small acts will make a huge difference to anyone who is unwell, lonely, or afraid. And if you need help, then ask in the certain knowledge that humanity is good and you too shall be offered help.
Think for yourself – be led by robust science, use reason, be reasonable. And please, act for everybody.
---
Omar Afzal, Head of mosques and communities at Muslim Council of Scotland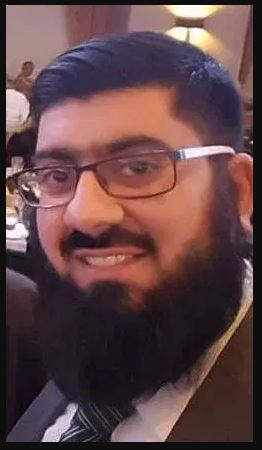 We are living in truly unprecedented times in the midst of the Covid-19 outbreak and we must be under no illusions about its severity. One of the hardest decisions was to close our places of worship.
Our faith teaches us that "after difficulty comes ease" and even in the midst of calamity, there is beauty. In Wuhan, the epicentre of the outbreak, the smog has cleared and nature can be seen and heard creeping out in the midst of man's concrete jungle. In Italy, people from their balconies are talking, singing and engaging with one another again.  We must look deeper to our faith and for beauty in the smallest things.
Times of crisis can bring out the best and the worst in us all. Panic-buyers have emptied supermarkets, meaning that the most needy and vulnerable people are left without necessities. I urge all of us who are stocked with plenty, to donate some to their local food bank. Those who are hiking up prices know that this is deeply immoral.
Finally, let's use this time to connect deeper with our faith. Let's use it to reconnect with nature and understand our duty to look after and preserve the world around us. Let this be the time the best of us shines through and that our common humanity prevails in these times of adversity.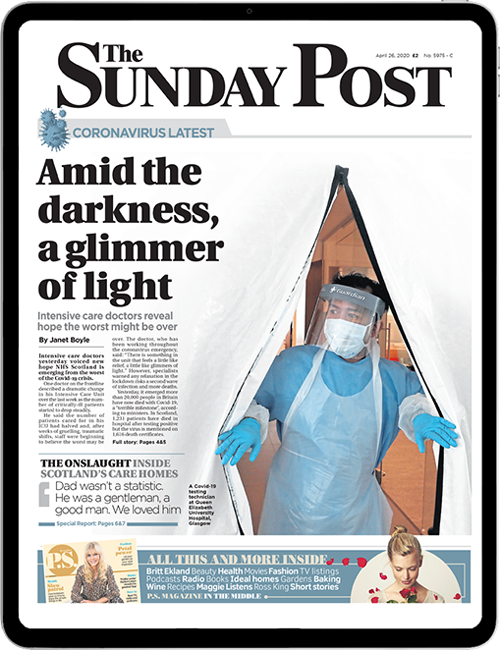 Enjoy the convenience of having The Sunday Post delivered as a digital ePaper straight to your smartphone, tablet or computer.
Subscribe for only £5.49 a month and enjoy all the benefits of the printed paper as a digital replica.
Subscribe