Nicola Sturgeon has outlined a number of changes to Scotland's lockdown restrictions in a bid to further curb the spread of the virus.
The First Minister made the changes as 79 further deaths and 1,949 new cases were recorded.
The most recent set of restrictions appear to be having an effect, she said, with the rise in new daily cases around the turn of the year appearing to slow down.
But Ms Sturgeon said there is "no room for complacency."
Speaking at First Minister's Questions at Holyrood on Wednesday, she added: "It is too soon to be entirely confident that the situation is stabilising.
"Even if it is, this will only be because of lockdown – it is not, unfortunately, an indication that it is safe to ease it yet in any way."
Pressure on the NHS, Ms Sturgeon said, was likely to continue "for some time" as she urged people to continue to adhere to the new regulations.
She introduced six new measures that will come into force from Saturday, which will impact on click-and-collect services and takeaways, and also tighten rules around staying at home.
Click-and-collect
Only retailers selling essentials, such as clothing, footwear, baby equipment and books, will be able to offer click-and-collect services.
For those allowed to continue, the First Minister said "staggered appointments" will be needed to end queuing, as well as not allowing people inside premises.
Ms Sturgeon said: "I know that businesses affected by this change will be disappointed and that many have gone to great lengths to make services as safe as possible.
"But we must reduce as far as is possible the reasons people have just now for leaving home and coming into contact with others.
"I welcome the actions of those businesses that have voluntarily suspended click and collect and tightened their procedures in relation to face coverings."
Alcohol outdoors
Alcohol consumption outdoors in all Level 4 areas of Scotland will be banned under new regulations, with anyone buying takeaway drinks required to consume them at home.
Takeaways
From this weekend Scots will be unable to enter the premises when picking up takeaway food or drinks.
Hospitality businesses must serve outdoors or via a door or hatch.
The change is an attempt to limit the contact between other people or staff while indoors.
Working from home
The Scottish Government is strengthening the laws requiring employers to allow staff to work at home.
Statutory guidance would now be introduced urging employers to support workers to remain at home "wherever possible".
Allowing workers into your home
Guidance previously issued to only allow essential work in people's houses will now be placed into law, Ms Sturgeon added.
She said: "We have already issued guidance to the effect that in Level 4 areas work is only permitted within a private dwelling if it is essential for the upkeep, maintenance and functioning of the household. We will now put this guidance into law."
Staying at home
The Scottish Government will seek to close a loophole allowing people to do non-essential things during lockdown.
Regulations would be changed, making it illegal to leave home for an essential purpose but then do something considered not to be essential afterwards.
While the list of essential reasons for leaving home will not change, the First Minister said: "It does mean that if the police challenge you for being out of the house doing something that is not essential, it will not be a defence to say you initially left the house to do something that was essential."
Vaccine latest
By Neil Pooran, PA 
Vaccinations could begin on a 24-hour schedule when mass centres open in late February or early March, Health Secretary Jeane Freeman has said.
Updating MSPs on the vaccine rollout on Wednesday, she said all those in the first five priority groups – 1.4 million people including those aged over 65 and those who are "extremely vulnerable" – should receive their first dose by the beginning of March.
She said the Scottish Government hopes to scale up its delivery of vaccinations to 400,000 a week by the end of February.
A total of 191,965 people have now received their first dose and 2,090 have also had their second jab, she said.
Ms Freeman told the Scottish Parliament that the rapid spread of the new coronavirus variant means the pandemic is at its most "perilous" stage, but the vaccine "offers us hope".
She said some sites for mass vaccination centres have already been secured, including Aberdeen Exhibition and Conference Centre, Ravenscraig Sports Facility, Queen Margaret University, and the Edinburgh International Conference Centre.
Responding to a question from Scottish Labour MSP Monica Lennon on when 24-hour vaccinations could begin, the Health Secretary said this will be "entirely possible" at the mass sites rather than GP clinics.
She said: "Many are secured already but I would anticipate in terms of the volume of people and the groups that we want to put through there, for whom that is convenient, that would be end February, early March.
"I can confirm those dates to Ms Lennon after this session.
"The will is to do that if that's what it takes."
Those aged over 70 should hear when they are receiving their first dose of the vaccine by the end of the month, she said.
Local and national hubs are being set up for volunteers to join the rollout, she said, while an email address has been set up for companies which want to contribute to the vaccination effort.
The Health Secretary said that as of Wednesday, Scotland has been allocated 562,125 vaccine doses and, of these, 365,000 have arrived in vaccination centres, to health boards or to GPs.
A further 155,025 doses of the Pfizer vaccine and 42,100 of the Oxford/AstraZeneca jab are either in transit or storage, she added.
Liberal Democrat MSP Alex Cole-Hamilton said Scotland's "stockpile" of nearly 200,000 doses is currently in storage in Bedford and he asked why they are not in circulation.
Ms Freeman said it is "quite wrong" to suggest doses are being stockpiled and they are distributed based on what health boards or GP practices say they need on given weeks.
---
NRS figures
Coronavirus-linked deaths in Scotland have risen above 7,000, according to new figures.
A total of 7,074 people have died in Scotland with confirmed or suspected coronavirus as of Sunday, National Records of Scotland (NRS) statistics released on Wednesday indicate.
Between January 4 and 10, 384 deaths were registered which mentioned Covid-19 on the death certificate, up 197 on the previous week.
Almost three-quarters (73%) of these deaths in the week to January 10 were people aged 75 and over, and 9% were aged under 65.
By local authority area, the highest number of deaths occurred in North Lanarkshire at 53, followed by Glasgow at 50 and Edinburgh at 34.
The majority of deaths – 251 – were in hospitals, 113 in care homes and 19 at home or in a non-institutional setting.
The statistics cover all deaths registered in Scotland where Covid-19 was mentioned on the death certificate.
They differ from the lab-confirmed coronavirus deaths announced daily by the Scottish Government because the NRS figures include suspected or probable cases of Covid-19.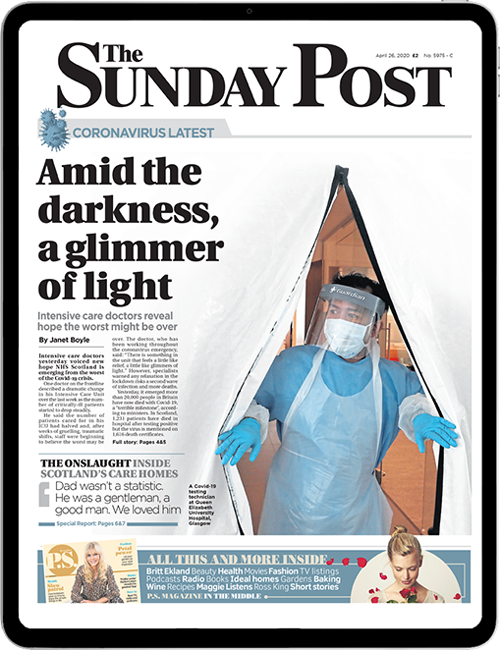 Enjoy the convenience of having The Sunday Post delivered as a digital ePaper straight to your smartphone, tablet or computer.
Subscribe for only £5.49 a month and enjoy all the benefits of the printed paper as a digital replica.
Subscribe