Majority of Scots have felt lonely amid coronavirus outbreak, says survey
By
Jenna Macfarlane
March 19, 2020, 11:46 am
Updated: March 19, 2020, 12:56 pm
A new survey has found 95% of people in Scotland have said they have experienced feelings of loneliness.
The shocking result comes amid the coronavirus pandemic, when more and more Scots are seeking self-isolation and practising social distancing in line with government guidelines.
The survey, carried out by Scotland's leading women's magazine, No.1, also found almost half of participants had visited coffee shops or supermarkets just to interact with other people.
In light of these results, the magazine has predicted that loneliness is likely to become even more of an issue in Scotland within the coming months as the measures against the spread of Covid-19 become more drastic, in line with the situations in Italy and France.
Launched as part of No.1's #LetsReachOut campaign, the survey also found those aged 35-54 are the loneliest, while 62% of older people said feelings of loneliness had increased with age.
A majority said they had drifted away from friends (71%), and over half of respondents said they believe there is a stigma attached to admitting feelings of loneliness.
Anne Callaghan, the campaign manager for the Scottish Government's Campaign to End Loneliness, said: "Not having any social connection or interaction can have the same effect on your body as smoking 15 cigarettes a day."
One case study from the survey, Margaret Russell, 70, from Duns, said: "I would walk around the park and meet the odd person with a dog. I remember wishing those people would be my friend."
In response to the survey results, No.1 are urging Scots to reach out to those who are most vulnerable during the coronavirus pandemic.
They're advising people to 'send a text, pick up the phone or go old-school and post a letter in order to keep in touch'.
The magazine also plan to launch a series of free friendship-making workshops around the country, to spread the #LetsReachOut message and break the stigma attached to loneliness.
The events will take place in Perth, Inverness and Glasgow in partnership with beauty brand Lush and hotel group Mercure.
Editor of No.1, Nadine Hawkins, said: "We have never had so many ways of communication – from smart phones to social networking. However, it seems many of us still struggle with feeling disconnected and, at times, lonely, especially now when people are self-isolating due to the coronavirus.
"We want to reach out to those who are looking for an opportunity to meet people in the area to connect, chat and possibly create a friendship. As part of our #LetsReachOut campaign, we have made it our mission help stamp out loneliness."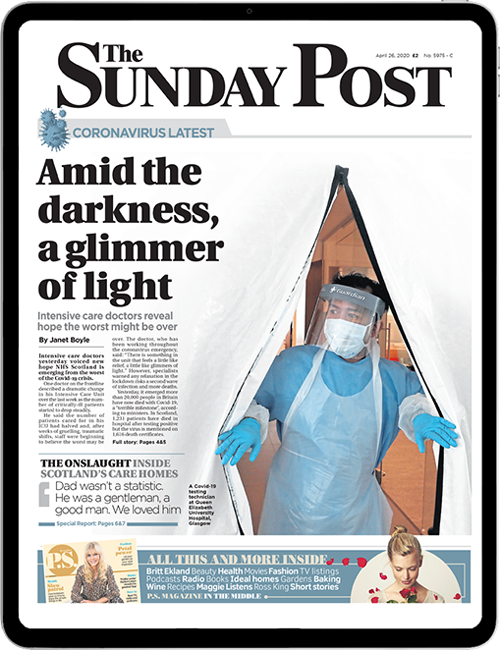 Enjoy the convenience of having The Sunday Post delivered as a digital ePaper straight to your smartphone, tablet or computer.
Subscribe for only £5.49 a month and enjoy all the benefits of the printed paper as a digital replica.
Subscribe