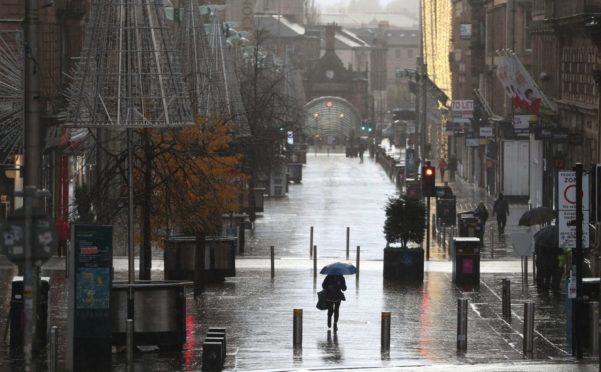 Scotland's shops and businesses suffered £15 million in lost trade yesterday on the first day of tough new coronavirus restrictions across swathes of Scotland.
Tier 4 rules that came into force on Friday evening in 11 council areas saw non-essential shops, pubs, restaurants, hairdressers and gyms close for three weeks. Shopping districts in the central belt of Scotland, usually thriving in the run-up to Christmas, were instead left deserted as 1.8 million Scots woke up to new tighter Tier 4 restrictions.
The region's roads and ­motorways were similarly quiet, in scenes ­reminiscent of the first lockdown in March. According to business leaders, the retail sector will lose £270m over the next three weeks – on top of the £2.5 billion they have already lost this year.
Half of all firms in Tier 4 are expected to be closed during the restrictions and many fear they may not reopen again. Shops that survive hope to be able to extend their opening hours after the restrictions are eased on December 11 in a desperate attempt to stay afloat.
David Lonsdale, director of the Scottish Retail Consortium, said: "This time of year is a crucial part of the Scottish retail calendar, with many non-food retailers in particular looking to generate revenues during the all-important pre-Christmas period that will tide them over the leaner winter months.
"Being forcibly shuttered for the next three weeks, on top of the 16-week shutdown in the spring, will put further immense strain on these firms, who account for a large slice of Scotland's 230,000 retail workforce.
"It will also lower the earning ­capacity of these workers over the next three weeks, particularly in terms of the chance to earn overtime or bonus."
In addition to the UK furlough scheme, businesses required to close will be eligible for a four-weekly grant of £2,000 or £3,000, depending on their rateable value.
But Mr Lonsdale said: "The offer of taxpayer-funded grants and furlough, whilst welcome, simply won't make up for the sheer scale of the loss of revenue and the range of employment, rent and utility costs that retailers still have to pay.
"Many are actively considering whether to open up for additional trading hours after December 11, if the demand is there from customers and if there are available staff."
Dr Liz Cameron, chief executive of the Scottish Chambers of Commerce, said: "Now is supposed to be the golden time for sales in the run-up to Christmas. But, with nearly 50% of Scotland's population now in the highest level of restrictions across central and western Scotland, the retail, hospitality and leisure industries have been dealt another hammer blow.
"These sectors have already ­navigated an extremely difficult time in the eight months since restrictions have been imposed. Scottish stores are estimated to have lost £2.5bn of retail sales, shopper footfall is down by a third and shop vacancies are at a five-year high.
"The longer restrictions continue, the harder it will be for businesses to reopen. We estimate more than 100,000 jobs are suspended and at risk in the affected areas and sectors as a result of these latest restrictions.
"Simply switching the ­economy on and off is just not the right answer. That's why we need a clear way out of higher-tiered restriction levels and allow businesses to trade as normally and safely as possible."
Andrew McRae, Scotland policy chair at the Federation of Small Businesses, said: "During the lockdown earlier this year, every second Scottish business had to close temporarily. We would expect a similar share of firms in Tier 4 areas will now also have shut up shop. We know that at least a share of businesses will be close to exhausting their cash reserves, and be wondering whether they can reopen even when restrictions are lifted.
The Scottish Government said: "Every decision we take has the sole ­objective of trying to keep the country as safe as possible and to get it through what we hope is now the final stage of the pandemic, with as few lives lost and as little harm to health – and indeed as little harm to the overall economy – as possible.
"Clearly, if we do not properly ­ control the virus, the damage to the economy becomes worse, and the effects will be even longer ­lasting. We know how difficult this is for businesses across Scotland, including for small and medium-sized enterprises (SMEs) and their staff, and we are doing everything we can with the powers we have to help.
"We are offering support which now exceeds £2.3bn and providing grants to businesses required by law to close. Grant payments are administered by local councils and we are working with them to ensure funding is distributed to businesses as quickly as possible.
"Last week we announced a ­further £30m of funding for local authorities to spend at their discretion in supporting businesses impacted by Covid-19. More detail will be announced shortly."
Meanwhile, 37 deaths related to Covid-19 were reported in Scotland yesterday, and 887 new cases. NHS Lanarkshire saw the highest number of new cases with 246, followed by Greater Glasgow and Clyde and Lothian with 234 and 140 respectively. Since the start of the outbreak 3,496 people in Scotland have died after having tested positive for the virus in the previous 28 days.
And 11 Scotland football Under-21 squad members and two staff are self-isolating after three players, including Celtic's David Turnbull and an unnamed Aberdeen player, tested positive for Covid-19.
The leader of Scotland's GPs is also self-isolating after attending a birthday celebration at his practice in Perthshire. Dr Andrew Buist, chair of the Scottish General Practitioners Committee at the British Medical Association, has been told to quarantine following the get-together at Ardblair Medical Centre in Blairgowrie.
A new mobile testing centre opened in Glasgow, at the St Francis Community Centre in the Gorbals, the city's third and the 14th of the 22 ­promised by the UK Government to now be operating in Scotland.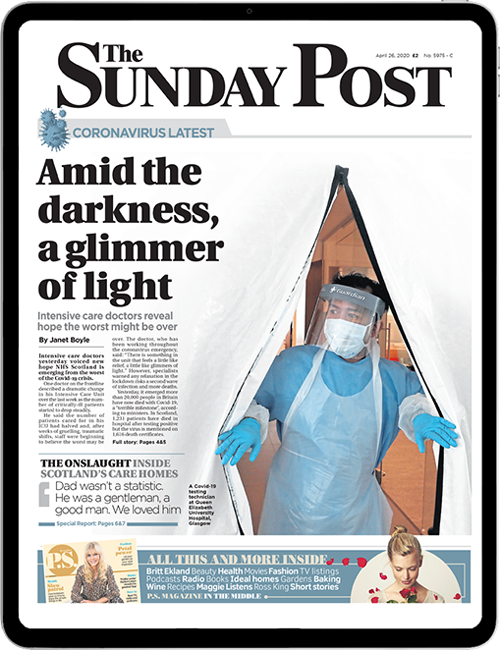 Enjoy the convenience of having The Sunday Post delivered as a digital ePaper straight to your smartphone, tablet or computer.
Subscribe for only £5.49 a month and enjoy all the benefits of the printed paper as a digital replica.
Subscribe