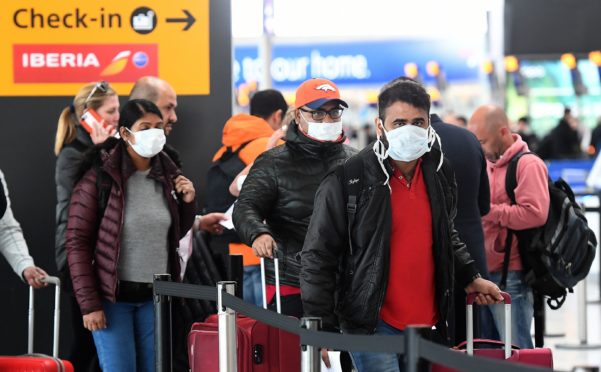 Holidaymakers were turned back in mid-air yesterday as Spain was forced to the brink of lockdown by coronavirus.
The number of cases of ­Covid-19 in Spain shot up by 791 to 6,023, and the death toll rose to 191. Spain's Prime Minister, Pedro Sanchez, announced a two-week state of emergency as the whole country prepared to shut down.
America will also extend its European travel ban to the UK and Ireland from Monday.
Donald Trump had already stopped travel for non-Americans who have been in the Schengen border-free travel area within 14 days of travelling to the US.
The US President declared a national emergency on Friday and America now has 2,499 cases. There have been 51 deaths.
He admitted at a White House press briefing he had been tested for coronavirus after being in contact with several people who have developed the infection.
But he did not reveal the result, saying: "By the way, I had my temperature taken coming into the room – and I also took the test."
And US Vice-President Mike Pence said: "In our taskforce meeting today the president has made a decision to suspend all travel to the UK and Ireland, effective midnight Monday night, eastern standard time."
Mr Pence said there had been a "unanimous recommendation" from health experts to extend the travel ban. He added: "Americans in the UK or Ireland can come home, legal residents can come home – they will be funnelled through specific airports and processed."
The World Health Organisation has confirmed the epicentre of the coronavirus pandemic has switched to Europe.
WHO chief Dr Tedros Adhanom Ghebreyesus called on countries to use aggressive measures to tackle it, and added: "Do not just let this fire burn."
Spain is now Europe's second-worst-affected country after Italy, where there are 21,157 cases and 1,441 people have died.
The UK Foreign Office has warned against all but essential travel to four regions of Spain.
Bars and restaurants in the holiday resort of Benidorm have closed to the public.
Authorities in the capital Madrid told residents to stay at home, and more than 60,000 people in four towns around the village of Igualada, 30 miles north of Barcelona, were put into mandatory lockdown on Friday.
Seven Jet2 flights bound for Spain – including one from Glasgow – returned to the UK after the airline cancelled all flights to mainland Spain, the Balearic Islands and the Canary Islands.
One passenger on board the plane that returned to Glasgow said: "I'm just gutted. I saved up for a year for this. I actually want to cry.
Another said: "It's a bit ­heartbreaking but at the end of the day you're Scottish and you just get on with it. That's it."
A statement from Jet2 said: "This is a fast-moving and complex situation and we are reviewing our programme as a matter of urgency, so that we can fly customers back to the UK."
All Ryanair Group flights – including Buzz and Lauda – to and from Poland have also been cancelled from midnight on Saturday to midnight on March 31.
Poland's government has locked down its borders and ordered the closure of bars, restaurants and shopping centres.
A Ryanair Group spokesman said: "We are contacting all affected customers by email to advise them of their options and we urge customers not to call us."
In France, 3,661 cases and 79 deaths have been recorded.
A government ban on ­gatherings of more than 100 people was flouted yesterday by the "gilets jaunes" – or yellow vest – protest movement as it staged a march in Paris. About 17 were arrested.
In Germany there are 3,953 confirmed infections and eight people have died. German citizens returning from Italy, Switzerland or Austria have been urged to self-isolate for a fortnight regardless of whether they have symptoms.
Health authorities in Greece announced two more people had died, taking its death toll to three.
Worldwide, the number of ­coronavirus cases stood at 150,060 yesterday, with 5,617 deaths.
Iran saw the biggest increase, as 1,365 new cases were confirmed to take its total to 12,729. A spike of 41 new infections in Malaysia are all connected to a religious event near Kuala Lumpur attended by 10,000 people.
The country now has 238 cases, 81 linked to the event at a mosque.
Filming in Mexico of a Steven Spielberg production – the Amazon mini-series Mexica – has been suspended. Mexico has 26 confirmed cases. A second coronavirus death has been recorded in India after a 68-year-old woman from Delhi died. She had caught Covid-19 from her son, who had travelled to Italy and Switzerland.
The virus has also begun to gain a foothold in Africa, as Rwanda, Guinea and Mauritania have seen their first infections.
But officials in China said Friday was the first day the number of new cases brought to the mainland from overseas exceeded local transmissions since the outbreak started. Mainland China, which has 80,824 cases, had 11 new infections on Friday, but seven came from other countries.
Meanwhile in a dramatic sign of how authorities are struggling to cope with the virus, French Prime Minister Edouard Philippe last night ordered the closure of all non-essential public locations.
The measure applies to restaurants, cafes, cinemas and discos, as well as non-essential businesses. Mr Philippe also called on French people to reduce their travel, especially between towns.
In Ireland, a second patient has died of the virus, the country's chief medical officer Tony Holohan said yesterday. The total number of confirmed cases in the country has increased to 129 from 90.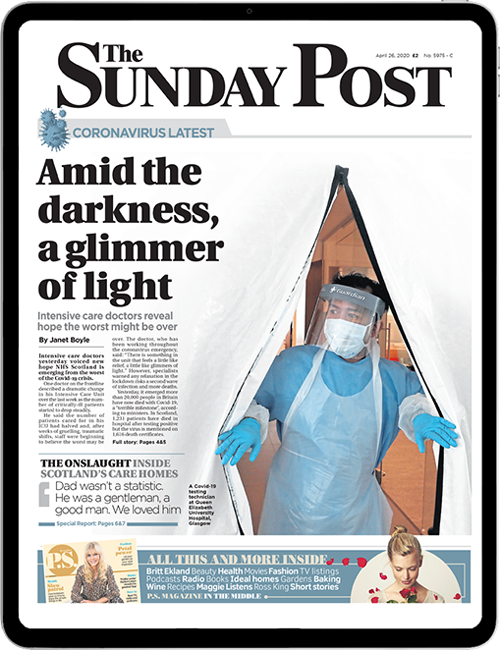 Enjoy the convenience of having The Sunday Post delivered as a digital ePaper straight to your smartphone, tablet or computer.
Subscribe for only £5.49 a month and enjoy all the benefits of the printed paper as a digital replica.
Subscribe