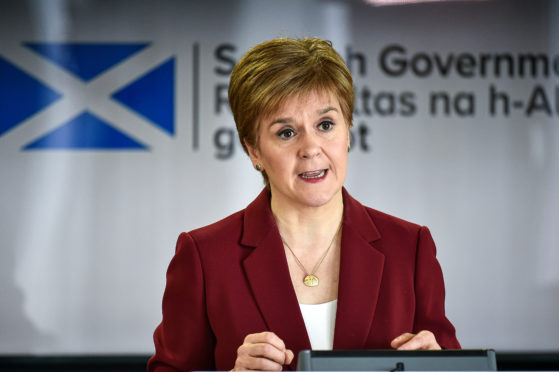 Nicola Sturgeon has announced a new system will be introduced for recording coronavirus deaths in Scotland following a second delay in reporting accurate figures on the illness.
The first minister confirmed the number of individuals who have died a result of the virus has now reached 126, an increase of 50 from official figures released by the Scottish Government on Wednesday.
However, Ms Sturgeon confirmed the rise had been affected by a delay in deaths being confirmed by one Scottish laboratory and said further information would be made available on when the deaths had actually occurred.
The first minister said the up-to-date figure includes 10 deaths over the past 24 hours, as well as a further 40 from previous days.
It is the second major issue relating to official Scottish Government figures on the pandemic.
Ms Sturgeon said the latest issue had been caused by the need for families to be notified and give consent before numbers can be properly updated but promised a new recording system means the issue should not arise again.
She said: "Part of the cruelty of this virus is when people are in hospital and when they're dying, their family members are not able to be with them and therefore it is taking a bit longer for families to be informed and for them to give the consent to all of the things that are required.
"We have been trying to make sure that before deaths are notified and published, that families have the correct notification and consent. This is a number of cases where that has taken a bit longer, which is why they haven't been notified."
The current system of reporting deaths means only laboratory confirmed cases recorded through local health boards are counted in official numbers released by the Scottish Government every day.
Ms Sturgeon said the process will be updated from next week to include cases where the virus is officially "suspected" to have been a factor in the person's death, even if it has not been confirmed by testing.
She said this would likely increase the overall number of deaths attributed to Covid-19 but would not speculate on how large the rise could be.
The first minister said she was "determined that information continues to be as accurate, comprehensive and up to date as possible" and vowed her government will be "as transparent as possible" when it comes to providing information to the public.