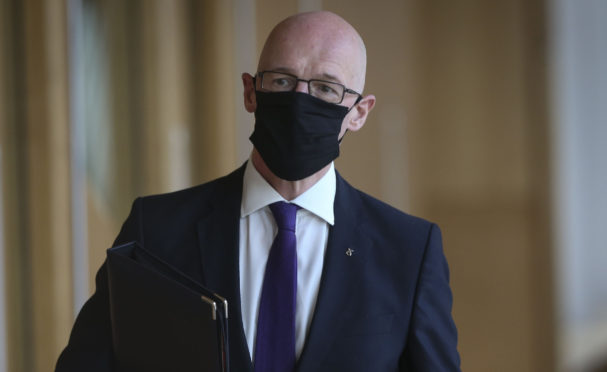 Scotland's Education Secretary has outlined new guidance for schools on dealing with coronavirus, including a requirement for senior pupils and teachers to wear face coverings inside classrooms.
This will apply from Monday in parts of Scotland which have been placed in Level 3 in the new five-tier system of restrictions.
Speaking at the daily coronavirus briefing, the Deputy First Minister said the Scottish Government had asked for updated advice on schools and childcare.
He said: "Keeping schools and childcare open is of the highest priority to the Scottish Government.
"I understand this is frustrating for other sectors who are having to close temporarily or to face restrictions, but I want to be pretty straightforward about the choice we have made here.
"Bluntly, if we are to successfully suppress the virus and save lives, we cannot open up every sector and keep schools open at the same time. That is the hard choice we face and we have chosen to put schools and childcare first.
"We have done that because we know that closing schools increases inequality and potentially causes long-term harm to children and we are determined to avoid doing that."
Adults are also being advised to wear face coverings in schools where they cannot stay at least two metres away from other adults and pupils – although Mr Swinney said there were some exemptions to this for primaries one and two.
Staff in primary schools should now wear face coverings in communal areas, such as staff rooms, canteens and corridors, while parents and other visitors should wear face coverings even if they are not entering the building, Mr Swinney said.
"That includes if they are picking up or dropping off their children," he explained.
In areas in Level 3 or Level 4 pupils in S4 to S6 and their teachers should wear face coverings in classrooms.
Mr Swinney said this was a change from previous advice, but added: "The evidence suggests there is slightly higher infection and transmission risks for people around the age of 16 to 17 so the use of face coverings is an additional precautionary measure in areas where there is increased incidence of the virus."
---
Halloween
Speaking ahead of Halloween, Mr Swinney reminded people not to visit other people's homes.
He added: "We should all be avoiding activities that make the spread of the virus more likely, I am afraid the guising falls into that category.
"Going door to door, passing sweets, touching items others have touches, all of that gives the opportunity for Covid to spread.
"So this Halloween our advice is you should stay at home."
Map
He urged people to celebrate the event in the safety of their own homes, and added: "None of us like the fact that these restrictions have to be in place, but sticking to them is really important, it will help to keep us all safe.
"So please stay home this Halloween, don't take risks for the sake of one night, it is really not worth it."
---
Today's figures
Scotland has recorded 28 deaths from coronavirus and 1,281 positive tests in the past 24 hours, John Swinney said.
The Deputy First Minister said the death toll under this measure – of people who first tested positive for the virus within the previous 28 days – has risen to 2,819.
Mr Swinney said 62,812 people have now tested positive in Scotland, up from 61,531 the previous day.
The daily test positivity rate is 6%, down from 7.1% on the previous day.
Of the new cases, 496 are in Greater Glasgow and Clyde, 258 in Lanarkshire, 194 in Lothian, and 89 in Tayside.
There are 1,170 people in hospital confirmed to have the virus, up by 18 in 24 hours.
Of these patients, 83 are in intensive care, a decrease of three.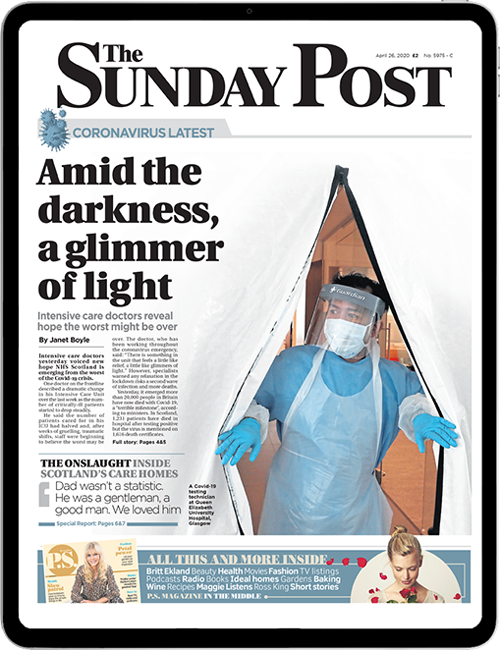 Enjoy the convenience of having The Sunday Post delivered as a digital ePaper straight to your smartphone, tablet or computer.
Subscribe for only £5.49 a month and enjoy all the benefits of the printed paper as a digital replica.
Subscribe