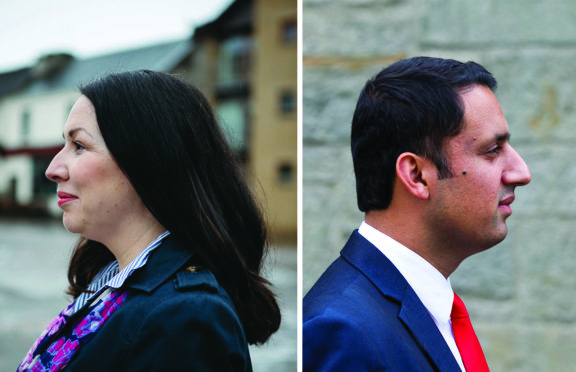 As Scottish Labour chooses a new leader, we've asked the two candidates to quiz each other on how they would reboot their party and reshape our country.
The winner of the race to replace Richard Leonard, who resigned earlier this month, will be announced on February 27.
---
Anas Sarwar to Monica Lennon
AS: The most pressing issue facing our country is the pandemic. How do we bring people together to rebuild our nation?
ML: Getting Scotland vaccinated is our immediate priority. We need to eliminate the virus and recover from the devastation caused by the pandemic. We have seen the best of Scotland and now we need to reward people for their sacrifices.
The people who kept the country running, putting themselves at risk, deserve more than a "rebuild". We can't go back to the inequality that existed before.
I want to lead a people's recovery that finally closes the huge gaps in wealth that have made Scotland an unequal country for too long.
What's the first thing you would do to tackle rising levels of child poverty?
My mission as leader will be to end child poverty within a decade. I'd do this by correcting a crucial SNP failure and use the full extent of the parliament's tax and social security powers.
Increasing the Scottish child payment to £30 a week in the next term of parliament is a starting point. I'd also fund local government fairly.
SNP cuts have forced councils to axe classroom assistants, close libraries and reduce vital youth development services. Depriving children of a good education pushes them further into poverty.
What is the most important thing we can do to tackle climate breakdown?
Consume less. Everyone can play their part. It's largely what inspired me to become vegetarian at 13 and to use reusable nappies on my daughter. I've helped to make reusable and plastic-free period products more mainstream.
Scotland has a unique opportunity this year with COP26, the UN Climate Change Conference, being hosted in Glasgow.
I will use my background as an environmental planner, to ensure achieving climate justice is embedded in everything we do.
We both became MSPs for the first time in 2016. What's the most important lesson you've learned?
That politics needs to be done differently. Too many people feel left behind and many of them are former Scottish Labour voters. The tired old adversarial style of politics has had its day.
Winning cross-party support for my period products bill showed we can lead the world by building consensus and empowering grassroots movements. We need to create a supportive environment for new MSPs.
We can't go back to the divisive politics of old. Do you agree a second independence referendum can't be a priority for the next parliament?
Let's ditch the word division from our vocabulary. I'll be a listening leader and go to places where Scottish Labour has been missing.
I don't believe in independence and I don't agree another referendum, right now, is right for Scotland. If people in Scotland decide they want another referendum, I won't hide behind Boris Johnson or any prime minister to tell them they can't have one.
I am angry that the SNP has not used the powers of our parliament to bring about the transformational change that is possible. I'm also open to more powers transferring from Westminster to Holyrood.
We're both running positive campaigns. What more can we do to tackle the divisions in our party and in society?
I hope our positivity catches on. Anas, you and I both know the hurt and damage that can be caused by unkind and abusive language.
It's up to us to lead by example and to persuade others to follow that lead. Tackling online abuse is a pressing issue for the whole of society.
You have said Scottish Labour needs to be a more welcoming place for women and I agree. How can we work together to achieve this?
We need women in the most senior leadership roles. It's wrong that a Scottish Labour woman of colour has never been elected to the Scottish Parliament.
We need to create structures and systems to help working class women, disabled women, LGBT+ women and BAME women into political roles.
Protecting all-woman shortlists and getting rid of the old pals' act would help us achieve equal representation more quickly.
And we need to cut out the everyday sexism that tells experienced and capable women they are not leadership material.
During lockdown I got addicted to Cobra Kai on Netflix. What was your favourite show during lockdown?
My daughter watched that. I was a Karate Kid fan in the '80s! I finally caught up with Schitt's Creek and adored it. Netflix made lockdown easier to bear but I can't wait to be able to return to the cinema and go to live concerts.
---
Monica Lennon to Anas Sarwar
ML: You've spoken about the need for greater party unity. What's the first thing you would do if elected to make this a reality?
AS: We can't hope to reunite Scotland if we can't reunite our own party, so this is vital to our recovery. In recent years I've been working hard to bring our diverse communities together – listening and learning – and that's the approach I will bring to our party as leader.
Leading with honesty and humility is an important part of that. I want to lead a team that draws on all the talents of our Labour and trade union movement so that we can focus on Covid recovery.
The attainment gap in Scotland was a serious problem before the pandemic and is likely to get even more serious. What measures would you take to ensure all Scottish children have the same opportunities regardless of economic circumstances?
Nicola Sturgeon has broken her promise to the people of Scotland and has utterly failed to close the attainment gap.
Our schools are under-resourced and under-staffed, and the most important measure we can take is to reverse the SNP's £400 million cuts to school budgets since 2010 and ensure extra funding for schools with high levels of children from disadvantaged backgrounds.
Over the last year, lower-paid workers have kept Scotland going in the most difficult circumstances. What steps would you take to reduce the disparity between those key workers and the wealthiest in our society?
The pandemic has shown us who truly runs our country: dedicated NHS staff, shopworkers, public transport and taxi drivers, emergency services workers, and many more. Applause is not enough – we need to give key workers the pay rise they deserve, starting with a £15 an-hour wage for social care workers.
I have also put forward a National Recovery Training Fund offering everyone on Universal Credit access to training and advice on reskilling for jobs in growing sectors, and a Business Restart Fund for small businesses and sectors shut down during the pandemic.
Later this year the eyes of the world will be on Scotland as Glasgow hosts the 26th UN Climate Change Conference. What policies would you introduce to make Scotland world-leaders in climate reduction?
The shock of this pandemic cannot be a dress rehearsal for a climate crisis to plunge us deeper into the inequalities that have risen sharply over the last 12 months.
We need a Climate Justice Plan that has green jobs creation at its core, to provide a just transition for workers, and bring innovation and creative sustainable solutions.
What do you regard as the biggest single achievement in your political career?
I have led many campaigns, but I have a particular passion for our NHS, having been an NHS dentist before entering politics. I was proud to lead the campaign in parliament to end the NHS pay cap; a policy that disproportionately impacted women.
Alongside that, we should never forget that politics is also about challenging power to deliver justice. That's why winning the public inquiry into the failings at the Queen Elizabeth University Hospital also means so much to me. I won't rest until I get justice for the family of Milly Main and other children.
What's the one flagship policy we can take into the Holyrood elections to defeat the SNP?
That the next five years must be a "Covid Recovery Parliament" which reflects the priorities of the people of Scotland. We can't go back to the old divisive politics and an endless debate about another independence referendum.
We should shift the debate with a focus on ending inequality, and a flagship policy to end child poverty by 2030.
You've served under a number of leaders. What's the best lesson you've learnt from them?
I remember Johann Lamont always reminded her Shadow Cabinet: "Don't just tell me your priorities, show me your budget. I served Kez Dugdale as her Shadow Health Secretary and she rightly demanded that our politics was rooted in people's lived experiences.
And I worked with Richard Leonard on the constitution and he was always clear our position had to be driven by the principles of solidarity and social justice.
Scotland's men's football team take part in their first major tournament for more than two decades this summer. Your predictions for our games against the Czech Republic, Croatia and England?
I hope I don't jinx us! I think we will get through to the last 16. I think we lose to Croatia, but beat the Czech Republic. So it all comes down to the England game. I dream of a famous Wembley victory.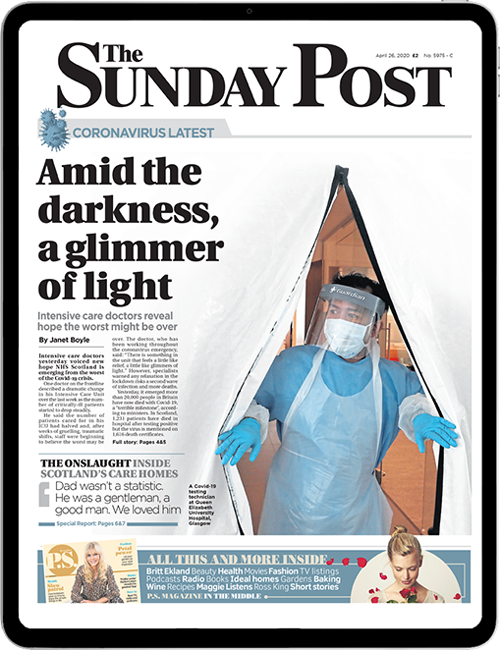 Enjoy the convenience of having The Sunday Post delivered as a digital ePaper straight to your smartphone, tablet or computer.
Subscribe for only £5.49 a month and enjoy all the benefits of the printed paper as a digital replica.
Subscribe