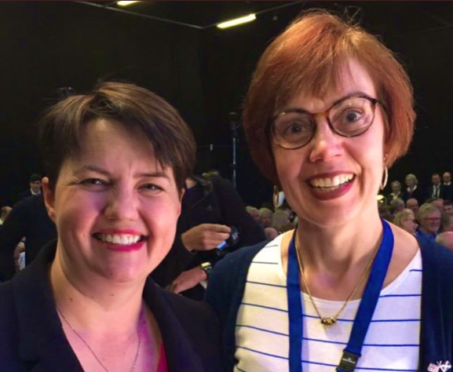 A senior Conservative party member has been suspended from the party after she joked about Nicola Sturgeon's miscarriage on Twitter.
Jane Lax, who was treasurer of the Moray Conservative Association, posted: "Is that when she dropped a book?" in response to another Twitter user's accusation that Scotland's first minister's miscarriage was "fictional."
Ms Lax then posted three laughing face emojis.
The Tory activist tweeted under the user name "Jane – SNP don't speak for me".
She was also at the centre of a storm earlier this year when she was one of four Tories in the audience for an edition of Question Time broadcast from Elgin.
An SNP source told The National: "This is an appalling tweet, and Ms Lax should be utterly ashamed of what she has said."
A Scottish Conservative spokesman said the comments were "completely unacceptable".
On Monday, speaking at an Edinburgh Festival Fringe event, the First Minister said some of the abuse she receives on Twitter "would literally make your hair curl.
"It's horrible, misogynist, really filthy, disgusting stuff."
In 2016 Ms Sturgeon revealed that she and husband Peter Murrell had lost a baby.
In an interview for the book, Scottish National Party Leaders, written by Sunday Post columnist Mandy Rhodes, the First Minister told of how she had suffered a miscarriage shortly before the 2011 Scottish parliamentary election campaign.
Ms Lax has now made her Twitter account private.