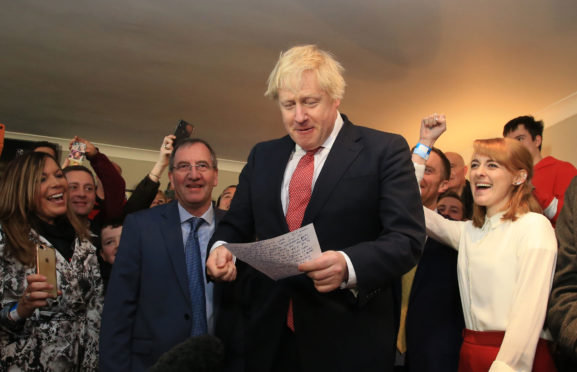 Boris Johnson yesterday vowed to give Britain its "mojo" back after his General Election landslide.
He also promised to repay the trust of former Labour supporters in the north of England whose votes helped him win a majority.
Johnson is expected to carry out a mini-reshuffle of his Cabinet tomorrow, with Jacob Rees-Mogg, who outraged Grenfell victims' families over his comments, among those tipped to be sacked.
MPs will be sworn in on Tuesday and Johnson's programme for government will be unveiled in the Queen's Speech on Thursday. A second reading of Johnson's Brexit legislation, the withdrawal agreement, will be carried out on Friday or Monday at the latest.
But yesterday the Prime Minister made a symbolic visit to Tony Blair's former Sedgefield constituency in County Durham – which fell to the Tories on Thursday night.
The seat had been held by Labour since 1935 and when Blair last stood for election there in 2005 he won with a majority of 18,449. But on Thursday night it was one of 59 seats Labour lost.
Mr Johnson told a crowd of cheering supporters and newly-elected MPs from the region packed into a cricket club: "We believe in giving opportunity to everyone. We believe that talent is evenly distributed throughout our country, but opportunity is unfairly distributed.
"We are going to rectify that as a One Nation Conservative government, as a people's government, that is what we are going to do. We are going to recover our national self-confidence, our mojo, our self-belief and we are going to do things differently and better as a country.
"It is going to be a wonderful time for our country. Our country will stand tall in the world."
Sedgefield was one of a swathe of constituencies across the North and Midlands in Labour's previously "red wall" to go blue as the Tories stormed to an 80-seat majority. Some areas, such as Bishop Auckland in the North East, had never elected a Tory MP before Thursday.
In his speech, Mr Johnson acknowledged how difficult it was for many lifelong Labour supporters to break with the party and cast their votes for the Tories.
He said: "I can imagine people's pencil's hovering over the ballot paper and wavering before coming down for us and the Conservatives, and I know that people may have been breaking the voting habits of generations to vote for us," he said. "And I want the people of the North East to know that we in the Conservative Party, and I, will repay your trust – and everything that we do, everything I do as Prime Minister, will be devoted to repaying that trust.
"First of all we're going to get Brexit done."
Former Conservative cabinet minister Lord Heseltine, who backed the Lib Dems in the election campaign, yesterday warned it will be 20 years before the issue of rejoining the EU is raised. Asked whether the Remain fight was over, Lord Heseltine said: "Well we've lost, let's not muck about with the language. We've lost, Brexit is going to happen and we have to live with it. I've made my views pretty clear and there will now be a long period of uncertainty, but we can't escape from that, so we must do the best we can."
Asked whether he would campaign to rejoin the EU if that battle has gone, he said: "Well no I don't think it has gone, but it won't be my generation, it'll be 20 years or something before the issue is once again raised as an issue."
Mr Johnson has promised to take Britain out of Europe by January 31 and to secure a trade with the EU by the end of 2020.
Raoul Ruparel, former prime minister Theresa May's special adviser on Europe, said an agreement with the EU can be done next year, but may be limited in ambition due to the short time frame.
He said: "I think it is possible to get a free trade agreement in place that looks at quite standard provisions on level playing fields, such as the type that the EU have done with other countries, and also offers zero tariffs.
"But I think what it's harder to do is removing the regulatory barriers. At the moment, despite his large majority, I don't think that's the sort of deal that Boris Johnson envisages, and it's something that he's consistently fought against."
Meanwhile, Paul Nowak, the deputy general secretary of the TUC, urged Mr Johnson to "put your money where your mouth is, engage with the unions, engage with working people" to get a Brexit deal that protects workers' rights.
He said: "I think our message to the government would be to put people before politics, to deliver a Brexit deal that does protect jobs and employment rights."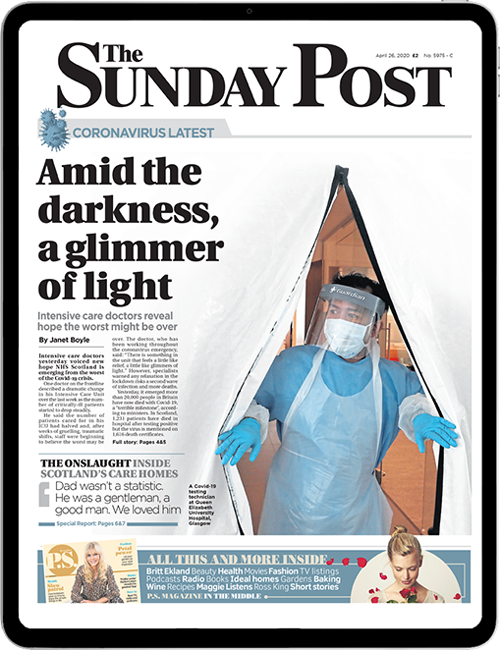 Enjoy the convenience of having The Sunday Post delivered as a digital ePaper straight to your smartphone, tablet or computer.
Subscribe for only £5.49 a month and enjoy all the benefits of the printed paper as a digital replica.
Subscribe