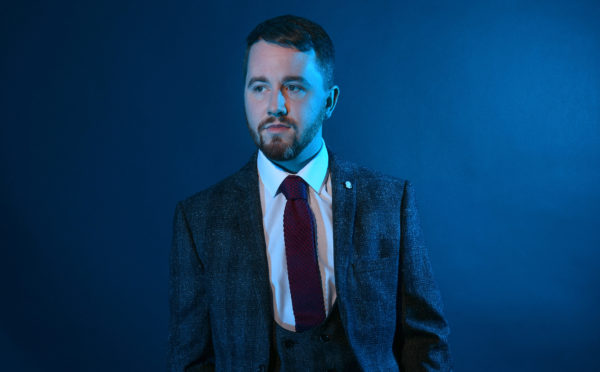 On his way to his first ever comedy gig, Stephen Buchanan half hoped he'd be hit by a car so he had an excuse not to do it.
Now though, as he prepares for his full Edinburgh Fringe debut, he's relishing the prospect of getting up on stage.
"The countdown is on, I'm still writing the show but it's coming on nicely," he tells The Sunday Post. "I'm excited for the debut, but I think it's good to have nerves as well though for this type of thing."
The run of his first solo show at the festival follows him scooping the BBC New Comedy Award at last year's Fringe.
"It was quite crazy to be honest, a weird experience but amazing," he says. "Then I won the Scottish Comedian of the Year award a couple of months later. It felt like that five months was a bit of a whirlwind!
"I've done the Fringe a couple of times, but never an hour, always with someone else doing about half an hour each or so. This is the big one this year."
Stand-up was always something Stephen had been interested in. Having watched the likes of Peter Kay with his family while growing up, he fancied giving it a go himself.
But it took several years – until Stephen's final year at university –  to finally pluck up the courage and take the plunge, and he hasn't looked back since.
"I applied for the Red Raw new material night at The Stand in Glasgow," he recalls. "I didn't hear back for about six months and forgot all about it.
"They emailed me when I was on holiday asking if I could come in the next month when they had a couple of spots. So I wrote some stuff, and it wasn't great to be honest.
"When I first did it, it was surreal. I remember walking to the gig wanting an excuse not to do it. I remember thinking if I was hit by a car I wouldn't have to do the gig.
"I didn't get hit by a car, so I had to go and do it. I'm glad I did!"
Stephen's Fringe show, Baby Dove, details his experiences as a 27-year-old living at home with his mum but with an extra twist – she's taken in a refugee.
Stephen says the man, who escaped from human traffickers, is "inspirational" and has been through a lot, even while living in the UK.
The material in the show is all based on observations of the culture clashes and what Stephen's learned from sharing his home with a new guest.
"It's been an interesting experience, it's all about differences in culture and the things we've got up to over the past couple of years," he says.
Baby Dove is one of many unique concepts behind comedy shows at the Fringe, and the variety in topics is always reflected by a varied audience over the month-long run.
"Sometimes you can be playing to six people and they're Spanish tourists who haven't a clue what's going on," Stephen laughs. "Sometimes it can be a full room of people right up for a comedy night.
"It's so varied from day to day, you never know what you're going to get, which is probably part of the buzz about it.
"It makes you have to write material that you think people will get universally, rather than just a certain audience.
"When you're first starting out you're probably just doing stories about coming from Glasgow or wherever you're from and you soon realise not a lot of people outside of there really care about that."
Glasgow-born Stephen admits he's always found the concept of the Fringe a bit strange.
"It's always been quite weird to me," he says. "Edinburgh is about an hour and a half drive away from where I live and it's one of the biggest art and comedy festivals in the world.
"I don't even think I was aware of it growing up. I think people in Glasgow are a bit jealous and we don't really talk about it!"
While acts fly in from all across the world to take part in the Fringe, Stephen is one of the many Scots making up the tartan contingent at this year's festival.
He cites Christopher Macarthur-Boyd, Mark Jennings and Rosco McClelland as others to check out if possible.
"There's tonnes of brilliant Scottish acts," he says. "I've got a few friends I've met on the scene over the years who have their own show this year.
"Every year it feels like the Scottish stand-up scene is improving and it's really strong at the minute."
---
Stephen Buchanan's debut hour Baby Dove is at the Edinburgh Fringe from 31st July – 25th August (not 14th). Tickets from https://tickets.edfringe.com/whats-on/stephen-buchanan-baby-dove