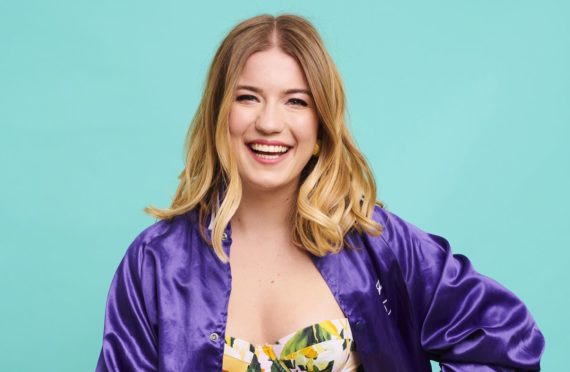 Explaining her approach to comedy, Olga Koch paints a picture of herself sitting in a laboratory, trying to find the optimum way to make sure a joke lands with the audience.
The Russian-born stand-up, a computing graduate, reckons there's a science behind putting together a show, an alchemy behind making people laugh.
Perfecting it by testing every scenario, every audience reaction and making it as slick as possible is a process Olga loves – when she's not obsessively watching TikTok videos that is (for about four hours a day probably, she admits).
"It is so close to computer science," she tells The Sunday Post. "I've always been this very rigid, logical, modular person and there's so much similarity in building a joke and iterating it.
"As a computer scientist you have to iterate every single scenario and perfect it and make it the most efficient. That's what it's like to do a comedy show."
It's not all a cold calculation though, Olga's shows are packed with personality and draw on the rich tapestry of her background.
Like many, she first dabbled in comedy while at university. Studying in New York, she started out in sketch groups before realising that she – in her own words – can't act to save her life.
"I tried stand up once and decided that I was never sharing the stage with anybody else again," she laughs. "This is why the Spice Girls went solo!"
She quickly realised that there was a huge difference between simply being funny and actually doing comedy. While she'd do 'random and stupid' stuff in high school that was funny, that wouldn't quite cut it in the world of comedy.
"I remember taking my first ever sketch class and people saying there were rules. This is what you do. This is what a call-back is and things like that. And I was like, oh my goodness, what in the world is all this structure and stuff?
"Every show you have to find the fastest way from point A to point B to get it across and then sometimes I'll hear the audience laugh more at something than another thing and I'll put in or take out another joke depending on how they react.
"It becomes like an alchemy or a science and what becomes fascinating are those mini, tiny tweaks that no-one else would notice but you.
"I don't know if that will ruin it for people, because they think I just come up with it. It's more like I've been sitting in a lab for hours crafting the big joke!"
Fresh out of programming is Olga's upcoming tour show, based on her Fringe hit If / Then, which has stops in both Glasgow and Edinburgh.
A personal tale, it explores the beginning of her studies in computer science as a teenager, skills which she tried to use to inform her first relationship.
"Trying to apply logic to human emotion was a horribly misguided thought," she laughs.
Olga can't wait to bring the show back north of the border, making a return to the Glasgow Comedy Festival where she 'had a blast' last year before ending the tour in its spiritual home of Edinburgh.
"It's so beautiful and neat. From a computer science perspective it's wonderful, very clean.
"Last year I was travelling with the show operator and it was the two of us but this year I'm going alone so I'm quite scared about the odd, lonely behaviour that I'll probably display. Just begging people to drink with me after the show!
"Scottish people are incredible, they're cool. I think they're the reason that the Fringe is so good, the local audience is just phenomenal.
"Any time I perform in Scotland, I'm always quite relaxed, knowing that the audience is going to probably share my views on most things. Whereas anywhere I go in England I'll worry they'll take it the wrong way…"
Olga, who is the daughter of former Russian deputy prime minster Alfred Koch, spent most of her childhood in her homeland before moving to England and then studying in America.
"I sound American, but I'm incredibly superstitious, like a Russian person," she says. "I think my sense of humour is probably more British than anything because it's the only country I've done stand up in.
"I think having lived in all these countries, with the Internet and global media being consumed by everyone, everywhere at the same time, I don't think the day-to-day is all that different between them.
"We're all listening to the same music, watching the same movies and TV shows, using the same apps. Everybody's using Twitter and listening to Billie Eilish!"
Where Olga has noticed a difference, however, is on the comedy scene.
She says: "That was the biggest switch. The idea of paying to play is crazy, it's not something you'd ever do here. Or things like getting a minute for every friend you bring, so people would bring 15 people and get 15 minutes on stage. None of that would happen.
"I think a lot of it has to do with culture. A lot of it has to do with the basic infrastructure of the city where there's less space or the fact that pubs in the UK have an upstairs and downstairs, a built-in space to do stuff, which is not something every city in the world has.
"I think it just feels so much friendlier and fathomable to start in the UK than it did in New York, where it felt really, really scary and nearly impossible."
Spreading comedy content when starting out is now easier than ever through social media – including Olga's favourite pastime Tik Tok.
The app, where anyone can create short videos from lip-syncs to songs to soundtracked snippets of comedy, has exploded in popularity in recent years.
"Social media is probably 99% awful and horrible, it's data leakage, it's distracting us and shortening our attention spans," Olga says.
"It's bad, but the one good thing is that I see comedy native to these platforms that will only ever be funny on those platforms.
"Sometimes you read a joke and it's a tweet, and it is so funny as a tweet. If you say it out loud, it won't work. If you put it on Instagram, it won't work. But as a tweet it is perfect.
"I like the fact that people are getting creative with formats and taking advantage of those formats. I'll go on Tik Tok and I'll just laugh at something for ages. If it wasn't around then this thing wouldn't be able to exist."
---
Olga Koch will be at The Old Hairdresser's, Glasgow on 14th March and Monkey Barrel, Edinburgh on 15th March with her show If/Then. Tickets available from rocknrolga.com