When Michael Livesley woke up on the first day of August last year, he was hungover, morbidly obese and depressed.
Exactly one year later, he will be on a stage hundreds of miles from home, not just half the man he was before, but a new man.
The actor, musician and comedian has lost an incredible 10st 4lbs in nine months, going from 23st 4lbs to 13st. He's moved from a 60in waist to 32in, a 5XL shirt to a medium and a 25.5in collar to 15in.
Now the 46-year-old, who says he discovered his love of comedy through The Sunday Post's fun pages as a child, is making his Edinburgh Fringe comedy debut to tell his story of redemption.
It was reported earlier this month that obesity was now a bigger health epidemic than smoking, and Michael could relate.
"I had two mates who were my touchstones – I wasn't as fat as one and didn't drink as much as the other – and they died last year, one after the other," said Michael.
"It was becoming a regular thing for me, waking up at 3am in a panic, the alcohol wearing off and swamped in a tsunami of regret.
"The hair had stopped growing on my left leg because I lay on the sofa for so long. I would pull the curtains tight in the summer and sit indoors, not enough confidence to go out.
"The only exercise I got was going to the off licence. I was sick of being miserable."
Michael began walking, only 10 minutes to begin with because his joints struggled to support him, but he quickly saw improvements.
"I also stopped drinking. I was on 10-15 pints a night, just chucking it down, eating and drinking away my emotions. I lost a stone and a half in the first week and it gave me the confidence to carry on."
Michael says people underestimate the mental health aspect of obesity.
"There's this perception of the jolly fat guy, that fat people are quite happy. In my experience they isolate themselves through a combination of shame and the way society views them. It's the section of the population that it still seems OK to be cruel towards.
"When I first started going out for walks, I would have guys in workmen's vans shouting abuse at me. I started to take a shopping bag with me and I was left alone, probably because they thought I was going to the shops for more cake."
Michael believes his issues stretch back to his childhood.
He was an illegitimate child and his grandad demanded he be put in an orphanage.
"My nan brought me back out. But I do wonder if being taken away from my mother at an early age had an effect emotionally.
"I didn't go to school and instead I sat around and read The Beano and Dandy, and Oor Wullie and The Broons. I found it really interesting the way it was written and I discovered accents and voices. That's when I began mimicking them, later making a career from it."
Michael picked himself up and was doing well in life until his mum took ill. He put everything on hold between the ages of 22 and 27, caring for her until she passed away.
"I found myself trying to preserve the past, living in a house that I tried to make look like the house I grew up in. I was isolating myself."
After his epiphany last summer, Michael continued to lose weight through the low-carb ketogenic diet and also followed the science of autophagy to successfully ensure he had no loose skin.
"By Christmas I was down to 18st – I had lost five stone in four months," he continued.
On May 23, he reached his target weight of 13st 4lbs and has since lost a further 4lbs.
Michael, who is also the singer in The Bonzo Dog Doo-Dah Band and has worked with Michael Palin, Stephen Fry, Barry Cryer and Terry Gilliam, decided he wanted to tell others about his journey.
"If I can speak about it from my experience, maybe it can help others. No matter how hopeless things feel, there is a way out."
---
Half The Man, Maggie's Chamber, Laughing Horse @ The Free Sisters, Cowgate, August 1-25. Visit www.halftheman.me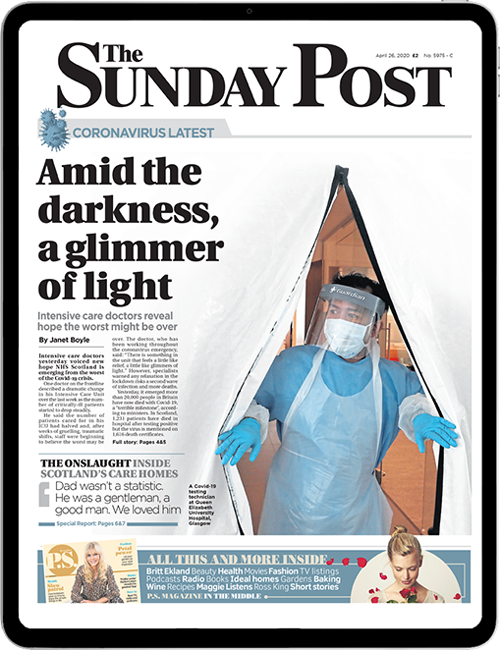 Enjoy the convenience of having The Sunday Post delivered as a digital ePaper straight to your smartphone, tablet or computer.
Subscribe for only £5.49 a month and enjoy all the benefits of the printed paper as a digital replica.
Subscribe