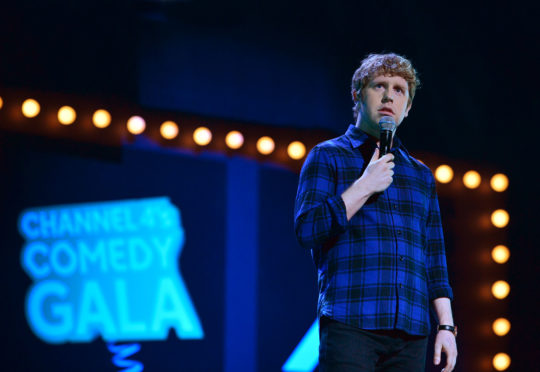 Josh Widdicombe has become a fixture on our TV screens in recent years, but that was never his plan.
The surprise success of Channel 4's The Last Leg, as well as his self-titled BBC sitcom, comedy show Hypothetical and frequent appearances on panel shows such as Have I Got News For You and Would I Lie To You?, mean the 36-year-old comedian's stand-up career has taken a back seat in recent times as his screen career took off.
But with a lengthy new stand-up tour announced, which brings him to Scotland three separate times over the next six months, he's back to his first love.
"I never presumed I would end up on TV," he admitted. "In your heart, you think it would be amazing to do it one day, but I never planned it.
"I started doing comedy because I didn't like working in an office. Going to work and doing something you love is so rare, so I feel really lucky to be able to do what I do. I had a bit of time off from doing stand-up and it meant I remembered why I enjoy it. This is the most fun I've had doing comedy and it's by far my best show, because I had more time to write it."
Josh, along with Adam Hills and Alex Brooker, returned with the 19th series of the triple BAFTA-nominated The Last Leg earlier this month.
The show's success has taken everyone by surprise – including Josh. It began life as a nightly round up of the Paralympics in 2012 and has since evolved into a weekly review of the news.
"I signed up to do it because it gave me free Paralympics tickets. Now it's the defining thing that people shout to me about from lorries," Josh laughed.
"You would have been insane to predict it would do as well as it has. I don't even understand the format, it's a mess of a show.
"Two disabled blokes and a non-disabled bloke occasionally discussing disability, occasionally discussing news, then a guest, and then we end with a song – it's a disastrous idea, but somehow it works.
"I think people like the idea of finding a show rather than being told what to watch. We've grown organically."
Like so many comedians before and after him, Josh received his big break at the Edinburgh Fringe.
He reached the final of So You Think You're Funny? in 2008, part of a strong line-up that included Sara Pascoe, Seann Walsh and Daniel Sloss.
"I'd been doing it eight months when I reached the final and it felt like a big deal, but I was rubbish again for two years before getting the hang of it.
"I look back on these times as a great experience, doing an hour a day for a month. It's a good thing for any new comedian to put themselves through.
"It's not about winning awards or getting people in to see you. It's about getting better as a comedian and everything else is just luck, really."
Josh's new tour, Bit Much…, will be an escape from current affairs.
"When people come to my shows they won't be hearing about Brexit or Trump or Boris Johnson.
"It's escapism, about the minutiae of life, and I like that in a comedy show."
---
Josh Widdicombe, King's Theatre, Glasgow, Aberdeen Music Hall, Jan 25-26, Eden Court, Inverness, May 4, Edinburgh Playhouse, Perth Concert Hall, May 31-June 1