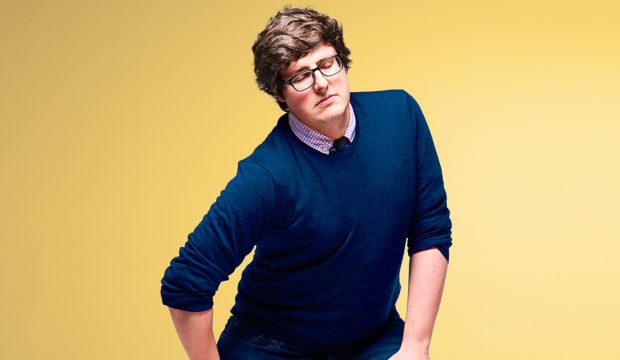 Stand-up comic Glenn Moore reckons his early career reading the news put him in good stead for a life in comedy.
The 30-year-old, who brings his debut tour to Edinburgh and Glasgow this weekend, credits the skills learned in newsreading for Radio X with helping to make his material sharper and punchier.
"It was all about taking what could be a really complicated story and trying to whittle it down to the most important thing so you could read it in 15 seconds on the radio," he explains.
"That definitely helped with writing jokes and changing what would start off as a five minute routine into a one line joke before moving on to the next bit.
"I think my material's a lot shorter and sharper than before I worked in news but I think I've screwed myself over, when I'm preparing my show I've whittled all my jokes down and I'm left with a nine minute show!"
Luckily, Glenn's found a way to make the show he's touring – titled Love Don't Live Here Glenny Moore –  last a little longer.
He's combined his critically-acclaimed Edinburgh shows from the past two years into one big extravaganza.
"It's a decision that, free time wise, I now regret as it's a lot of work for me – but it's been a lot of fun," he says.
"One show's about always wanting to be an astronaut and the other's about wanting to be a newsreader so I had to rewrite a few sections just so it didn't seem completely disingenuous!"
Thank you to everyone who came to see my show at the Edinburgh Fringe. I hope you enjoyed it as much as I did performing it.

As per, thank you also to the confused tourists who I asked to take this picture of me next to my poster. pic.twitter.com/r4nZhuelI8

— Glenn Moore (@TheNewsAtGlenn) August 26, 2019
As with many of his fellow comics, the Edinburgh experience helped shape his work day-by-day.
Comedians from across the UK and from further afield will try out their material closer to home before being parachuted into the weird and wonderful world of the Fringe.
But sometimes jokes that land in London don't quite fly in front of the Edinburgh crowds.
Glenn recalls: "At my first Fringe, I went there with the attitude of it being a show I had worked for years on, and it was what I was performing whether the audience liked it or not.
"Every day I was doing certain bits that hadn't worked at all the whole month and I was thinking, why am I doing this? Who does this benefit, they hate this and so do I!
"I've gotten better at self-editing and changing things as I go along and realising that different audiences like different things.
"You pick up those skills along the way – I wish they were transferable to another job!"
It doesn't appear that Glenn will need to add another vocation to newsreader and stand-up comedian on his CV any time soon.
With his stock well on the rise in the comedy world, his shows have garnered rave reviews and with that has come invitations to guest on various TV shows.
"I'm still at a level where I'm really excited at being on TV," Glenn admits, revealing that he's recently done a count on his screen appearances and is well into double figures.
That number's only going to rise, with recent months seeing him make regular appearances on panel show Mock the Week.
"It's weird because it's not live," he says of filming for the show. "You've got to wait three days with no idea how it'll be received when it goes out. That's the scary bit, the no-man's land.
"It's really exciting, there's a part of you thinking that there's a chance that, after you've been on it, your life will be completely different tomorrow."
Mock the Week started out in 2005 with host Dara O'Briain and over the years has featured Hugh Dennis, Andy Parsons, Russell Howard and Frankie Boyle as permanent fixtures.
Now though, only Dara and Hugh are there every week, with a revolving mix of rising stars and established comedians guesting each week.
"No-one really has their feet under the table, it's really friendly and the dynamic has very much changed," Glenn says.
"I imagine it was a lot more intimidating when it first started because you had so many permanent panellists and just two guest spots every week.
"If one of those was someone like Ed Byrne who'd been on it a lot, that must've been an incredibly daunting task because you're a guest on what's very clearly a show belonging to a bunch of other people."
While the environment remains friendly, Glenn says the competitive element is very much still there.
"Everyone wants to get their jokes out, you're worried that if you don't make a particular joke someone will get in there before you," he admits.
"The recording goes on for three hours so you will get to say something, but they edit it down a hell of a lot."
While watching the show in his late teens, Glenn remembers being "astonished" by how funny he found it, but never imaged he'd end up on it one day.
And his stand-up career has blossomed from stumbling into it – and an agent's snub.
"There's no curriculum, no definitive way of getting into the industry so it started off as something I gave a go at university which I found quite fun," Glenn says.
"Some agents in London spotted a clip of me on YouTube and asked me if I wanted to move to London and give it a go.
"So I quit my job and moved to London. I rang the agent who was like, 'I don't remember you!'
"At the time it was disastrous and terrifying but I think it gave me the impetus to properly give it a go for a few years and see where I ended up. I'm enjoying it so far so we'll see how long it lasts!"
---
Glenn Moore – Edinburgh Stand, Saturday 26th October, Glasgow Stand, Sunday 27th October