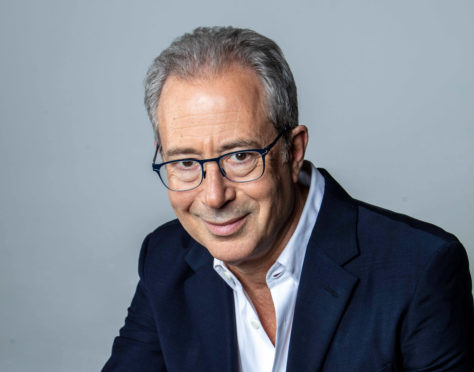 He spent most of his 1980s comedy routine attacking Margaret Thatcher.
But as he returns to the stand-up stage after 15 years, Ben Elton admits he at least respected the Iron Lady – something he cannot say for the current Prime Minister.
The prolific writer behind The Young Ones, Blackadder and Upstart Crow said: "When I was doing my rants on Thatcher I was dealing with a stationary target, someone who said what they believed and pursued it.
"I disagreed with everything she said and did, but I respected her integrity – she was a politician of integrity.
"Trying to take down Boris Johnson is like trying to take down a blancmange – you can't do it any damage because it's already just a wobbly-bobbly thing and it's much the same when it's been smashed up as it was in its mould.
"The same goes for Donald Trump. It doesn't mean they're not fantastically dangerous and bullies, but they are satirical blancmanges.
"Blows to them are irrelevant – they will still proudly be a blancmange, any shape they feel like being at that moment."
Despite being outspoken on politics, 60-year-old Elton, who plays Glasgow, Inverness, Aberdeen and Edinburgh at the start of next month, doesn't believe politicians should be parodied as figures of fun.
"I don't think satirists, like the Have I Got News For You satire, is really much use. It's fun to watch, but I don't like the permanent sneer, the idea there is a world of appalling people in politics and we can just sneer at them. I think there are lots of good people in politics or we wouldn't have an NHS.
"There are lots trying their best at local and national level. There are also some mendacious charlatans and despicable hypocrites, and I'm going to tell the audience which I think are which and why.
"I won't bang on about Brexit, Trump and Johnson all night, but for the part of my act where I talk about the current political situation, I will have to be seriously clever, cleverer than I've ever been, because these targets are self-satirising and impervious to shame.
"I don't think either of those things could have been said about Thatcher."
The dad-of-three admits he has butterflies about returning to the stage after so long away.
"It is nervy, I have a big mountain to climb," he continued. "This is a scary time for me.
"My wife, Sophie, is very encouraging. She likes me as a stand-up comic. It's how we met – her band was a support act for Rik Mayall and I in Australia in 1986."
The stand-up tours with the late Mayall are some of Ben's most cherished memories.
"My golden years, the happiest professional years of my life, were from 1984-87, when we were touring together.
"We were young and silly and being paid for it.
"It's a shame I'm not playing Dundee on this tour, because at least two of those tours with Rik began in Dundee and it's also where I recorded my first album, at Fat Sam's, which is still there."
Ben is often found hill walking in Scotland and his love for the country stretches back to his childhood.
"I have had many happy holidays in Scotland – Stornoway, Mull, Loch Lomond. Emma Thompson has a big Scottish life and I've enjoyed some holidays at her place.
"My dad's from Frankfurt, but if we weren't going to Germany on holiday we would go to the Lake District, which my mum loved, and that's where I learned to love rocks and mountains.
"It's also where my mum read The 39 Steps to me when I was young, censoring the anti-Semitism as she went along.
"I have a lifelong love of the book and when I'm asked of my dream thing to do, I say it's taking the sleeper to Fort William and re-reading The 39 Steps with a bottle of whisky by my side. I still consider that the most perfect scenario for happiness.
"I loved Scotland before I ever visited due to the descriptions, and it didn't disappoint when I eventually came."
What Elton doesn't love is the rise of the arena comedy tour, but he believes it's a sign of the times.
In his time away, live comedy has become massive business, with comedians like Michael McIntyre and Kevin Bridges selling out night after night in cavernous 12,000-seat venues.
"The arena phenomenon is because people crave a community experience," he says.
"We are all so isolated, on our phones all the time, and no one is looking or talking to each other, so I think people are instinctively craving community.
"I'm not knocking it, but I don't think an arena comedy show is about the comedy.
"If I was in a position, and I can assure you I'm not, to sell 10,000 tickets in one venue, it would be very tempting to do so.
"But I don't think I would because I'm trying to make a series of complicated comic points and draw them all together to an absurd conclusion.
"That takes an effort of concentration on behalf of the audience and you just won't get that in an arena.
"They are too distracting and vast. The sound is delayed – it echoes down the chamber. It's an entirely alienating experience.
"I'm not judging. If people want to buy tickets why shouldn't the comedians perform those gigs? I have no argument with it.
"But I know my act couldn't work in that environment. I have to fully and intimately engage, and I think you need a theatre to do that in.
"I don't have the opportunity to sell out Wembley Arena over 10 nights, so I'm not cursed with the temptation, but if I was I don't think I would take it.
"I would much rather be playing all those wonderful old halls and theatres I did with Rik back in the 80s."
---
Tour info and tickets at benelton.net