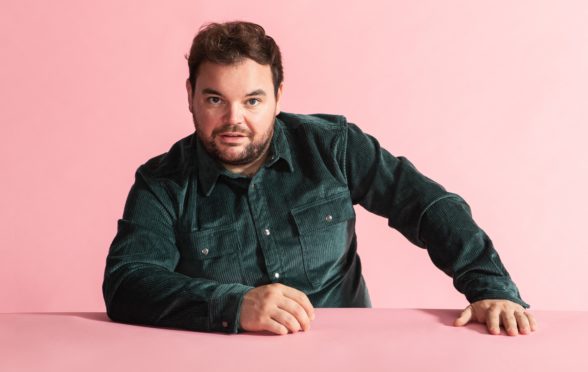 Early in his comedy career, Lloyd Griffith embarked on a cross-border dash. His mission: to get acquainted with a Scottish audience and attempt to make a name for himself.
Managing to secure a half-day at work, he took an afternoon train from London to Edinburgh to do a ten-minute set on the hallowed stage of The Stand in Edinburgh.
No sooner had he performed at the Red Raw open mic night, than he was on the sleeper train back down for work the next day.
"I got to Euston at half six and went straight to work," Lloyd laughs, having now made comedy his full-time career. "I remember all my colleagues asking if I was having a mid life crisis."
Lloyd has just come off tour supporting Jack Whitehall, with dates in huge venues across Scotland and the rest of the UK.
And the Grimsby-born comic and choral singer, formerly a host on Sky's Soccer AM, can't wait to be back in Glasgow next month on his own solo tour.
"Genuinely I always love playing up in Scotland. With Jack we played the Edinburgh Playhouse and The Hydro and we did P&J Live in Aberdeen, big old boys.
"They're always a great laugh. I absolutely love going up to Scotland and spending time there. I've not done the Fringe for the past few years so it's nice to go up and see friends from the festival that I've made up there."
It's been non-stop in 2020 so far for Lloyd, coming straight off the tour and into the creative process for his show.
"You always forget how exciting this process is until you do it," he says. "I've written a lot of the material over the last year or so. The process is basically putting it all together into something that makes sense.
"There's a story behind it, about how I wanted to be a footballer as a kid but ended up as a choirboy. I've done a decent job of that, but it's not as cool as playing in goal for Grimsby!
"There's a story in the show where I'm basically trying to achieve my dream of singing and football mixed together with the Euros coming up.
"I'm taking this to Glasgow so it won't be heavily laden with England references, otherwise I'd get marched out of town. I've been told to scrap Three Lions!"
Switching the arenas for a more intimate venue suits Lloyd down to the ground as he loves getting the audience involved in his show.
Instead of a date at The SSE Hydro on this trip to Glasgow, he'll be taking to the stage at The Glee Club, which opened last year.
"Your material has to be tailored for the rooms you're doing. Whilst I loved doing Jack's tour, I love doing the intimate ones where you can chat to people.
"You can't necessarily speak to people at The Hydro because they're so far away and if you do, there'll be people at the back who can't hear what they're saying.
"I do like speaking to the audience, it is quite a Q&A, chatty vibe. Obviously the dream is to play the arenas, because then you can buy maybe five or six houses, but I'm looking forward to getting into the smaller rooms!"
Feeding off the audience is a crucial part of comedy shows, even if many people shy away from sitting in the front row in case they're targeted by the comedian on stage.
"I think a lot of people get worried when they go to comedy nights that they're going to get picked on," Lloyd laughs. "I've written a show and I'm the main person in that show but I like to ask questions of the audience, get their opinions.
"If you do that, you'll often find a gem in there. The last time I went to Edinburgh there was just a couple who had come up from Devon for a night out on a cheap flight!
"I just love chatting to the crowd, and that's not me shying away from writing a proper tour show…"
Having such a variable element means it's a different show every night for those on stage – something that's vital to stop it becoming a slog.
"It's key for comedians if they're doing lots of nights on a tour that they don't get bored or fall out of love with it," Lloyd admits.
"I like mixing it up. One of my mates, Rob Beckett, who started at the same time as me does the same thing. His shows are absolutely brilliant but he'll have a chat to two or three people just to keep him on his toes. It's not just the same script every evening."
Last year, Lloyd stepped down from his hosting duties on Soccer AM to focus on his stand-up and other projects.
Was it a difficult decision to quit a dream job that saw him rub shoulders with sporting heroes?
"Yes and no," he says. "When I took it on I did always say that I'd do one or two years maximum. When you're doing that show it's amazing but it's 40 weeks a year, three or four days a week. You can get a bit complacent.
"I was missing doing stand-up. It's the first true love. It was a really hard decision to quit Soccer AM but stand-up is the one thing I've always loved doing.
"People always come back to it. You look at Ben Elton, Skinner and Baddiel, it's the thing that keeps drawing you back. Jack Whitehall will go off and conquer Hollywood but I can guarantee he'll do stand-up again.
"It's yours, you can do whatever you want, you can tell your story."
This tour is the biggest Lloyd has ever done, selling thousands of tickets and selling-out many of the dates. There's a mix of comedy, as well as some singing.
"The reason I do singing in my stand-up, is because it's a part of me. That's when I'm happiest, when I'm singing and telling jokes," Lloyd says.
"It sets me apart, everyone's got a unique selling point. I'm the little fat bloke that sings, and I'm more than happy with that!"
As well as the stand-up tour, Lloyd is relishing being able to launch some new projects in 2020.
"I started doing comedy because I'd always wanted to do comedy, and I'll keep going back to that.
"I didn't realise though the amount of doors that would open for me, like hosting Soccer AM, going on tour with other people, bit parts in sitcoms, acting, documentaries."
Lloyd fronted a documentary on gambling last year, having starred in an advert himself. It's something he's hoping to revisit in the coming weeks and months.
"I was involved in a gambling advert quite a few years ago and I'd always felt a little bit guilty about that when I realised what it does to people," he says. "It was such an eye-opener, and there are few other things that might come out of it.
"I just need to find the right vehicle, I don't want to just do anything. I love Richard Hammond, but he's in a lot of things isn't he!"
---
Lloyd Griffith is coming to Glee Club, Glasgow on 22nd March with his show Not Just A Pretty Face. Tickets from www.lloydgriffith.com