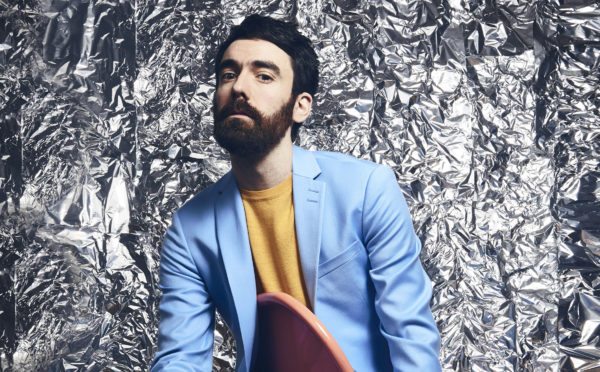 Adam Hess returns to Edinburgh this year with his latest show My Grandad has a Fringe – and he says the silly title matches a silly show.
The stand-up reckons he's managed to write a show for the festival without a single clever point in it.
"It was quite liberating not having a clever narrative where everything ties together," he tells The Sunday Post.
"Over the years I've tried to do shows where maybe I say a clever thing or there's a point but you will not leave this show cleverer! That's why the title is so stupid. It means nothing, there won't be anything pensive in it."
The only thing you'll be learning from the show is how the relentless positivity of 90s TV had an effect on Adam and the way he saw the world while he was growing up.
The saccharine fun of the likes of Wheel of Fortune and Supermarket Sweep presented a world smelling of roses where everything had a happy ending.
"It was so positive and jolly and silly," Adam says. "It wasn't very good, but it was all we watched and it affected the way I looked at the world. I thought everything would be rosy and fun. People always won at the end of it!
"This show is trying to replicate that tone of everything being fun. It's good I promise! It's about how I think I was damaged by how much TV I watched.
"People were given £50,000 for no reason or for knowing the capital of France. I grew up thinking you could get loads of stuff out of luck.
"Then the world changed and stuff did get a bit more serious. People don't brag about their money so much since the recession, TV shows don't give out thousands of pounds as much as they used to."
The show also harks back to Adam's childhood, which is where he first eyed a career in comedy.
"Much in the same way some children always thought they wanted to be a footballer, there was never an age where I didn't want to be a comedian," he says.
"From when I was 15 I started obsessively writing thousands of jokes in my room. I maybe had 1500 pages of notes, but I was too scared to go on stage for years.
"I'd done all the writing and at 22 I decided I had to start. I hit the ground running because I had seven years of material already!
"It all kind of went from there and I started doing one liners, I hadn't quite grasped how to be a good performer with long stories. As my confidence grew I started doing longer narratives."
Now a long way from those pages of jokes scrawled in his teenage bedroom (which he still has multiple copies of, just in case any somehow perish) Adam is gearing up for what will be his tenth year at the Fringe.
And with an hour on stage every day for a month, he compares the Edinburgh experience for stand-ups to a "comedy bootcamp".
"It's weird how much better you get as a performer in that 27 hours of stage time," he says. "Every time I've come back a better comedian.
"You get comfortable in your room. Normally if you do a gig somewhere there are other comedians on the bill. People haven't necessarily come to see you and you want to impress the promoter, so you feel like you have to be on your best behaviour and just do your jokes.
"But when you're in Edinburgh, it's your room, they've definitely come to see you. You feel a lot more confident I guess, even though it's nerve-racking, but you can do whatever you want.
"It's very liberating and freeing – you feel like you can do the sort of stuff you wouldn't normally do on a line-up with three other comedians."
While it's an intense experience, often resulting in Adam losing his voice and being unable to speak during the day, the festival does provide respite from the hectic touring schedule that comes with being a stand-up.
For one month only, it's the audience that are coming to the comedian rather than the other way around.
"It's great not having to travel," Adam says. "It's one of the craziest things about being a comedian – you're just on the motorway or trains all day!
"People ask why I have so many jokes about trains… well it's because it's all I've got in my life. Edinburgh's a stressful month but it's good for your brain just to not to have to get on a train.
"It's a nice feeling to be able to just walk to your gig, but there is the danger of just staying in bed until the show. I've done that a couple of times when I was a lot younger, it's a disgusting way to live!"
Key to surviving the festival, Adam reckons, is genuinely finding your own jokes funny  in case of on-stage catastrophe.
"I've learned to only do jokes that you love because there will be some days where audiences aren't in the palm of your hand and if that's the case and you're doing jokes you don't enjoy it's extra painful," Adam says.
"As long as you are finding it funny you won't have a bad month."
Another lesson learned is to not just live in your own bubble while performing there, but join the thousands of people heading to the festival in checking out other shows as well.
It's something that's helped Adam and many other comics in developing their act.
"From seeing other shows I've realised that it doesn't have to just be a man talking into a microphone," he says. "We can all be quite set in our ways with what we think comedy is and what stand-up should be.
"It's a great opportunity to see what else works, what are your friends doing, what are people from other countries doing.
"It shows other ways of presenting ideas – you could see a mime artist or something like that and it could completely open your mind to another way you could take your comedy."
---
Adam Hess: My Grandad Has A Fringe is at the Edinburgh Festival Fringe, Pleasance Courtyard, Upstairs at 19:15 from 31st July – 25th August (not 14th), Tickets at https://tickets.edfringe.com/whats-on/adam-hess-my-grandad-has-a-fringe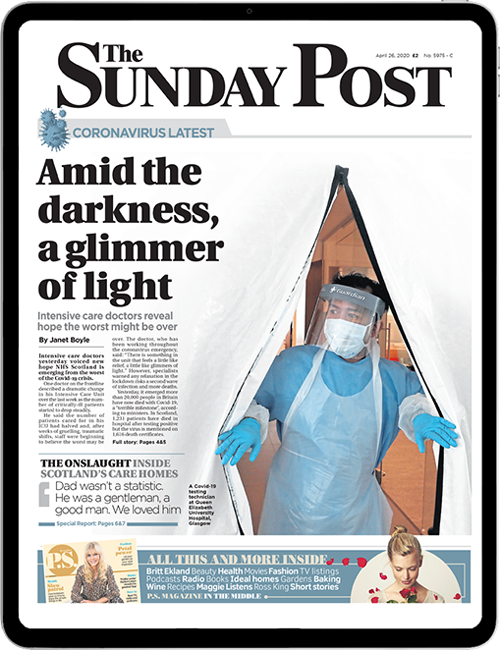 Enjoy the convenience of having The Sunday Post delivered as a digital ePaper straight to your smartphone, tablet or computer.
Subscribe for only £5.49 a month and enjoy all the benefits of the printed paper as a digital replica.
Subscribe